European Poker Tour Returns as PokerStars Completes Sochi Event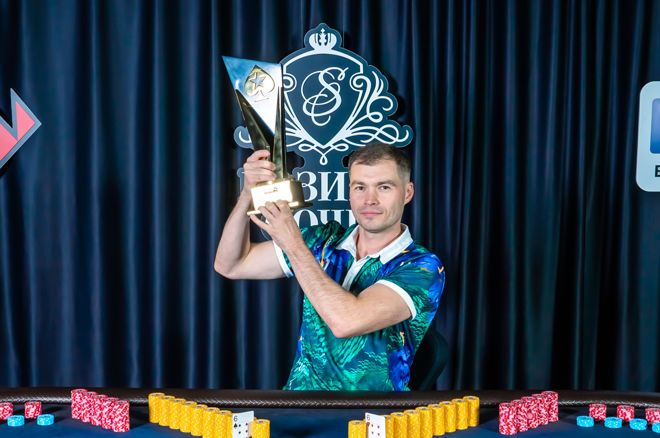 Table Of Contents
Despite the COVID-19 pandemic still lingering, PokerStars was able to get its biggest live poker brand back on track, successfully running European Poker Tour Sochi in early October.
To date, it's the only EPT event to run this year. Of most import was the postponement of the PokerStars Players Championship, which was supposed to take place at EPT Barcelona.
Bogdanov Grabs EPT Title
The biggest and most prestigious event to run was the RUB175,000 (~€1,900) EPT Main Event. That one drew 637 entries, making for a prize pool just shy of €1.1 million.
Many recognizable grinder from the region cashed, including the likes of Aleksandr Merzhvinskiy, Maxim Lykov, Viktor Kudinov, Konstantin Puchkov and Nikolay Fal.
Aleksandr Denisov, one of the top Russian tournament performers over the years, just squeaked into an official final table appearance but had to settle for eighth place.
Instead, it would be Ruslan Bogdanov coming out on top after chopping with Viktor Tkachenko. The former secured RUB15,984,500 (€175,743) and the EPT trophy, while the latter settled for RUB14,490,000 (€159,312).
That's the largest and only career recorded live cash for Bogdanov according to The Hendon Mob, while Tkachenko got just his second recorded cash with the other being a tiny score the equivalent of $271.
| Place | Player | Home Country | Prize |
| --- | --- | --- | --- |
| 1 | Ruslan Bogdanov | Russia | RUB15,984,500 (€175,743)* |
| 2 | Viktor Tkachenko | Russia | RUB14,490,000 (€159,312)* |
| 3 | Gleb Ershov | Russia | RUB8,312,500 (€91,393) |
| 4 | Sergey Aristov | Russia | RUB6,367,900 (€70,013) |
| 5 | Egor Turubanov | Russia | RUB5,044,900 (€55,467) |
| 6 | Vladislav Naumov | Russia | RUB3,929,100 (€43,199) |
| 7 | Nikita Kuznetsov | Russia | RUB2,863,000 (€31,478) |
| 8 | Aleksandr Denisov | Russia | RUB1,956,500 (€21,511) |
*Reflects heads-up deal
Other Notable Events
While the Main Event offered the biggest chance for a score, numerous side events also ran and hundreds of thousands of dollars in prize money was also available in those.
The RUB77,000 (~€850) EPT National drew a solid field of 508 entries, and Anatolii Zyrin emerged as champ to add to his career haul of more than $1.6 million in cashes. The 2019 WSOP bracelet winner earned RUB6,686,400 (~€73,000).
The RUB371,000 EPT High Roller also produced a healthy prize pool with 90 entries. Like the Main Event, it ended in a heads-up chop with Yakov Fokin and Pavel Kireev doing the deal-making for RUB7,450,100 (~€82,000) and RUB6,300,000 (~€69,000), respectively.
Top tournament pro Arsenii Karmatckii and high-stakes cash player Viktor Kudinov also made final table runs, finishing third and seventh, respectively.
More EPTs?
EPT Sochi stands on its own a bit from the other EPT events. Those typically get many traveling players, pros and recreational alike, from all over Europe and even North America and Asia.
EPT Sochi, on the other hand, is usually far more localized with a heavy concentration of Russian players. Therefore, PokerStars may have felt more inclined to run the event since less international travel was required to bring in the usual clientele.
In most cases, players would be looking forward to a December running of EPT Prague and be busy attempting to qualify. However, that may be a dicey proposition. Last week, a new state of emergency was declared as the Czech Republic returns to lockdown thanks to a second wave of COVID-19 cases. It seems unlikely EPT Prague can be successfully run unless circumstances drastically change within the next month.