PokerNews Op-Ed: Poker in Houston Headed Into the Lone Star Poker Series
Table Of Contents
In less than two weeks, the Prime Social Club in Houston, Texas will play host to the inaugural Lonestar Poker Series, which will run October 23-November 1. PokerNews will be offering daily live updates from the series, and you can see the full schedule at the bottom of this article.
In the meantime, I wanted to take a look at the rise of poker in my hometown as the aptly-named Texas hold'em has changed so much in Texas over the past 15 years. While I currently live in Las Vegas and love to frequent rooms on and off the Strip, I grew up and fell in love with poker in Houston.
One day, my dad and I were driving down West Gray in the River Oaks area of Houston when we passed a bar called "The Tavern". They had a large vinyl sign out front that said "Free Weekly Poker Games on Tuesdays and Thursdays!" That was enough to get us to stop and check it out.
Bar Leagues & Underground Poker
National Pub Poker League (NPPL) was the company partnered with the bar hosting these weekly events. You didn't have to buy-in but they suggested purchasing food or beverage from the venue and if you did, you were rewarded with extra chips for the nightly tournament. The last man or woman standing was awarded a card protector (I still have one that I won) or a branded t-shirt. It was here where I made my first friends in poker and really grew to love the game.
"If you had accidentally walked in, you would be immediately escorted out."
Before long, I ventured into the underground poker scene. One room I remember well was the "Ring Room" in downtown Houston. This room was blocks away from the Toyota Center where the Rockets play basketball. What appeared to be a boxing gym with a small parking lot had a second door that opened to a basement room.
Cameras were on the parking lot and faced the door to view anyone approaching this unmarked door. Once the remote locked door was open to you, you found yourself inside a large cage. A room full of poker tables and big-screen TVs were able to be seen but you could not access them until someone from management came over and spoke with you. If you had accidentally walked in, you would be immediately escorted out.
Otherwise, you had to have someone on the inside speak up for you and bring you into the game. This was my first experience with a room like this and it was my favorite of the underground venues I'd come to visit occasionally. Boxing matches or MMA fights would frequently be on the televisions and the games were pretty serious.

Becoming a Legitimate Enterprise
Today, poker has a new life in Houston and it's in the sunlight instead of being in the shadows. Prime Social is one of many poker clubs in the city that offer Houstonians the opportunity to play the game they love without having to stress out about the fears that once enveloped the game there just a few years ago.
Gambling isn't illegal in a private establishment if there is no rake taken from each dealt hand of poker. With this information, these private poker clubs have produced a unique transaction. You are able to purchase a membership and rent a seat at the poker table in the game of your choice. Once there, you can play without having any money taken from the hands.
Prime Social is in a great situation with confident leadership in Brent Pollack, who has been in Houston for three years but built a strong reputation in the industry while living and working in Las Vegas for over a decade. Starting at the Gold Coast, Pollack's career took him to Stations Casino poker rooms and Caesars Palace as well. Pollack and his team have worked hard to create a "Vegas Casino Experience" for their customers.
"My goal was to get the procedures correct. I wanted our room to be completely transparent and offer true professionalism to show our players what was available," Pollack told PokerNews.
With Prime Social in a good position, they've decided to expand their offerings. Pollack and well-respected player Kim Stone have teamed up to create the inaugural Lone Star Poker Series, which offers over $300K in guarantees and 16 tournaments including NLH, Omaha, HORSE, and a "Triple Triple Draw" event featuring a mix of 2-7TD, A-5TD, and Badugi.
Catching Up with Kim Stone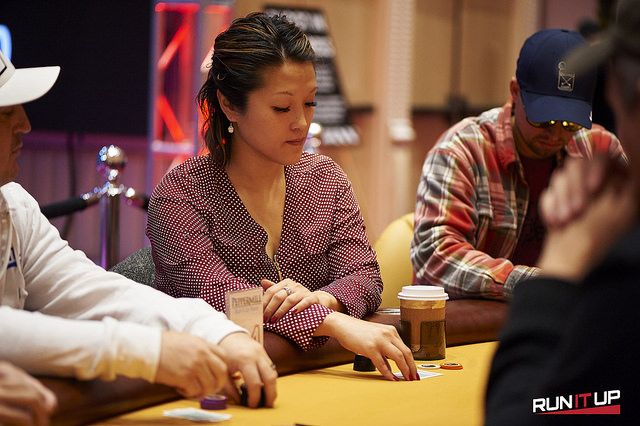 Last year, as Houston poker was growing, Stone was surprised by how backwards things were in the tournament area. They were available but didn't seem to focus on the right things. She wanted an established tour like Run It Up Reno or the Run Good Poker Series to come to town because they offered such a fun experience. However, because of the vague Texas laws, the tours wanted to wait.
Stone, having been in the business for 16+ years, decided not to wait but instead create the experience on her own. The Lone Star Poker Series will be geared towards bringing a professional tournament environment with great structures, and seasoned tournament staff like Tournament Director Justin Hammer.
"I just want to show that we can offer a series in a market that doesn't have any kind of real professionally run poker events and I can bring it on a professional level while bringing in additional pieces that will make it fun," said Stone.
Lone Star Poker Series will have 16 "Lone Star Champions" who will be awarded engraved handmade money clips featuring the name of the tournament they won. In addition to these prizes, the Kickoff Event and PLO Championship Event will step up and include a unique Trophy Buckle while the Lone Star Main Event will award a sterling silver Trophy Buckle.
Houston has had a unique experience when it comes to poker but with rooms like Prime Social and events like Lone Star Poker Series, the future of poker in Texas looks bright.