Everything is Bigger in Texas: Neeme Hosts Uncapped $5/$5 in Austin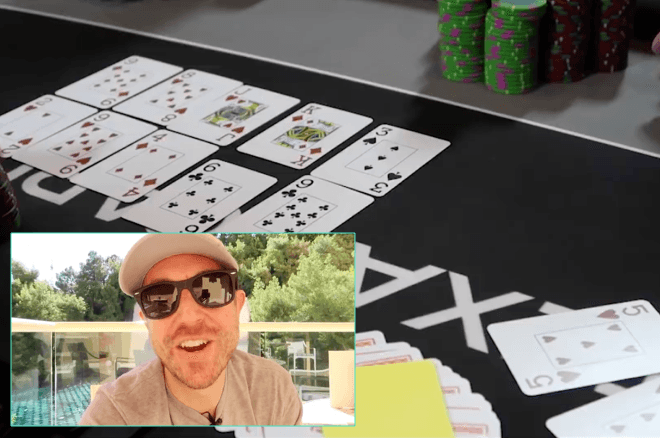 You know something good is brewing down in Texas if YouTube vloggers Andrew Neeme and Brad Owen made the trip down to Austin to play some $5/$5 live poker action. Poker clubs have popped up across the state from San Antonio to Dallas with multiple venues showing up in Austin.
These clubs are membership-based rooms that charge a monthly membership fee, plus charge an hourly rate as opposed to pulling rake from the pot on the tables. One of these spots, Texas Card House, is where Neeme and Owen hosted their latest Meet Up Game.
In his latest vlog, Neeme talks about his experience playing the cash games in Texas and reviewed some hands from his session, which didn't go to well, apparently.
After making a trip to the Seattle rooms and claiming that those games were great, he scrapped that comment after seeing what the games were like at Card House. The game: uncapped $5/$5 NLHE with straddles, double straddles, bomb pots, double-board bomb pots and basically just lots of action. The venue is even BYOB because they do not sell food or drink in order to stay within legal regulations. Neeme and Owen attracted a lot of players because there were six tables running of $5/$5, which staff said was up from the usual one or two.
"This is proper no limit Hold'em," Neeme said his vlog. "I mentioned that there was action in the MUG in Seattle, but this MUG in Austin — this was some proper action."
Because of the straddles, the game does not run necessarily as a $5/$5. In fact, the game can get pretty big as Neeme points out.
"It can be a little misleading," he said. "These games are playing a lot bigger than the typical $5/$5 games." Something to think about when you see the bet sizing from his hand reviews.
Unfortunately, Neeme ran terribly. After running well in Seattle, he experienced the complete opposite in Austin.
"No rake in the games means stacks build pretty frequently and pretty significantly," he said. "So, lots of money on the table and a lot of action. That combined with run bad and for sure, some play bad, that's not going to be a very good formula for success."
Check out his vlog as he reviews some of the more notable hands from his session.
I happen to live in Austin so I made it over to the Card House to chat with Neeme and Owen as I was interested to know what attracted them to Texas since they usually stay on the West Coast for their Meet Up Games.
"It's easy to work with a room like this compared to some corporate owned properties such as Bellagio or Wynn, who have to go through the proper channels of approval," said Neeme. "It's just also really cool to go and meet people who watch the vlogs and see them in their own environment.
"It's not just about meeting people though, it is also about the vlog. Smaller cardrooms like this embrace the filming, making it very easy for us to do everything we want to do."
But what are these meet up games? Over the last year or so, you've seen more and more vlogs about MUGs and vloggers like Johnnie Vibes, Winopoker, and others getting together to host these events at various cardrooms across the country. Why have they gotten so popular?
"The main idea was just to get together with people and have a casual poker night," Neeme said. "Although I've been playing poker professionally for 10 years or so, the majority of people don't. It's very recreational and very social for a lot of people. So the idea was to have one night where that sort of thing is recognized."
Neeme's travels have revealed to him that many places, including Texas, have healthy and growing poker scenes. According to Neeme, games throughout the country compare favorable to Las Vegas.
"California has been a good spot for decades and it doesn't seem to be slowing down," he said. "Florida is another great location."
For Neeme, any place where there's excitement around poker, he says that it's fun to be part of that to go visit and have a few sessions. Will Texas host more games from him in the future? That remains to be seen as legislation is still up in the air but, at least for now, his time in Austin made for a good vlog.