Five Reasons You Should Head to Cash Game Festival Tallinn Nov. 15-19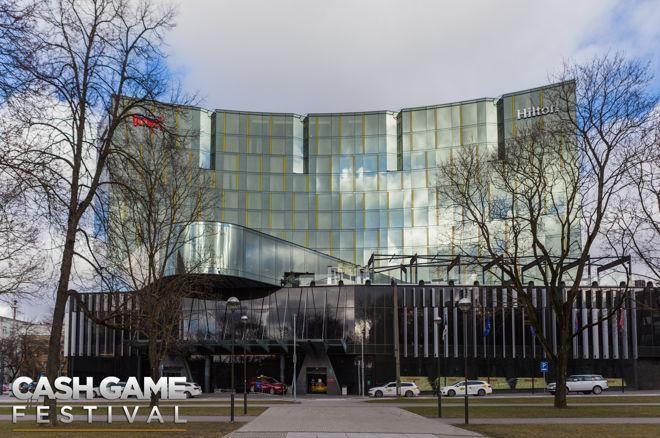 The Cash Game Festival Tallinn is just around the corner, taking place at Olympic Park Casino from Nov. 15-19.
Here are the top five reasons you should consider visiting the Estonian capital of Tallinn next week for the Cash Game Festival.
1) Non-stop Cash Games
All Cash Game Festivals feature cash games around the clock for more than 120 straight hours at stakes high and low across many poker variants including no-limit hold'em, pot-limit Omaha, super dealer's choice, Sviten Special and more.
The stop in Tallinn will be no different with the poker room expanding to at least 18 tables and a full house expected. It doesn't matter whether you prefer to play €2/€2 games or a bit higher as there will be enough demand at any time of the day or night for you to play.
2) 10 Television Tables
The Cash Game Festival will be hosting televised feature tables twice per day on the Cash Game Festival Twitch channel. Since PokerNews will be on hand to report on all the events on and away from the tables, the stream will also be embedded in our coverage.
Any player can could appear at the feature table, giving them a unique chance to be a star for a few hours in front of friends and family. Players can also replay the action at a later time to potentially learn something about their game as well as their opponents.
In addition, for the third time at the Cash Game Festival, a feature table contest whereby the player that wins the most big blinds during any of the 10 feature tables will be awarded a commemorative trophy along with a hospitality package for two to the next event.
And, for the first time, there will be a ladies-only televised feature table on the third day of the festival.
Head to the Cash Game Festival Tallinn registration page to sign-up to the feature table before spots run out.
3) Tallinn is Where it All Began
The Cash Game Festival began in 2014 when co-founders Enri Orav and Martin "Franke" von Zweigbergk noticed while there were many poker festivals catering to tournament players, there weren't any dedicated to the many cash game fans.
The first three Cash Game Festivals took place where the co-founders lived in Tallinn during 2014 and 2015. The festival proved to be such a huge success locally that it expanded throughout Europe in 2016 with six stops and 2017 with nine stops. At least a dozen stops are planned for 2018 with the schedule to be released within the next few weeks.
The Cash Game Festival team is based in Tallinn and the festival's project manager Andro Loos is planning for many out of this world activities away from the poker felt for those that have qualified online or have purchased the hospitality package.
Players boast about the activities on every stop and many believe it helps them feel part of the Cash Game Festival family thanks to being able to bond with players they competed with on the tables in fun nonpoker related activities.
While the activities themselves are a close-guarded secret until the festival begins, you can expect welcome drinks, a sporting activity, a guided tour, a world-class dinner and a VIP party you will never forget. You can get a better idea of what to expect in the Cash Game Festival videos below from the festival's last two visits to the Estonian capital.
4) Tallinn Old Town
If you have never visited Tallinn before, this is reason enough to come to the upcoming Cash Game Festival as it is known for one of the best autumn holiday destinations throughout Europe.
The city's medieval Old Town boasts beautiful Gothic spires, winding cobblestone streets cluttered with medieval churches and merchant houses, barns and warehouses that date back to the middle ages.
Of course, the city also provides a cozy atmosphere and plenty to see and do with a plethora of restaurants, shops, museums, galleries and traditional spas. Tallinn is also a city that never sleeps with bars and clubs open until the sun comes up especially on the weekends.
5) Easy to Get to and Plenty of Places to Stay
Another great reason to head to Tallinn is that it is easy to get to from anywhere in Europe. Players from the Baltic region can simply drive or take the bus while players from Scandinavian countries are just a ferry ride away. Additionally, there are many inexpensive flights from most major cities throughout Europe.
Additionally, the Cash Game Festival's partner MainEventTravel.com provides great deals on where to stay on its dedicated webpage. At the time of this article, bookings were still available at the nearby Dorell Guesthouse for just €144.61 for five nights accommodation inclusive of taxes. MainEventTravel.com also provides a great deal at Hilton Tallinn Park, which is connected to Olympic Park Casino for just €494.21. These are not the only good deals as the website provides dozens of options at prices suitable for anyone.
Head to the Cash Game Festival Tallinn registration page if you are interested in attending the final Cash Game Festival of the year or to register to the televised feature table.
Everybody needs an account at one of these online poker rooms! They're the biggest, the best, and we get you the best poker bonuses. Check out our online poker section for details on all the online poker rooms around.