Jon Kyte Was the Star of the Show at the 2017 Cash Game Festival London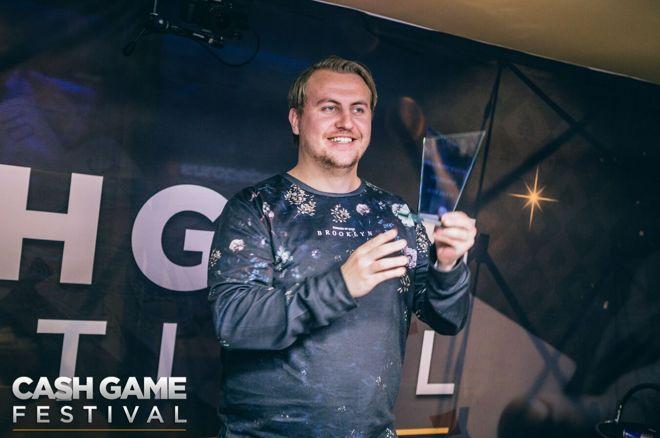 The 2017 Cash Game Festival London - Fall Edition at Aspers Casino Westfield Stratford City was considered a huge success. During the festival's peak-time, 25 tables were running at the same time and across the festival there were dozens of hours in which 20 or more tables were going concurrently.
Many different games were enjoyed including no-limit hold'em, dealer's choice pot-limit Omaha and Sviten Special.
Biggest Feature-Table Winner
The festival featured ten televised feature tables with two per day. Norway's Jon Kyte was the 2017 Cash Game Festival London's most consistent winner at the feature tables as the big winner on two separate occasions.
In addition, Kyte shipped the first-ever Cash Game Festival trophy for winning the most big blinds during a feature table session. In addition, he won two hospitality packages valued at €400 to the Cash Game Festival Dublin which runs Oct. 11-15 at Village Green Card Club.
Kyte's run began when he was the biggest winner at the Day 3 £5/£10 no-limit hold'em feature table where he booked a profit of £2,200. This represented 220 big blinds which, at the time, was well behind the leader.
The Norweigan didn't stop there though. On Day 4, he again won the most at a feature table, this time in £2/£5 no-limit hold'em. He won £4,265 in that game, which represented 853 big blinds, good enough to put him in the lead.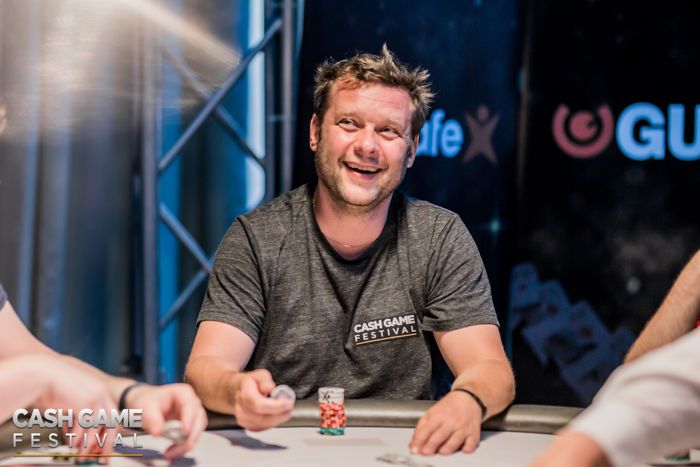 Despite a late run on Day 5 by Cash Game Festival's Martin "Franke" von Zweigbergk (pictured above), Kyte's big win held up for the lead. Here is a look at all the big winners of the 10 feature tables during the 2017 Cash Game Festival London - Fall Edition at Aspers Casino.
| Day | Player | Game | Profit | Big Blinds Won |
| --- | --- | --- | --- | --- |
| Day 1 | Gareth Devereux | £1/£2 NLHE | £467 | 233.5 |
| Day 1 | John | £2/£5 PLO | £2,523 | 504.6 |
| Day 2 | John Rose | £2/£5 NLHE | £1,547 | 309.4 |
| Day 2 | Jason Wong | £5/£10 NLHE | £1,450 | 145.0 |
| Day 3 | Daniel Straume | £1/£2 NLHE | £590 | 245.0 |
| Day 3 | Jon Kyte | £5/£10 NLHE | £2,200 | 220.0 |
| Day 4 | Stefan Bratanov | £1/£2 NLHE | £448 | 224.0 |
| Day 4 | Jon Kyte | £2/£5 NLHE | £4,265 | 853.0 |
| Day 5 | Trumulis | £1/£2 NLHE | £700 | 350.0 |
| Day 5 | Martin "Franke" von Zweigbergk | £5/£5 PLO | £3,471 | 694.2 |
Off the Felt Fun
Of course, the Cash Game Festival is mostly about poker. However, every festival also features great activities away from the tables where players can bond. New friends were made while old friends from previous festivals got a chance to catch up.
During the 2017 Cash Game Festival London, players with the hospitality package enjoyed welcome drinks, simulated golf, a VIP dinner, a beer pong party and a guided city tour.
Don't Miss Dublin
If you were unable to make it out to Aspers Casino in East London, rest assured you will not have to wait long to enjoy the next festival.
For the first time, the Cash Game Festival heads to Dublin, Ireland Oct. 11-15 for another five days of nonstop cash game action. The festival is expected to attract many players from around the globe thanks to the festival's reputation and the ease of reaching the Irish capital.
You can register in advance on the Cash Game Festival website to reserve your seat and to request to appear on the televised feature table. As has been the case for every Cash Game Festival throughout the year, the PokerNews live reporting team will be on hand to report on all the events both on and away from the tables.
Here's a look at a trailer of the festival:
Have you ever wanted to write your own articles about poker? Maybe you've got some experiences or opinions about poker that you'd like to share. PokerNews is proud to launch The PN Blog where you can have a platform to make your voice heard. Learn more here.