Georgiev, Simms Shine on Day 1 of the 2017 Cash Game Festival Bulgaria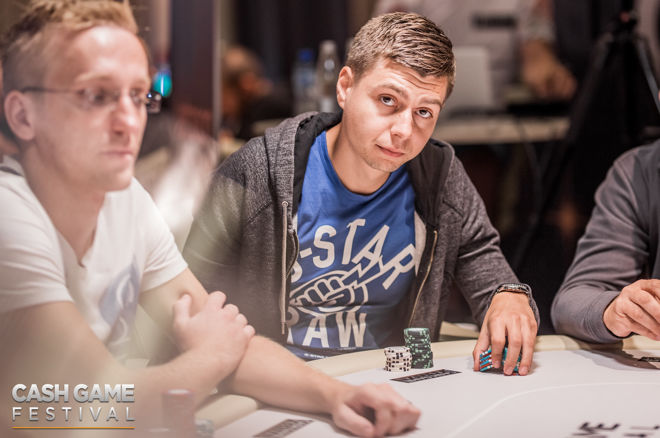 Day 1 of the 2017 Cash Game Festival Bulgaria was a big success with tons of action and fun emanating throughout the poker room at Platinum Casino located off the boardwalk in Sunny Beach.
The day began with players heading away from the beautiful sunshine and weather and head to the casino for welcome drinks at 5:00 p.m. Many familiar faces were about along with many new faces and online qualifiers.
About an hour later, the first televised feature table kicked off at €1/€2 no-limit hold'em. United Kingdom's James Simms, who promised to come to another festival after having a blast in during the Cash Game Festival London, was the biggest winner on the first feature table after notching a profit of around €400. After the first session, he headed into the commentary booth with Cash Game Festival host Brandon Allen to commentate the later €2/€5 no-limit hold'em feature table.
Local Bulgarian poker player Miroslav Georgiev was the big winner on the late feature table. He took a huge pot worth €4,000 against local legend Fahredin "FeriBo" Mustafov when his ace-king proved to be good on a king-high board against his opponent's pocket jacks. Georgiev notched a final total of nearly €2,500 in profit for the session.
Off the poker felts, there were dozens of players enjoying drinks and conversation with promises to join in on the hot poker action as the festival moves ahead.
The action was still going strong with eight tables in play late in the evening and some players have shared they plan to play through the night.
Players with the hospitality package were scheduled to head back to the casino Thursday at 1 p.m. for a trip to the winery club.
Many other players will likely be sticking to the beach, bars, and of course the casino for some ring game action. Live streaming is scheduled at lower stakes at 5:40 p.m. and higher stakes at 8:40 p.m. on a 20-minute delay.
Stay tuned at PokerNews for the next four days as we report some of the hottest action at the Cash Game Festival. You can follow the coverage here.
*Images courtesy of the Cash Game Festival.