Cash Game Festival Heads to Gibraltar May 17-21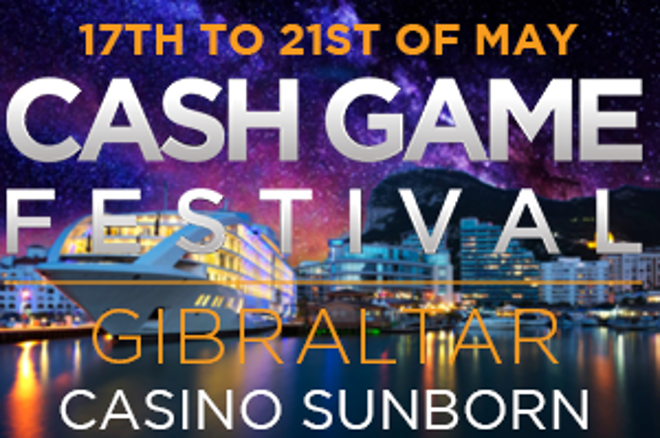 After successful stops this year at Aspers Casino Westfield Stratford City in London in February, Perla Casino on the border of Italy in Slovenia in March, and Olympic Park Casino in the Estonian capital of Tallinn in April, the Cash Game Festival is about to head to Gibraltar at Sunborn Casino for the first time in its festival history May 17-21.
As is always the case, the festival will feature five days and more than 120 hours of nonstop poker along with many events off the felt for players to enjoy.
Each day during the Cash Game Festival Gibraltar, there will be two televised feature tables hosted by Cash Game Festival commentator Brandon Allen and guest co-hosts. Those with the hospitality package will also be able to enjoy a variety of activities planned including welcome drinks, a sporting activity, a world-class dinner, a VIP party and a city tour.
The difference between the Cash Game Festival and tournament festivals is that players can enjoy all of the activities; there are no time clocks as far as when players need to be at the tables. Of course, if players are at a table that is too good to leave, they can still opt to skip any activities and see the sites and sounds of Gibraltar and nearby Spain when they wish to take a break from the poker action.
Those interested in appearing at the feature table, reserving a spot at any cash game table or purchasing the hospitality package should visit the Cash Game Festival website.
The poker room at Sunborn Casino is one of the biggest in Europe and is expected to attract many recreational and professional players. While most of the tables will likely be no-limit hold'em and pot-limit Omaha, any game requested will be catered to by the festival's organizers and casino's staff.
Past festivals have included super dealer's choice where any game goes, open-face Chinese Poker, Sviten Special (also known as Drawmaha) and variations of super stud high-low which have included wild cards. There have even been games played where players put cards on their heads and can only see their opponents' cards and not their own.
Thanks to the great action both on and off the felts, many that have attended previous Cash Game Festivals feel like family with other players looking forward to seeing them again. It is expected that the family will grow even more in Gibraltar.
Sometimes this leads to some crazy prop bets, including one during the Cash Game Festival Bulgaria where the loser of best-of-three heads-up matches will be spending a month in a village in Poland.
Whether or not there will be other prop bets during Gibraltar is yet to be seen, however, there has been some chatter between some of the Cash Game Festival regulars that something might pop up during the festival.
Sunborn Casino provides a great and luxurious environment for poker players with a big poker room. The casino manager, Georg Tsnoulis, shared his excitement about the upcoming event with PokerNews.
"We at Sunborn Casino are truly excited to be one the destinations of the Cash Game Festival," said Tsnoulis. "With less than three weeks to go, there is a vibrant atmosphere among poker players in Costa Del Sol and they look forward to fill up the tables. Our luxurious ballroom offers a truly unique setting, with unmatchable comfort and feeling!
"Sunborn Casino introduced international poker tournaments last year for the first time ever in the history of Gibraltar. Now it's time for the next step, the CGF. We are sure it will be a resounding success."
In case you missed it, here is a look at some of the great action both on and off the felt during the three Cash Game Festivals this year.
Head to the Cash Game Festival website for more information about the stop in Gibraltar and to register for televised feature tables and side tables.