Cash Game Festival Prop Bet Loser Going to Polish Village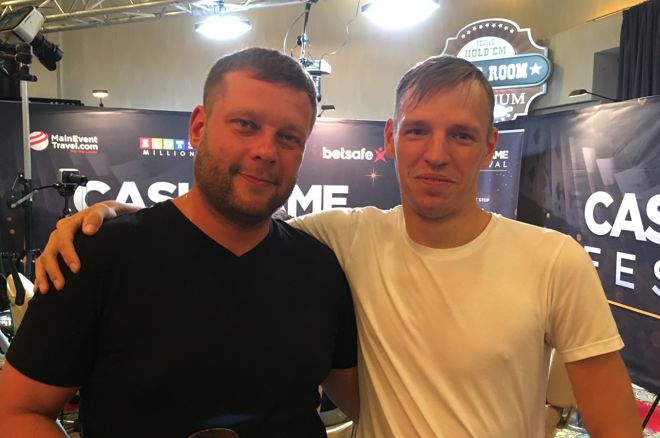 Part of what makes the Cash Game Festival exciting is the colorful players that turn up creating an unpredictable atmosphere and the occasional prop bet.
As a result of a prop bet that took place during the Cash Game Festival Bulgaria at Platinum Casino in Sunny Beach in August 2016, Cash Game Festival co-founder and avid poker player Martin "Franke" von Zweigbergk won a prop bet against Estonia's Janar Kokk.
As a result of this prop bet, von Zweigbergk decided, with the help of PokerNews readers and others, to send his opponent to the Polish village of Hrubieszów, located on the Ukrainian border to live for one month between May 31 and June 30.
Go Big or Go to a New Home
Thanks to the Cash Game Festival, von Zweigbergk and Kokk have developed a lifelong friendship. Kokk was living in Malta at the time. Von Zweigbergk was busy flying around the globe, never staying in one place for too long.
Both players were looking for a place to live, which was one of the reasons they agreed to a creative heads-up prop bet at a cafe on the beach. The match was dubbed during the festival as the "Go Big or Go to a New Home" prop bet.
Details of the prop bet were outlined on multiple napkins and signed by both players. They agreed to play 10 different poker variants in best of three cash game matches with the game switching up after every six hands.
Other stipulations were that the loser would agree to live in a country in the European Union of the winner's choice for an entire year with both players being able to strike locations off their list.
The loser had six months to comply or choose between one of two opt-outs which included the loser paying the winner €5 a day for a year to the winner as a separate bank transfer or choosing to live in a village with at least 10,000 inhabitants of the winner's choice located in the European Union for one month.
The match itself created a huge buzz and crowd. Many that witnessed both players throughout the week felt Kokk had a big edge on von Zweigbergk. After a battle that continued deep into the evening on the last day of the festival, von Zweigbergk pulled off a sweep and chose to send his opponent to live in Italy for a year. Kokk and his wife were celebrating with the crowd at the announcement, since, at the time, this was one of the places they were thinking of moving to anyway.
However, Kokk wound up moving to the United Kingdom a few months after the Cash Game Festival and eventually chose the opt-out of living in a village for a month. Kokk explained a couple of weeks ago that he was looking forward to the adventure of living somewhere new.
How Hrubieszów Was Chosen
While many felt von Zweigbergk was kind to his friend in choosing Italy, he decided that the one-month opt-out should serve as somewhat of a punishment. He was also clear that Kokk must not be allowed to leave the village under any circumstance for a single day and was joking (or not) on social media about his opponent wearing a GPS tracker during the month.
Von Zweigbergk explained during an exclusive interview with PokerNews how he, after much internal debate, chose Hrubieszów as Kokk's temporary home for a month.
"Since Janar opted out from the one year 'new home' option and went for the much harder deal, he has to stay one full month within the community borders of Hrubieszów without leaving it a single day," von Zweigbergk said. "The terms stated that the community must have at least 10,000 inhabitants. So some interesting islands within EU were sadly not eligible. The same goes for northern parts of Finland and Sweden since these places are scarcely populated. So I went for a few base criteria in my search for 'punishment' for not moving to Italy."
Von Zweigbergk outlined the criteria for PokerNews:
Far from where he lives.
Far from a major airport.
As few major roads leading to the community as possible.
Since he will stay during a summer month some heat is needed and far away from the ocean or inland lakes.
About Hrubieszów
While von Zweigbergk claimed that sending Kokk to Hrubieszów for a month was an easy choice after input from others, Kokk should be able to explore some of the culture and deep history of the Polish village.
The origins of the village date back to 1254 when it was first mentioned as a hunting settlement located among forests. About 100 years later, in 1366, the town, which was then called Rubieszow, was annexed by the Kingdom of Poland.
Over the next 100 years, a church and castle were built and the village was visited on at least three separate occasions by Poland's King Władysław Jagiełło. During the 15th, 16th and 17th centuries, the village was destroyed multiple times by invading Crimean Tatars and Cossacks.
Late in the 18th century, the village was annexed by the Habsburg Empire before it became part of the Russian-controlled Congress Poland in the early 19th century.
During this time, a large Jewish population grew in the village and was a source of resistance during World War II, including during the Warsaw Ghetto uprising. Some of the population left when the Soviet Union withdrew from the region at the start of the war. Almost all of the remaining Jewish population perished during the war at the hands of the Nazis and its allies, primarily at extermination and labor camps.
However, a handful of the Jewish population survived the camps including World Series of Poker gold-bracelet winner Henry Orenstein, who now lives in New Jersey.
Orenstein worked his way to success in the United States and became a millionaire as a toy maker. He also founded Topper Toys and was able to convince Hasbro to produce Transformers, his patented product.
Orenstein had a huge impact on poker as well. Among his many patents included the ability to detect and display hole cards in poker games in the United States. Many believe this is what led to the success of poker on television.
He was also the executive producer of Poker Superstars Invitational Tournament and produced the High Stakes Poker.
Next Cash Game Festival in Gibraltar May 17-21
The Cash Game Festival just concluded another successful event in Tallinn where players enjoyed five days of nonstop cash game poker and bonded in many activities away from the tables.
The tour makes its first stop in its history to Gibraltar at Sunborn Casino on May 17-21. While no one can predict what prop bets and other spontaneous and fun occurrences might come about at the festival, what can be guaranteed is more than 120 hours of nonstop cash game poker across any game at stakes both high and low.
Each day there will be two televised feature tables hosted by Cash Game Festival commentator Brandon Allen and guest co-hosts. There will also be a variety of activities planned including welcome drinks, a sporting activity, a world-class dinner, a VIP party and a city tour.
Sunborn Casino provides a great and luxurious environment for poker players with a big poker room. The casino manager, Georg Tsnoulis, shared his excitement about the upcoming event with PokerNews.
"We at Sunborn Casino are truly excited to be one the destinations of the Cash Game Festival," said Tsnoulis. "With less than three weeks to go, there is a vibrant atmosphere among poker players in Costa Del Sol and they look forward to fill up the tables. Our luxurious ballroom offers a truly unique setting, with unmatchable comfort and feeling!
"Sunborn Casino introduced international poker tournaments last year for the first time ever in the history of Gibraltar. Now it's time for the next step, the CGF. We are sure it will be a resounding success."
Head to the Cash Game Festival website for more information about the stop in Gibraltar and to register for televised feature tables and side tables.