Cash Game Festival Moves on to its Second Stop in Slovenia March 8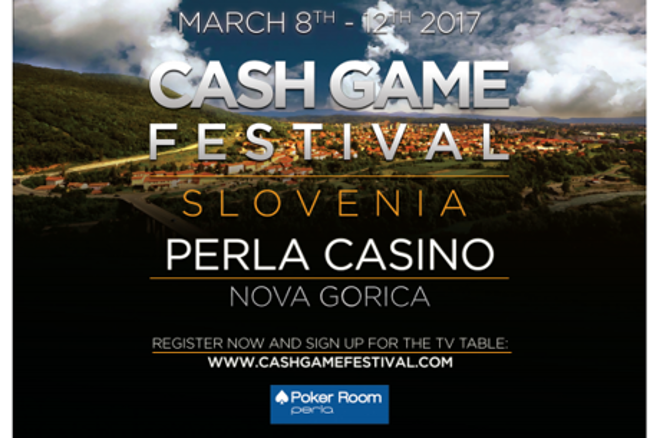 Off the heels of a successful stop at Aspers Casino in East London, the Cash Game Festival is about to embark on its second stop of the year to Casino Perla in Slovenia.
This marks the Cash Game Festival's first stop in the country of Slovenia. Many similarities to other Cash Game Festivals are expected in Slovenia including exciting ring game action for five straight days. Players will be able to enjoy any games they can think of and stakes are expected to run both small and large accommodating everyone's needs.
To learn more about the venue and the event, PokerNews sat down with the Casino Perla Poker Room Manager Miro Karlaš for an exclusive interview.
Karlaš is thrilled about the Cash Game Festival making its first stop at his poker room.
"I'm excited because the Cash Game Festival for us is something new," said Karlaš. "Always we attracted players through tournaments and then out of those players, some of them played cash games. So we never had a good picture of who came just to play cash games and who came to play tournaments and busted out and played cash instead of going home. During the Cash Game Festival, we are sure players are coming just to play cash games as much as possible and have fun. We are excited!"
One main difference those attending previous Cash Game Festivals will notice is that there will be a much larger Italian contingent than at the other stops.
"Our guests are normally 90 percent Italians since our casino is located on the border of Italy," said Karlaš.
Despite the normal mix, Karlaš said the dealers understand English, Italian and Slovenian, so there shouldn't be any issues for players throughout Europe traveling for the festival to communicate as needed.
The poker room normally houses 39 poker tables, making it one of the largest in Europe. When a special tournament is running, the room can be expanded as was the case recently when a tournament festival expanded the reach to 66 tables.
Normally eight of these tables, depending on what is running in the poker room, are designated for cash game players. However, during the Cash Game Festival, Karlaš shared that 20 tables will be reserved for cash game players.
"I hope that will be enough tables," said Karlaš. "At the same time, I hope that this will not be enough tables since this means we will be full of cash game action."
Typically the casino closes each day for hours at a time depending on what is running. Karlaš said that this will not be the case during the Cash Game Festival Slovenia.
"Basically from Friday during the Cash Game Festival at 3 p.m., we are going to be open for 24 hours a day until Monday morning," said Karlaš."
One attraction of Casino Perla is that it is part of a more robust complex which includes a world-class hotel, three restaurants, a luxurious spa, a huge casino, an arena, a theater and a bowling alley. The casino itself is huge, featuring 60 table games and over 1,000 slot machines.
Players traveling to take part in the Cash Game Festival will receive a discount at the hotel. They can also dress as relaxed as they want to the poker room at Casino Perla. Additionally, Karlaš explained that players have no need to leave the hotel with everything it has to offer.
"What some of our players like is that some of them come straight from the hotel even in shorts," said Karlaš. "Cash game players have been known to take a two-hour break while playing to go visit the spa or enjoy our three restaurants. So basically, players can stay all day without thinking about taking a taxi to somewhere else or thinking about where am I going to park."
The casino also houses a Pulse Arena that showcases performances. In addition to many amazing acts, players can also enjoy casino action and, of course, drinks as well.
March 8 is Women's Night which will feature a show called Scandinavian Hunks at 10 p.m. This event is for women only and all in attendance will receive a gift. After the show, ladies can dance all night long to DJ Cvere and the go-go boys.
As is always the case at the Cash Game Festival, the Cash Game Festival is more than just poker. Players with the hospitality package will be able to enjoy welcome drinks, a VIP party, a nice dinner and much more. As the casino is located in one of the most scenic parts of Europe, players will be given plenty of opportunities to enjoy everything the area has to offer with like-minded people.
Also, each day during the festival, there will be two televised feature tables with special guests hosted by Brandon Allen. This gives players not in attendance a glimpse at the great poker action while giving those on the feature table a chance to have family and friends root them on.
Players can reserve a spot on the feature table on the Cash Game Festival website as well as other tables throughout the festival.
As will be the case for all of the at least 10 stops of the 2017 Cash Game Festival tour, the PokerNews Live Reporting team will be on hand to report highlights and player interviews each day.
In case you missed it, here is a look at some of the great action both on and off the felt during the 2017 Cash Game Festival London.
Finding a trustworthy room to play online poker can be a monumental burden. That's all the more true if you're just looking for a place to play poker for free. We've listed five of the best play-money poker sites to enjoy and help hone your skills.