Janar Kokk Loses Unusual Prop Bet at Cash Game Festival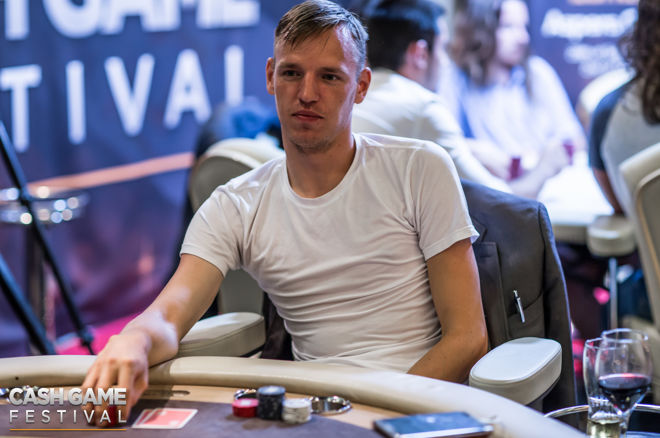 A new friendship forged at Cash Game Festival Bulgaria resulted in a prop bet that could have Janar Kokk traveling the world thanks to PokerNews reader suggestions.
During the Cash Game Festival Bulgaria at Platinum Casino in Sunny Beach in August 2016, Cash Game Festival co-founder and avid poker player Martin "Franke" von Zweigbergk and Estonia's Janar Kokk were both looking for new places to live. Kokk was living in Malta and von Zweigbergk was a man of many homes.
On the beach and at a cafe nearby, the duo were talking about their common situation and agreed to a unique heads-up prop bet. The duo outlined the bet on napkins with many terms in what was referred to as the "go big or go to a new home" best of three heads-up matches.
"It just made sense to use the one month 'out' instead of rushing things and ending up with something sub-par."
The players agreed to play 10 different poker variants with the game switching up after every six hands. Other stipulations were that the loser would agree to live in a country in the European Union of the winner's choice for an entire year with both players being able to strike locations off their list. The loser had six months to comply or pay €5 a day for a year to the winner as a separate bank transfer.
The table drew a big crowd during the battle with many thinking Kokk had an edge on von Zweigbergk. However, after a bit of a battle, von Zweigbergk took the first match. Many fans changed their minds about who would win. The second match also went to von Zweigbergk, thus completing a sweep against Kokk. He chose to send his opponent to Italy. Kokk celebrated because he and his wife were thinking of moving there anyway.
A few months later, Kokk bought a house in the British countryside. A few more months passed and von Zweigbergk informed Kokk that it was time for him to move or take one of the other options. Kokk chose to let von Zweigbergk choose a village in the European Union for him to live in for a year and von Zweigbergk suggested to let PokerNews readers on social media help decide.
PokerNews caught up with Kokk to find out why he wasn't moving to Italy after his initial excitement about it.
"I was indeed excited about moving to Italy," said Kokk. "I'm probably going to move to Italy anyway but later in the year. We were already looking for houses, but it turned out that getting a nice rental in Italy is far more difficult than I had initially thought due to stupidly high minimum contract terms, most places unfurnished, etc. Instead of signing a long-term rental agreement for a place that I won't be keeping for long, I decided I'll probably want to buy instead. But this will have to be a little later, and it's also a fairly long and tedious process."
Kokk said that he has been busier in 2017 than he originally expected.
"It just made sense to use the one month 'out' instead of rushing things and ending up with something sub-par, plus spending half of my year flying back and forth," he said.
Kokk explained why he chose to move to a village for a month instead of paying €5 per day as his buyout.
"One month in a random location is FUN!"
"One month in a random location is FUN!" said Kokk. "Paying Franke €5 a day every day, and we had agreed that these would have to be manual payments, rather than a standing order or an assistant doing them, is definitely not fun."
Those watching the match mostly agreed that the duo were fairly evenly matched. It was easily possible the tables could have been turned and it could have been Kokk deciding where von Zweigbergk would live.
"I had a lot of ideas where to send Franke and can't say for certain what I'd gone for," said Kokk. "It would most likely have been a country that is slightly 'third world,' but still good and fun. I personally like the Czech Republic a lot and I know Franke hasn't spent much time there so that would've been an option. Or maybe I would've had him join me in the United Kingdom. But if he did something very nasty and made me angry, it would've been Sweden where he is originally from for sure!
"For the one month out, I'd be in between Ibiza, because why not, Stockholm or maybe even Sunny Beach, Bulgaria, as that's where the bet happened," Kokk said. "I'm sure he would've had fun anywhere I sent him, though."
Help von Zweigbergk decide where Kokk should move by responding to this article in the comments.
Coming up soon are two more Cash Game Festivals at Olympic Park Casino in Tallinn, Estonia April 26-30 and at Casino Sunborn in Gibraltar May 17-21.
The PokerNews Live Reporting Team will be on hand to report on all the excitement at both of these stops and all the remaining stops throughout the year.
The festivals include five days of nonstop ring game action across a wide variety of games and stakes and two televised Twitch feature tables per day hosted by Brandon Allen. In addition to players bonding at the tables, they also bond off the tables in a variety of planned activities in the hospitality package which typically includes welcome drinks, a sporting activity, a world-class dinner, a city tour and a VIP party.
In the meantime, check out the trailer videos for both Cash Game Festival Tallinn and Cash Game Festival Gibraltar.
The Cash Game Festival has had two successful stops this year at Aspers Casino Westfield Stratford City in London in February and at Perla Casino on the border of Italy in Slovenia in March.