Will an Epic Prop Bet Take Place at Cash Game Festival London Sept. 20-24?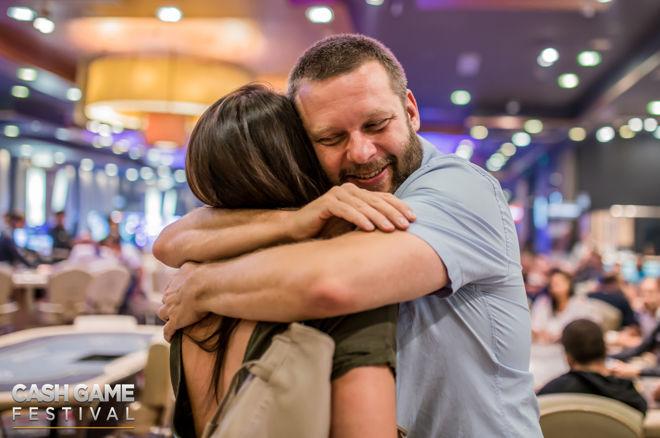 The Cash Game Festival is returning to London for the second time this year and the fourth time overall at Aspers Casino Westfield Stratford City from Sept. 20-24.
As is always the case at Cash Game Festivals, there will be nonstop cash game poker for more than 120 straight hours in limits small, medium and high. Most of the games will be no-limit Texas hold'em, however, there will be plenty of other tables running games including pot-limit Omaha, super dealer's choice, Sviten Special and much more.
Scheduled Events
Twice a day at 6 p.m. and 9 p.m., Cash Game Festival Commentator Brandon Allen along with a variety of co-hosts will be broadcasting two feature tables on the Cash Game Festival Twitch channel. Since PokerNews will be on hand to report on all the events on and off the felt, the stream will also be embedded in our coverage.
There will be many activities away from the tables for those that won a package to the Cash Game Festival or players that opt to take part in the hospitality package including a welcome cocktail event, a sporting activity, a city tour, a world-class dinner, a VIP party and more.
However, at just about every Cash Game Festival, some surprises come up that weren't planned, including prop bets. During the last Cash Game Festival in Bulgaria in August, there was an epic prop bet involving betsafe Ambassador Monika "HeyMonia" Zukowicz and Martin "Franke" von Zweigbergk after the duo was in a grudge match regarding who was the better poker player.
Epic Prop Bet Details
If you have ever agreed to a prop bet that if you lost would have involved something silly or unthinkable, you can relate to the tension that might occur. This usually involves things that could be amusing to the other party especially when they are friends like von Zweigbergk and Zukowicz are.
On August 12 or Day 4 at the Cash Game Festival Bulgaria stop at Platinum Casino in Sunny Beach, a prop bet between the duo started forming. The two agreed to play three sets of best-of-three heads-up matches where Zukowicz would be playing in all three and von Zweigbergk would have a team including two other players and himself to face off against Zukowicz.
While the terms were simple enough, the risks were high. If Zukowicz won the bet, von Zweigbergk would have been forced to work as a cashier in the Estonian grocery store chain Maxima for the entire month of November. For many, this would have been an easy thing to complete, but such would not have been the case for von Zweigbergk, who appeared to be nervous according to accounts from many watching the battle unfold.
First, although von Zweigbergk does live in Estonia, he is Swedish and does not speak Estonian. Second, he is a very busy man, constantly working and traveling. Third, why would Maxima want to hire a Swedish man for one month? The only option to get that job would have been to try and negotiate the temporary employment with Maxima management.
The prop bet conditions were not much more pleasant for Zukowicz. If von Zweigbergk won, Zukowicz was tasked to drive from Sunny Beach, Bulgaria to Faro, Portugal to pick up an "extra spicy chicken Piri Piri" and deliver it to Tallinn Estonia. In total, this would have been approximately an 8,500 km journey across Europe and to make matters even more complicated it was to be completed in a Slowball car.
If you aren't familiar with Slowball, it is an art-on-wheels festival where the organizers purchase old cars and repair them before artists transform them into works of art. The festival takes place every two years and this year the route was Tallinn-Helsinki-Fiskars-Turku-Stockholm-Mariehamn, Åland Islands.
Zukowicz Loses the Bet
On Day 4, Zukowicz lost the first match to Poland's Pawel Wakuluk and the match was broadcasted live on PokerNews' Facebook page. She was visibly upset before arriving back on Day 5 to continue the battle.
Her next match was against Cash Game Festival Project Manager Andro Loos, which was also broadcasted live. Some good play by Loos and some bad beats suffered by Zukowicz led to a second straight loss.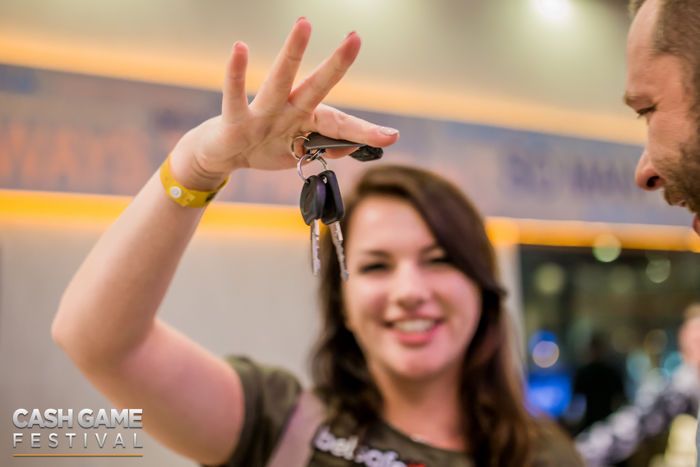 Zukowicz didn't need to admit von Zweigbergk was better since she didn't make it to the rubber match where she would have faced off against him. Unlike on Day 4, she was prepared for her loss and was visibly happy. It probably helped that immediately following the match, several friends volunteered to join her on several parts of her journey after von Zweigbergk handed her the keys to a beautifully painted, yet old, Volkswagen Passat.
Her car, which was designed by Mexican artist Goal Maya, embodied the spirit of Slowball - Art on Wheels. It had neither functioning air conditioning nor was the driver's side electric window functioning. It was parked in front of Platinum Casino during the entire Cash Game Festival Bulgaria after von Zweigbergk drove it 3,300 kilometers with three beautiful young ladies in Petra Poola, Kadi Kask and Madli Kärner.
Zukowicz and von Zweigbergk were both tracking the outcome of the bet on social media both before the journey began and while the journey took place. Von Zweigbergk didn't forget to thank betsafe, which was fully on board with the bet.
"I'm sending her to Faro in a Slowball car from Cash Game Festival Bulgaria to pick up a Chicken Piri Piri to my office in Tallinn, Estonia," von Zweigbergk shared on Facebook. "Thank you, Michael Robinson and Betsafe for good food to be delivered."
She began her journey right after the Cash Game Festival event concluded on August 14. She had to cancel all her plans for the next month or so, but since Barcelona was on the way she was able to get in some poker.
Without any major mechanical trouble, Monika eventually made the journey while doing vlogs for her fans all the way to Faro, Portugal where she picked up the extra-spicy chicken Piri Piri for von Zweigbergk.
An Early Ending
All seemed to be going as planned when suddenly, the car broke down in Andorra. The old Volkswagen had broken down so badly that there was no possibility of fixing it in a reasonable amount of time. The decision was made to scrap the car in Andorra.
On September 5, it was officially announced on the Cash Game Festival Facebook page that the prop bet was over. Von Zweigbergk accepted the result as is and did not ask Monika to fix the car. Despite the prop bet not coming to the victorious end, it was epic for as long as it lasted.
If prop bets at Cash Game Festival Bulgaria sounds familiar, it could be because a different notorious one involving Estonian Entrepreneur Janar Kokk and von Zweigbergk took place at the same location, which von Zweigbergk also won. You can read more about that prop bet here.
Whether or not another epic prop bet pops up during the Cash Game Festival London stop remains to be seen. If you aren't attending the event, you can find out by tuning into our coverage at PokerNews. What can be promised are dozens of nonstop cash game tables involving recreational and more serious players along with excitement both on and off the poker tables.