Cash Game Festival Heads to Dublin Oct. 11 and Tallinn Nov. 15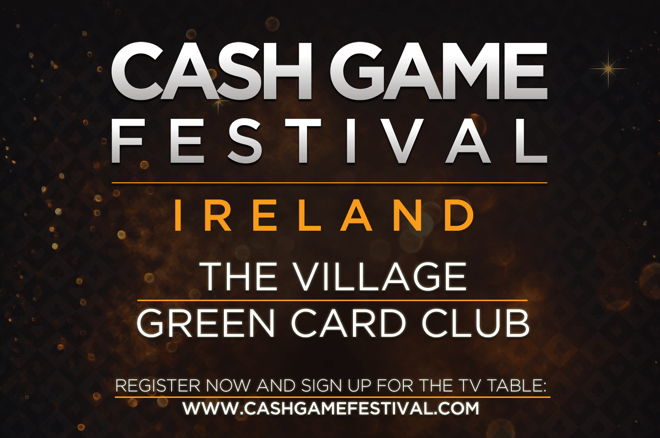 The Cash Game Festival will be closing out the year with two more stops in Dublin, Ireland on Oct. 11-15 at the Village Green Card Club and in Tallinn, Estonia at the Olympic Park Casino on Nov. 15-19.
As has always been the case, the festivals will feature more than 120 hours of nonstop cash game poker action and plenty of side events for players to enjoy away from the tables.
In addition, twice per day at 6 p.m. and 9 p.m., the Cash Game Festival will be hosting two feature tables on the Cash Game Festival Twitch channel. Since PokerNews will be on hand to report on all the events on and off the felt, the stream will also be embedded in our coverage for both of the festivals.
You can register to attend and appear at the televised feature tables for the Dublin event here and for the Tallinn event here.
Cash Game Festival Origins
While this will be the first time the Cash Game Festival will appear in Dublin, the festival has a long and storied tradition in Tallinn where the first three stops of the tour took place.
Enri Orav, who is now the Betsafe poker manager, and entrepreneur and poker player Martin "Franke" von Zweigbergk founded the festival with the first event taking place in October 2014. While there are plenty of poker festivals with tournament players in mind, at the time there wasn't anything that catered specifically to cash game players.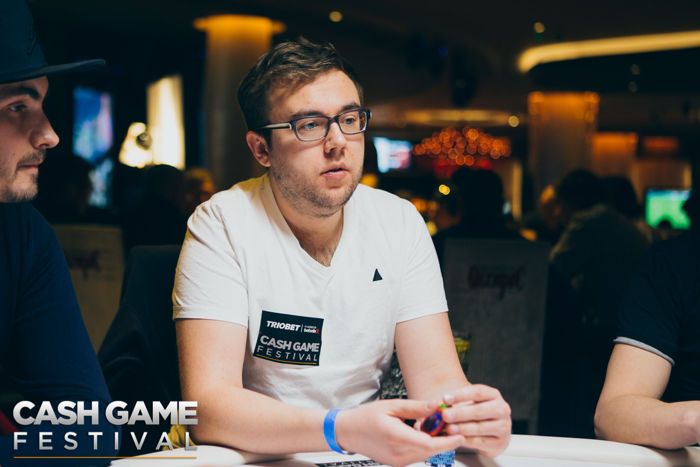 "The idea came about since there were no poker festivals for cash game players," said Orav to PokerNews. "At the time, I played a lot of cash games at my local casino. I discussed the idea with Franke and the Cash Game Festival was born."
After initial success, the first festival spring-boarded two more festivals in Tallinn in 2015.
The Cash Game Festival was an instant success, especially in terms of player experience," said Orav.
"Everyone was very happy and we also had a lot of people watching our first-ever Cash Game Festival stream."
Cash Game Festival Goes International
Von Zweigbergk shared with PokerNews that the intention even before the first event was to take the tour internationally. By the end of the third event in Tallinn, the festival was already attracting players from Scandinavian countries and the co-founders felt it was time to expand to other locations outside of Tallinn.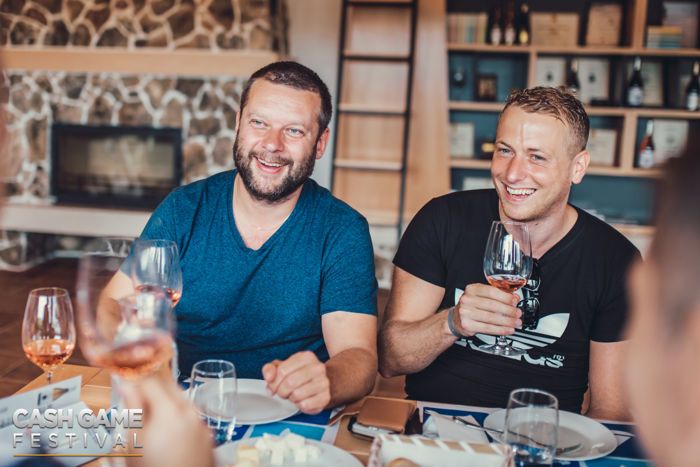 "After experimenting with different things including where the televised table should be located we felt we were ready for a wider audience to Europe and beyond," von Zweigbergk said.
The first Cash Game Festival outside of Tallinn took place at Aspers Casino Westfield Stratford City in East London, a place that now has hosted the Cash Game Festival four times and plans to host more in the future. The festival was successful yet again, attracting players from as far as Australia to play in their choice of the 28 cash game tables across many different games including no-limit hold'em, six-plus hold'em, dealer's choice pot-limit Omaha, open-face Chinese poker, Sviten Special, H.O.R.S.E. and super dealer's choice with buy-ins ranging from £1/£1 to £25/£50.
Von Zweigbergk was organizing the first festival from his home in Uruguay before he moved back to Europe and learned right away he needed a good workforce to build on its early success. The festival outsourced many services since at the time it didn't have the capacity to handle everything in-house.
After London, the Cash Game Festival continued its 2016 season by heading to Casino Malta by Olympic Casino in Malta in June, Platinum Casino in Sunny Beach, Bulgaria in August, Aspers Casino in London again in September before it returned to its original home in Tallinn in November. During the year, the festival brought many services in-house including its production services.
"We brought in the television services and the t.v. table along with production and other services," shared von Zweigbergk. "Over a few stops, we learned how to utilize our production technology. We created our own production company called 24 Hour Productions. This is now a well-known production company with its own photographers, film-makers, editors, etc., which now also has expanded outside of the festival to take on other ventures. The feedback we got from our online and casino partners is that the level of quality in our videos and our still photos is very high and on a very professional commercial t.v. level. Which is great to hear. Our production crew is able to capture the ambiance and the feelings of those attending our festival and activities."
In order to expand to many other locations, the Cash Game Festival felt it needed more support.
"The commercialization of the Cash Game Festival was pushed along by bringing in a third co-owner of the company Andreas Roseborg," von Zweigbergk said.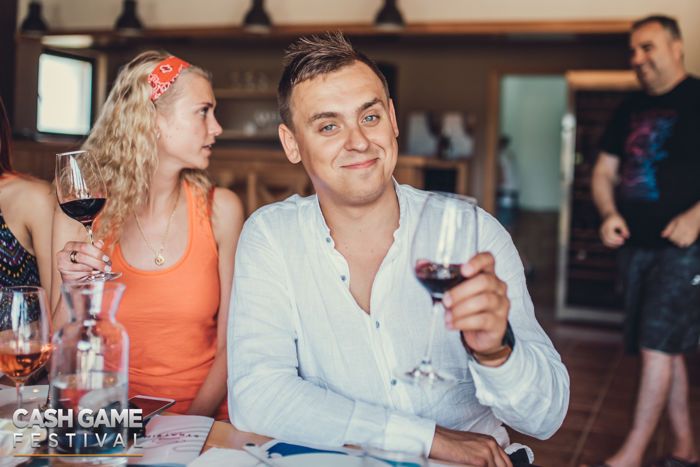 While bringing Roseborg aboard helped forge new relationships and assist with the expansion of the festival, the festival itself has proven to be a success in no small thanks to the rest of the team led by Cash Game Festival Project Manager Andro Loos.
"For me, bringing Andro Loos aboard for the past year and a half as a project manager has made a huge difference," von Zweigbergk shared. "We have a team with and around him that event after event show an amazing commitment and work ethic. They deliver happiness and great service for clients, players and everyone involved on stop after stop after stop. If you have been to any of the Cash Game Festivals you have noticed that there is always a smile on Andro and the rest of the team. I think that is amazing. The feedback I get from players and partners is that they are very happy with my team and what they deliver."
Cash Game Festival Continues to Expand in 2017 and Beyond
The Cash Game Festival expanded from five stops in 2016 to nine stops in 2017 with seven of those stops already in the books. Some of those stops were familiar to the Cash Game Festival including Aspers Casino in London in February and September, Olympic Park Casino in April Casino Malta by Olympic Casino in June and Platinum Casino in Sunny Beach, Bulgaria in August.
Other stops were new to the Cash Game Festival including Perla Casino in Slovenia in March and Sunborn Casino in Gibraltar in May, which both proved to be highly successful. The upcoming stop at Village Green Card Club in Dublin next week is another new stop and the first time that the Cash Game Festival will appear at a poker-only venue.
Aspers Casino Poker Supervisor John Casey has been to all four stops in London and has seen its growth and potential. He also hopes to play in one of the upcoming stops and recommends those that haven't been to a festival to attend one to see what it is all about for themselves.
"The progress the festival has made in the time span it has been going is crazy," shared Casey to the Cash Game Festival in a video interview. "There are more and more stops being added. They have added Dublin, which is pretty cool. I look forward to personally going to playing that, but it won't be this year and it will probably be one of the next events. It's just growing bigger and bigger and bigger. One of my hopes is that it will be coming here all of the time. If you haven't already played in one of these Cash Game Festivals, why haven't you already? You need to get yourselves down here and play this. There is great action, great people and a great event."
According to von Zweigbergk, the Cash Game Festival hopes that next year they will have a stop once every three weeks. He also believes the festival will expand soon to other continents outside of Europe.
Continue to follow PokerNews for more updates on the latest from the Cash Game Festival.
*Images and videos courtesy of the Cash Game Festival.