Jamie Nixon's EPT Online $25K SHR Experience: 'I Literally Can't Ever Moan About Running Bad Again'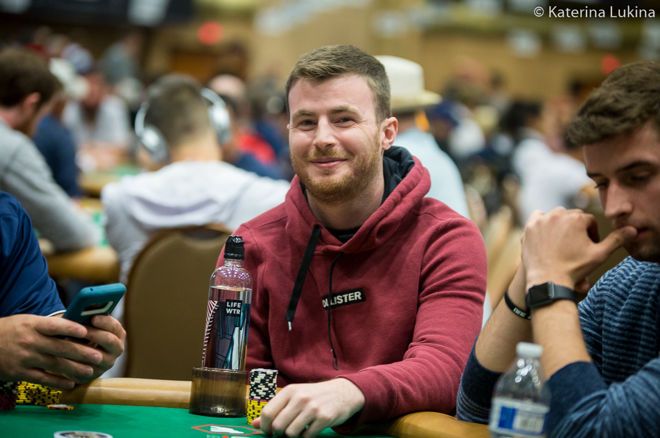 Jamie Nixon is well-known as a mid-stakes tournament grinder, especially in the United Kingdom where he calls home.
Many know him from his frequent travels around the globe when live poker was still booming. Many others know him for his amazing Twitch stream featuring games at Grosvenor Poker including the GCOOP series that just took place.
One thing just about everyone has to say about Nixon is that he is one of the nicest guys in poker and is always happy to chat to anyone whether they are an uber respected high roller or someone playing poker for the first time.
It came as a surprise, however, to see Nixon in the field of the EPT Online 10: $25,000 NLHE [8-Max, Super High Roller] at PokerStars as the poker grinder has never appeared in games this high.
Nixon hung around with the best in the game and made it all the way to the final table before bowing out in eighth place for $71,387. This would be a sizeable return for a $25,000 investment but even more so considering Nixon qualified in for just $75!
Nixon sat down with PokerNews to talk about his amazing experience.
From Tilt to a $25K Ticket!
While normally it isn't recommended to play while on tilt, Nixon wouldn't have entered the Super High Roller under normal circumstances.
"I didn't plan to play the Super High Roller," Nixon said. "I was playing the $109 Thursday Thrill on stars and I busted around 20th for a chip lead pot in a ridiculous fashion. I was fuming and tilt registered the special $75 Spin & Go. I very rarely do this but felt compelled and it span it into a Super High Roller ticket. At first, I assumed it was a satellite ticket for the $25K but it quickly dawned on me that I was playing for a direct seat to the $25K. I literally can't ever moan about running bad again."
It Took Just One Shot
Players can grind many Spin & Go's before having a shot at a ticket for a huge event. Nixon shared he was fortunate to play for one on his first try and be fortunate enough to be against players he felt he could exploit.
"It was mental," Nixon said about the qualification process. "Just one shot and I managed to bink the ticket. I was extremely lucky not only to be playing for the ticket but also to be up against two players that I could exploit. I went in with the mindset that they would lock up playing for such a big prize, so I piled on the pressure! For example, I opened the button, the small blind three-bet the minimum, the big blind called, and I jammed 21 big blinds effectively with jack-nine, knowing they'd be scared to call it off! Fortunately, things went my way and I took it down."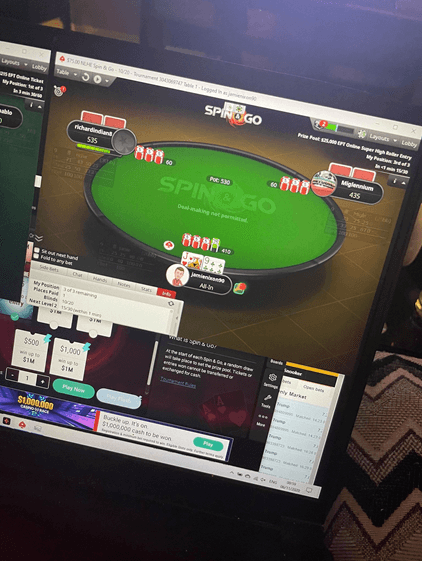 Nixon Felt He Could Hold His Own
One might expect nerves to come into play when playing a Super High Roller when their average buy-in is typically around $125. Nixon was confident he could hold his own in no small part due to the experience he has playing some $1,000 to $5,000 buy-in events over the years.
"The guys in that tournament were all beasts but I felt that I could hold my own against them," said Nixon. "I've played a fair few 1-5ks and battled with the majority of them from time to time but being against them all at once was a dream for me not so long ago. I've always targeted getting to the SHR scene and I was lucky enough to find myself there a lot earlier than expected through good fortune. To be playing at a table with Fedor Holz, Benjamin "bencb789" Rolle, Sam Greenwood, Timothy Adams, and Steve O'Dwyer was pretty surreal!"
Helped to Chip Up Early
It wasn't all rainbows and sunshine during the Super High Roller but he did manage to chip up early that helped his mindset.
"I didn't have a specific gameplan in terms of chipping up early, but I managed to do so and that did help me to feel comfortable," Nixon said.
Although Nixon chipped up early, he did lose a big pot to put him in danger. He remained confident in his short stack game and was once again in a good spot after rebuilding his stack.
"I lost a big pot with kings against big slick all in preflop for chunks against Mikita Badziakouski midway through Day 1 but still felt comfortable as there's only so much you can do with eight big blinds," said Nixon. "I couldn't make many mistakes then! I ran well after that and managed to build up a nice stack again."
Big Hand Against Timothy Adams
Nixon had a big double with two tables remaining when he check-called three streets against Timothy Adams with top two pair including facing a jam on the river for his tournament life.
"This hand was huge for me," Nixon said. "Firstly I just want to say that Tim is one of the players I admire most in the SHR scene. He gets it done quietly and is just an insane beast! In this particular hand though, he helped me out a lot. I have done a fair bit of work lately on my game and knew he was capable of triple barrelling with tens for value etc. But he would also be applying max pressure to me, as he would have considered me to be scared money with 14 left in a $25K and as a result, I felt that he would be weighted more to bluffs. I knew as soon as he shoved the river that I was calling but I had to take a fair chunk of my timebank to click the call button. The human element definitely kicked in and tried to stop me from calling but the inner robot won and made the hero!"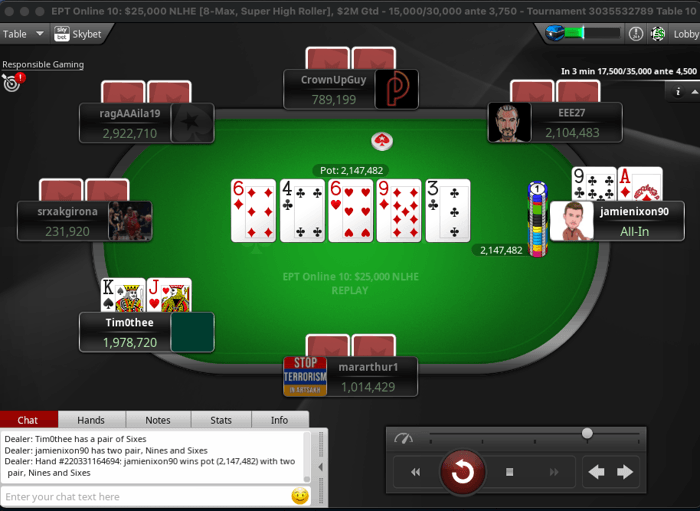 What's Nixon's Plans Now?
As expected, Nixon will continue streaming online as he has built up a family following and you can see he enjoys what he is doing every time you tune into his action. But will we see more of Nixon in Super High Rollers?
"My main takeaway after the EPT Online Super High Roller is that I am an absolute luckbox to get the opportunity to play a $25K for such a small outlay and now, my goal is to get back to the SHR scene," Nixon said. "So I'll keep working towards that- most likely through satellites. As for now, I'm grinding an average buy-in of $125 and taking shots in some $1-$5Ks alongside my stream for Grosvenor Poker."
"I aim to be back in the SHR scene in the next couple of years so watch this space!"
Last week, Nixon was busy streaming the Grosvenor GCOOP series including the Main Event and the High Roller. Nixon shared that this is just the beginning as he plans to continue to stream all of the big Grosvenor live events that have moved online, so be sure to check out his Twitch channel.