GGPoker Bilzerian Freeroll Winner Alex O'Brien on Running Hot and Having Fun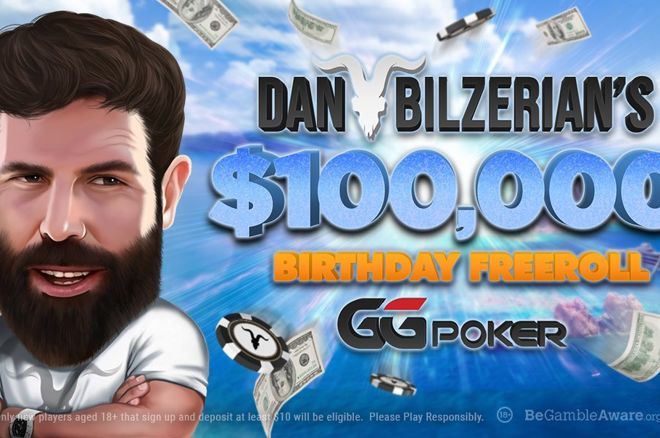 Table Of Contents
The first time Alex O'Brien played poker was in London. Armed with some videos and a couple of poker books, she jumped into a Friday night $55 tournament. She admits, she didn't even know how much she had to put in for blinds and antes each hand.
Fast forward to December 2020, and she's just won GGPoker's $100k GTD Dan Bilzerian Birthday Freeroll. The perfect way to celebrate handing in a manuscript for a book she's writing.
In addition to the $10,000 first prize, O'Brien also won $3,000 to play against Bilzerian himself. No date has been set for this heads-up match, although it is rumoured to be in the New Year.
O'Brien the Author
Before the pandemic hit, O'Brien regularly played live poker. Whether in home games with up to 30 women ("I tell you, they're killers!) or at casinos across London, she was passionate about poker. So much so she recently got a book on commissioned, although she insists it's not a book on poker.
"The thesis is about how we should be using poker as a framework for thinking," she explained. "Just the utility of poker, and how it has some real uses."
Besides a brief explanation of the game, the book doesn't go into poker strategy or different plays for a good reason.
"I'm a science writer, not a professional poker player!" said O'Brien.
The book talks about the different skill sets needed as a poker player; things like data literacy, critical thinking, emotions and decision making. O'Brien says she has interviewed about 40-50 people for the book, including "a lot of scientists."
"Poker has this image problem," said O'Brien. "All this gambling is degenerate, things like that. So someone who has never played poker will never think about poker as a strategic game, when it's so highly strategic.
"That's why my book is a book on poker, without talking about poker. It talks about the science, and makes the case chapter by chapter that poker isn't this game played by a gang of boys or bad guys and that it's always a terrible bad habit to have."
---
Related: Tom Dwan Predicts "Golden Age" for US Poker on Brandon Adams Podcast
---
Bilzerian's Birthday Freeroll
O'Brien says she found out about the Freeroll from her poker coach, and eventually jumped into the tournament during late registration.
"He asked me if I'd seen the GGPoker freeroll and I said that I hadn't. On the afternoon of the freeroll he messaged me checking if I'd entered and I hadn't. I basically knew nothing except there was this tournament with a massive freeroll."
After doubling up first hand, O'Brien says she was inside the top 50 for most of the tournament. Using the GGPoker software, she was able to easily track what the next payout was. First $250. Then $500. And with 20 left she received a message from her coach.
"He was watching it online. And he's texting me saying 'You're first in chips!'"
---
Read More: Formula One Champion Lewis Hamilton Makes Pit Stop at GGPoker
---
The Final Table
At the final table, with so many short stacks, O'Brien was content to sit back and ladder. It was only until the final four that she realised that the top prize could be hers.
"I was never focused on winning the whole thing. Just focused on one more elimination. Let's do one more and with four left I'm like 'OK, let's do this.'"
After winning, many have sought to frame O'Briens victory with regard to her gender, something O'Brien was quick to dismiss.
"It's nothing to do with my gender, it's everything to do with my skill. The female aspect should never, ever come into play in any aspect of our lives."
Looking back, O'Brien says that she was just having fun en-route to her victory.
"I was in the right headspace because with my manuscript handed in, for the first time in a long while I wasn't thinking about anything else; my mind wasn't clouded. I was just having fun. I was just running hot. I'd just turned in my book and I was applying the knowledge, and then I went on to win."
O'Brien insists what the poker community should take from her freeroll win, is that if you apply your individual poker knowledge you can achieve anything you put your mind to.
"That's the story right? It's not about [Bilzerian]. It's about me."
---
Boost Your Bankroll With the GGPoker Welcome Package
Download GGPoker via PokerNews and get set receive plenty of rewards when you deposit at least $20.
You'll get $40 in free tickets over the first six days following your eligible deposit, no strings attached! All free tickets awarded as part of this promotion will expire after 30 days
| Day | Instantly Credited Tickets | Extra All-in Or Fold Challenge |
| --- | --- | --- |
| Day 1 | $9.50 in Spin & Gold Tickets | Play 100 AoF Hands - Get $2 Cash |
| Day 2 | $5.00 in Spin & Gold Tickets | Play 200 AoF Hands - Get $4 Cash |
| Day 3 | $4.00 in Spin & Gold Tickets | Play 300 AoF Hands - Get $6 Cash |
| Day 4 | $5.00 in Spin & Gold Tickets | Play 400 AoF Hands - Get $8 Cash |
| Day 5 | $6.50 in Spin & Gold Tickets | Play 500 AoF Hands - Get $10 Cash |
| Day 6 | $10.00 in Spin & Gold Tickets | Play 1,000 AoF Hands - Get $15 Cash |
But to grab up to $60 in additional rewards, simply play All-In or Fold on each of six days. Hit the daily hand targets to claim up to $45 in cash. Complete all 6 AoF Challenges and get a $15 GGMasters Satellite Ticket on Day 6!
Will Shillibier is based in the United Kingdom. He graduated from the University of Kent in 2017 with a B.A. in German, and then studied for a NCTJ Diploma in Sports Journalism at Sportsbeat in Manchester. He previously worked as a freelance live reporter, and video presenter for the World Poker Tour.