William Firebaugh Wins Benny Binion Shootout at Southpoint for $100K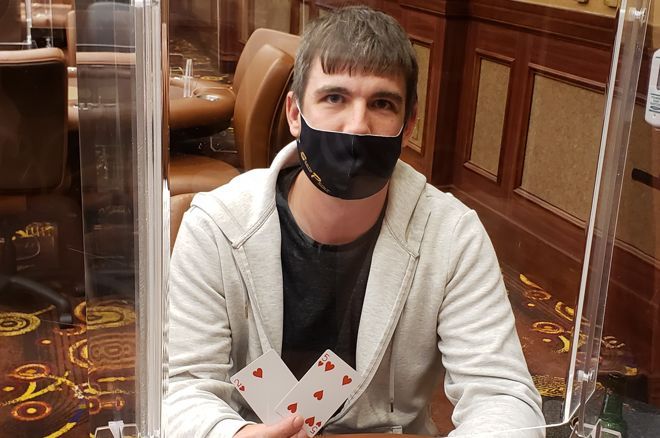 Table Of Contents
Las Vegas remains one of the few places out there with a decent selection of live poker, and South Point Hotel Casino & Spa offered a unique menu item over the weekend: a $2,050 shootout.
Dubbed the Benny Binion Shootout, it featured a $256,000 guaranteed prize pool capped at 128 runners. With a low rake of just $50 — all going to the staff, according to the event's promotional material — and a bit of an old-school prize breakdown that awarded almost 40% of the money to the winner, the Benny Binion Shootout proved an attractive option that filled the allotted seats.
The final table featured one of the U.S.'s ubiquitous live grinders in Nick Pupillo, but he'd fall just short of the $100,000 first-place prize as William Firebaugh defeated him heads up to take it down.
Official Final Table Results
| Place | Player | Hometown | Prize |
| --- | --- | --- | --- |
| 1 | William Firebaugh | Indianapolis, Indiana | $100,000 |
| 2 | Nick Pupillo | Gilbert, Arizona | $50,000 |
| 3 | Daniel Pickering | Las Vegas, Nevada | $25,000 |
| 4 | Han Hoai | Las Vegas, Nevada | $18,000 |
| 5 | Dan Matsuzuki | Scottsdale, Arizona | $14,000 |
| 6 | Jason Phamolivo | Las Vegas, Nevada | $11,000 |
| 7 | Brian Mancilla | Las Vegas, Nevada | $8,000 |
| 8 | Rich Dixon | Cheyenne, Wyoming | $6,000 |
The shootout is a format not seen often in live poker, making a notable appearance each summer at the World Series of Poker but at few other venues or events.
South Point, though, added a unique twist of their own when setting this one up. Rather than the winner of each table advancing, the players started each table eight-handed and played until four were left. Therefore, until the final table, the goal for each player was to accumulate as many chips as possible while surviving through the eliminations of four opponents.
"Feedback from the players was great and they all had a really good time," house poker room manager Jason Sanborn told PokerNews.
Notable Results
In the course of play, plenty of notable players fell in the round before the money was reached at 16, including "World Famous" Pat Lyons, 2020 bracelet winner Terrell Cheatham and Anthony Spinella, who held the chip lead through the first two rounds.
Ronnie Bardah and Chris Lindh were among those cashing but missing the final table as they were felted in the penultimate round, while 2018 bracelet winner Dan Matsuzuki made the final table but got bounced in fifth.
Pupillo and Firebaugh, the two start-of-day leaders, made it to heads-up play deep-stacked. While Pupillo was able to get close to square, he'd have to settle for second when Firebaugh shoved a five-high combo draw and got there against Pupillo's top pair. The well-traveled Arizona resident settled for $50K in a year that's seen him scrape together $300K in cashes in spite of the pandemic.
Meanwhile, Firebaugh, who had a previous best of $36K in a WSOPC ring win, set himself a new personal best by a mile with the six-figure score.
More to Come?
If Sanborn has any say, it sounds like more shootouts could be coming down the road at South Point. While he admitted the venue is "looking into" the costs associated with the event — it seems nearly certain they took a loss considering the minuscule fees — he sounded hopeful the unique shootouts could be recurring events.
"We will 100% run this type of event in the future, but we want to make sure the timing is right and we are able to provide the same great experience," he said. "I can see us running a small series leading up to this type of tournament as the Main Event.
"We definitely considered the tournament a success."