Win a $10,000 WSOP Main Event Seat Like a Boss!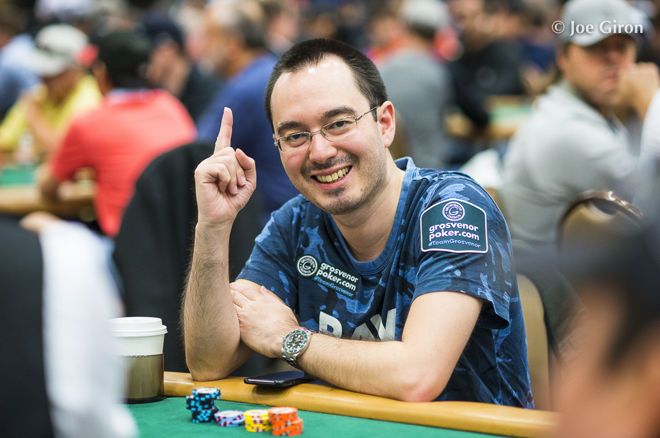 Table Of Contents
Every poker players loves a good bluff, especially when it's on the biggest stage of all - the World Series of Poker.
And with PokerNews readers in with a chance of bluffing their way to a $10,000 2020 WSOP Main Event ticket, what better way to get you in the mood than to take a look back at some of the most famous bluffs in WSOP history!
Which kind of bluff will you pull in order to win the Main Event seat?
Win a $10,000 WSOP Main Event Seat
Find out all the details about how you could win a $10k Main Event seat on GGPoker
---
The Talkative Bluff
I mean we had to mention this one, right? The infamous Will Kassouf "Nine-high like a boss" hand from the 2016 WSOP Main Event.
On a river of
Kassouf had bet enough to put his opponent Stacy Matuson all in. Matuson held
for an overpair to the board, well ahead of Kassouf's
.
And that's when the talking started. Kassouf reiterated that he wanted Matuson to call, that he'd show if Matuson folded and that he'd keep it friendly. The floor was called and eventually the clock was called.
The seconds were counted down before Matuson open-folded pocket queens.
"You want to see it?" asked Kassouf. "Sick bluff. Turned the double-gutter and missed. Never mind. Nine-high like a boss."
---
The Semi Bluff
Action was five-handed at the 2019 WSOP Main Event final table when chip leader Hossein Ensan got involved with a pot against Garry Gates, who was second in chips.
Gates raised to 3.5 million on the button with
. Ensan defended his big blind with
. The flop came
and Ensan checked. Gates continued for 2.3 million.
Ensan called and the turn was the
. Ensan checked again and Gates fired again for 6.5 million. The river was the
. Ensan bet 8.9 million and Gates raised to 24.5 million. Ensan called with top pair, taking down the pot.
---
The Heads Up Bluff
A year earlier, at the 2018 WSOP Main Event, a mammoth ten-hour heads-up battle between John Cynn and Tony Miles culminated in Cynn winning $8.8m and the WSOP Main Event bracelet.
The pair had several huge spots together including this one that came with Cynn holding a more than 2:1 lead over Miles.
The pair saw a
flop and Miles
checked. Cynn
bet 4.5m into a pot of 10.6m having flopped middle pair. Miles called. The turn was the
and Miles check-raised Cynn's bet of 6.5 million to 20 million.
Cynn eventually called, with Miles shoving the
river. Cynn went into the tank.
"Alright," said Cynn. "I think if you're sick enough to pull this bluff off, I think I just have to let you have it. I don't have a very good hand at all." Cynn folded and Miles took down the pot.
---
Related: John Cynn Wins the 2018 WSOP Main Event for $8,800,000
---
The One Drop Bluff
Not all bluffs occur in the Main Event, naturally, so we thought we'd shine the spotlight on another notable bluff in the $1,000,000 WSOP Big One for One Drop that occurred back in 2014.
At the final table, Scott Seiver
raised to 1.2 million and Tobias Reinkemeier defended his big blind with
.
The flop was
and Reinkemeier check-called 1.5 million. The turn was the
and Reinkemeier checked again. Seiver moved all in for 6.8 million into a pot of just 6.2 million.
Reinkemeier asked for a count and went deep into the tank. "Scott I was trapping," Reinkemeier said before the two had a short back-and-forth.
"I wouldn't normally fold this," said Reinkemeier before the clock was called on him. The decision had taken over ten minutes before he eventually folded.
"No chance that's aces, that would be impossible," said Seiver before the dealer turned them over. "How can you do that!" He showed his king-ten.
"Nice hand," replied Reinkemeier.
---
Enter the Giveaway Today!
We are awarding one WSOP Main Event seat to whoever show us their best bluff
On Saturday, Dec. 5th, PokerNews will announce the winner through our social channels. The bluff king or queen will then receive a FREE $10,000 2020 WSOP Main Event ticket for Day 1c of the Main Event on Sunday, Dec. 6th, kicking off at 6 p.m. G.M.T.
The rules are simple:
Capture your bluff live, as it happens - film it use a screen recorder or any other preferred method
Talk us through it - state your bluffing plan, why you are bluffing, and why it's guaranteed to work
The bluff needs to stand out - use your creativity!
If your bluff works - you MUST show your cards. No exception!
Make sure to utilize GGPoker's amazing software to your advantage - SnapCam and the various emoji's are fantastic ways to compliment your bluff
React - because you may have just won your way into the 2020 WSOP Main Event!
Find out more details by clicking here!