APAT CEO Leigh Wiltshire Gives The Low-down on the WCOAP Festival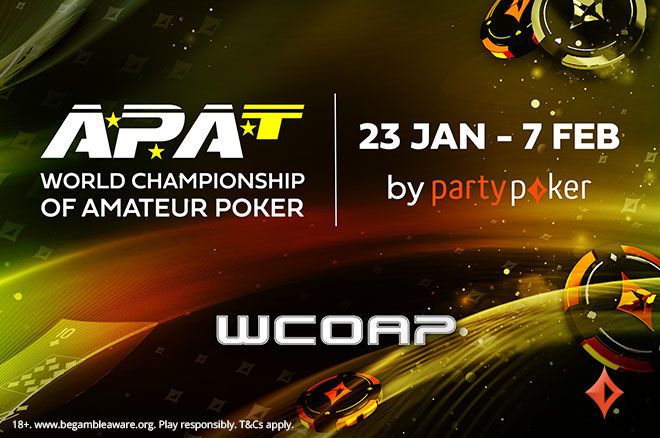 The APAT World Championship Of Amateur Poker (WCOAP) heads to partypoker from January 24 and brings with it a massive $750,000 worth of guaranteed prize pools, its famous medal prizes, and coveted APAT WCOAP bracelets.
APAT is an acronym for Amateur Poker Association & Tour, the United Kingdom's first national poker tour. It launched in 2006 and has gone on to be the place for keen amateur poker players not only in the UK but around the world.
Leigh Wiltshire is one man who has been part of APAT from almost the very beginning. He is synonymous with APAT. We believe if you cut him in half, APAT would run through the middle of him like a stick of Blackpool rock. Wiltshire is a very busy man who, like all APAT members, juggles the grind of daily life with his love for poker.
Wiltshire managed to find to time to sit down with UK & Ireland PokerNews, all social distanced, of course, to talk us through what APAT and the WCOAP is, what to expect, and who he believes could become the Player of the Series.
What Is APAT All About?
You've already learned what APAT stands for, but what actually is APAT? Who better to explain the concept than Mr. Wiltshire himself.
"APAT is the Amateur Poker Association & Tour, and since launching in 2006 we have developed into a global organiser in the live events arena, holding multiple festivals in Europe and North America, in addition to a comprehensive online schedule.
We remain dedicated to the development of amateur players, providing an affordable, professionally run tour that enables members to enjoy their poker experience to the max, while optimising their game skills. Several members who have final tabled APAT national events have gone on to win WSOP, WPT, EPT and many other internationally recognised poker titles."
One of those players is none other than Triple Crown winner Niall Farrell who won the individual gold medal in the 2011 APAT UK Championship.
APAT has done its thing for 12-years now. The poker world has changed a lot in that time, indeed, the world has too. How has APAT evolved to its ever-changing surroundings?
"Growth is the obvious one. Back in 2008 at the first WCOAP held at The Vic in London, we had four events, all sold out mind you. Take that forward to our most recent live WCOAP festival and we had thirty bracelet events across ten days of poker held in Vienna. What hasn't changed is the APAT ethos and community feel. We roll with the times, but we are able to do that as we have such a close relationship with our membership. We are constantly getting their feedback and engaging with them. Sometimes they can want the moon on a stick, but we've always put the players first."
Leigh Wiltshire Wins the 2014 Sky Poker UKPC 6-Max Main Event For £110K
APAT and partypoker Are The Perfect Match
This WCOAP takes place online at partypoker, the online poker site that has embraced Wiltshire and APAT's quest to put amateur poker on the map. Dusk Till Dawn owner Rob Yong is an advocate for the amateur games and a regularly waves the grassroots poker flag. This is one of the reasons APAT sees partypoker as a long term partner.
"With everything partypoker has been doing in recent years to level the playing field for recreational players, it felt such a good fit for APAT. Rob Yong has been instrumental in making the partnership happen. As long as I have known him, Rob has always had a passion for supporting amateur poker players and providing aspirational events that are accessible to all players. APAT always wants our players to be able to play poker in a safe environment, supported on their poker journey and treated fairly."
Great structured tournaments at an affordable price are part of APAT's foundations. They don't believe that just because you're not paying $5,300 to buy into an event that you should be treated any differently to those who can afford to play at those stakes. Community spirit is another major component of APAT's continued success.
There isn't a community like it. They love nothing more than meeting up, chewing the fat over a few drinks and playing cards, with the WCOAP being the highlight of each season. COVID-19 has put paid to those plans, which is why the WCOAP is online this year.
"We had such big plans for 2020. On the back of a sell-out UK Team Championship in January last year, we had just announced that for the WCOAP 2020 we would be returning to Dusk Till Dawn, Nottingham where we have hosted many APAT festivals in previous years. Then the COVID pandemic swept the globe and everyone's plans had to change. Obviously, we were gutted that we had to cancel the event, plenty of the APAT community in both the UK and further afield had already made travel plans and booked accommodation, but there was a rather quick realisation that our only focus should be on the well-being of the APAT community."
Read more about APAT and partypoker joining forces
Huge Value Awaits APAT WCOAP Grinders
The online WCOAP schedule looks fantastic and crammed with value. It will easily be the biggest APAT online festival in the tour's 12-year history. Sixteen events award commemorative bracelets with the Main Event champion receiving a custom bracelet. Finishing in the top three places of the Championship events awards you a gold, silver, or bronze medal; plus bragging rights in that vibrant APAT community!
We're particularly looking forward to the huge $150,000 guaranteed Main Event. Wiltshire is too.
"In most poker festivals the focus is on the Main Event and this is no different for the WCOAP. A $150,000 guarantee, bespoke winners bracelet and the title of World Championship of Amateur Poker Main Event Winner are all very appealing. With previous WCOAP's, the players get the most buzz around the side event variants. It can often be the only time of the year that they get to play something other than your traditional No Limit Hold 'Em tournament. I'm really looking forward to the Heads Up Championship as that always feels quite raw poker with it's one vs one format. It will be interesting to see if the dynamics change in the Bounty Championships, with the element of progressive bounties affecting the way the prize pool in distributed and I do enjoy the limit games, and we've even managed to get a 7 Card Stud Championship into the schedule, so old school players can play for a bracelet.
APAT WCOAP Full Schedule
| Date | Time (GMT) | Tournament | Buy-in |
| --- | --- | --- | --- |
| Sun 24 Jan | 19:15 | WCOAP #02 – 6-Max Knockout Championship: $75K Gtd | $55 |
| | 19:15 | WCOAP Mini 6-Max Knockout: $10K Gtd | $5.50 |
| Mon 25 Jan | 19:15 | WCOAP #03 – Mix-Max Championship: $25K Gtd | $55 |
| | 19:15 | WCOAP Mini Mix-Max: $5K Gtd | $5.5 |
| Tue 26 Jan | 19:15 | WCOAP #04 – PLO8 Knockout Championship: $15K Gtd | $55 |
| | 19:15 | WCOAP Mini PLO8 Knockout: $3K Gtd | $5.50 |
| Wed 27 Jan | 19:15 | WCOAP #05 – High Roller Championship: $75K Gtd | $265 |
| | 19:15 | WCOAP Mini High Roller: $15K Gtd | $27.50 |
| Thu 28 Jan | 19:15 | WCOAP #06 – FL 7 Card Stud Championship: $2.5K Gtd | $55 |
| | 19:15 | WCOAP Mini FL 7 Card Stud: $500 Gtd | $5.50 |
| Fr 29 Jan | 19:15 | WCOAP #07 – PLO Knockout Championship: $15K Gtd | $55 |
| | 19:15 | WCOAP Mini PLO Knockout: $3K Gtd | $5.50 |
| Sat 30 Jan | 19:15 | WCOAP #08 – 6-Max Championship: $25K Gtd | $55 |
| | 19:15 | WCOAP Mini 6-Max: $5K Gtd | $5.50 |
| Sun 31 Jan | 19:15 | WCOAP #09 – Knockout Championship: $75K Gtd | $55 |
| | 19:15 | WCOAP Mini Knockout: $10K Gtd | $5.50 |
| Mon 1 Feb | 19:15 | WCOAP #10 – PLO8 Championship: $10K Gtd | $55 |
| | 19:15 | WCOAP Mini PLO8: $2.5K Gtd | $5.50 |
| Tue 2 Feb | 19:15 | WCOAP #11 – Heads-Up Championship: $10K Gtd | $55 |
| | 19:15 | WCOAP Mini Heads-Up: $1K Gtd | $5.50 |
| Wed 3 Feb | 19:15 | WCOAP #12 – Super High Roller Championship: $100K Gtd | $530 |
| | 19:15 | WCOAP Mini Super High Roller: $20K Gtd | $55 |
| Thu 4 Feb | 19:15 | WCOAP #13 – PLO Championship: $10K Gtd | $55 |
| | 19:15 | WCOAP Mini PLO: $2.5K Gtd | $5.50 |
| Fri 5 Feb | 19:15 | WCOAP #14 – Turbo Knockout Championship: $40K Gtd | $55 |
| | 19:15 | WCOAP Mini Turbo Knockout: $7.5K Gtd | $5.50 |
| Sat 6 Feb | 19:15 | WCOAP #15 – Turbo Championship: $20K Gtd | $55 |
| | 19:15 | WCOAP Mini Turbo: $4K Gtd | $5.50 |
| Sun 7 Feb | 19:15 | WCOAP #16 – Main Event: $150K Gtd | $109 |
| | 19:15 | WCOAP Mini Main Event: $20K Gtd | $11 |
An interview with APAT legend Carl Pilgrim
You'll notice from the schedule above that the Championship events' buy-ins are at the more affordable end of the scale. All the events are freezeouts and have amazing blind structures. There are also a raft of satellites and Mini WCOAP events for players to enter, as Wiltshire explained to UK & Ireland PokerNews.
"We are running a WCOAP Mini Series alongside the main series, with buy-ins at just a 10th of the bracelet events. As you would expect with any major festival on partypoker, there are plenty of satellites for all tournaments, so players can win their entries through the satellite schedules daily, and that includes the High Roller and Super High Roller events."
partypoker has kindly donated a $5,000 MILLIONS Main Event ticket for the APAT member crowned Player of the Series. Only players who sign up for a free APAT account, which essentially confirms your amateur poker status, are eligible to win medals, bracelets, and added prizes.
Who Will Be Crowned WCOAP Player of the Series?
APAT has some incredible players among its ranks, but who from the current crop of talent does Wiltshire think can become the Player of the Series?
"A very tricky question. We've had over 7,500 players register for an APAT tournament in 2020 alone, but winning the Player Of The Series will be all about consistency. From the regular APAT players we've watched in the past 12 month, you might look out for Dan Owston, Igor Asyamov, Sophie Clarke or Brendan Byrne. A fairly new player to APAT is Matty Ogilvie from Canada, he's shown some game across different variants, so looking forward to seeing how he gets on during the series."
The popular The APAT Show, of which I've been a guest a couple of times, is running every day on the APAT Facebook group. Wiltshire is joined by Des Duffy and guests in a fun, informative show all about poker. It's definitely worth tuning in for and is anything but amateur in its production.
"Throughout 2020, myself and Des Duffy have hosted The APAT Show via the APAT Facebook group. We follow the online poker action that night and each show has guests on to talk poker, life and pretty much anything that is going on in the world. It's been great for the APAT community and we'll be hosting The APAT Show every night during the WCOAP. Alongside that, we'll also have some special streams where we will be running cards up action from the final stages of some of the WCOAP bracelet events.
All of the bracelets, medals and added value are only available to amateur poker players who have signed up at APAT.com, it's free to join and register here"
It isn't only the during the WCOAP that partypoker hosts APAT tournaments; they run daily and have tons of added value to them. Again, they're affordable, have great structures, and have a fun yet competitive feel to them.
"APAT run daily games on partypoker, so just check out the APAT tab in the lobby. Each week we run all of the variants you will see in the WCOAP at buy-ins between $5-$33, so you can give them a try in a competitive yet friendly environment to work on those poker skills. We also run regular community leaderboards with added value tickets and get the APAT community together with live streams and content."
Win Up To Five Prizes Per Day in the New Year Rush
Join partypoker and Receive £40 Worth of Tournament Tickets
Stay tuned to UK & Ireland PokerNews throughout the APAT WCOAP as we will bring you frequent updates about the winners and the race for that $5,000 MILLIONS Main Event ticket.
Those of you with a partypoker account should head to APAT and create your free APAT account. If you don't have a partypoker account, download partypoker via UK & Ireland PokerNews, deposit at least £10 and you'll receive £40 worth of SPINS and tournaments tickets.
Day 1: 5x $1 SPINS tickets +1x $5.50 MTT ticket
Day 2: 1x $3 SPINS tickets +1x $3.30 MTT ticket
Day 3: 1x $3 SPINS tickets +2x $3.30 MTT ticket
Day 4: 4x $0.25 SPINS tickets +1x $5.50 MTT ticket
Day 5: 1x $5 SPINS tickets +1x $3.30 MTT ticket
Day 6: 5x $1 SPINS tickets +1x $5.50 MTT ticket
Then head to APAT, log your details before bringing your A-game to the tables and winning a WCOAP bracelet.