Get Ready for 107 MicroMillions Events Across Only Four Days!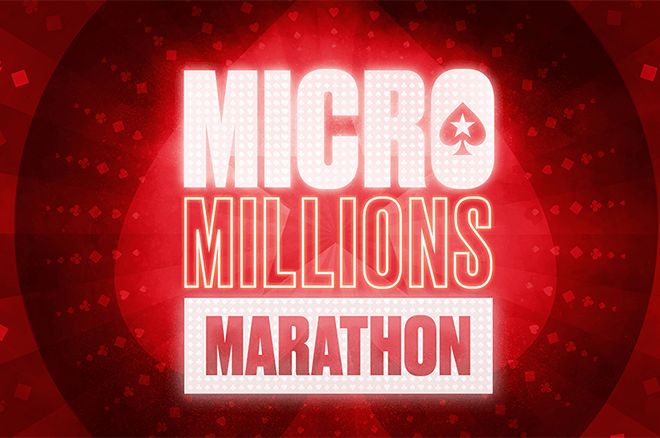 MicroMillions returns to PokerStars from February 11 but does so with a twist. PokerStars has named the festival MicroMillions Marathon and you're about to discover why the new name is so fitting.
MicroMillions Marathon takes place at PokerStars from February 11 through February 14, a period of only four days. Despite the short runtime, the festival boasts of a schedule featuring 107 tournaments and combined guaranteed prize pools weighing in at $3 million! It truly is a marathon series.
There's a new MicroMillions Marathon tournament starting every half hour throughout almost all the series. The first tournament, a $3.30 buy-in 3-Stack Turbo 6-Max with $5,000 guaranteed, shuffles up and deal at 7:04 a.m. ET (12:04 p.m. GMT) on February 11. Another 24 micro-stakes tournaments are schedule that day!
It is a similar story on February 12 when another 25 MicroMillions Marathon tournaments run throughout the day. What better way to spend a Friday than by grinding more than two dozen tournaments from the comfort of your own home?
The weekend sees the remaining 57 events take place, including a massive $1 million guaranteed MicroMillions Marathon PKO Main Event costing only $22 on February 14.
"shkolota148" Turns $50 Into $116K and 50/50 Series Main Event Title
Sign Up to PokerStars Today
You'll obviously need a PokerStars account if you want to compete in any of the 107 MicroMillions Marathon events.
If you don't have an account, download PokerStars via PokerNews to get your hands on a lucrative welcome bonus worth up to $600.
Create your free PokerStars account, make a deposit using the bonus code "STARS600" and PokerStars matches your deposit 100 percent up to $600. In fact, your first three deposits in the first 60-days after creating your account are matched up to a combined $600.
You then have four months to release as much of this bonus as you can by playing real money poker, including cash games, tournaments, and even Spin & Go tournaments.
Full 107-Event MicroMillions Marathon Schedule
| Date | Time (ET) | Event | Guarantee |
| --- | --- | --- | --- |
| Thu 11 Feb | 07:04 | 001: $3.30 3-Stack, Turbo (6-max) | $5,000 |
| | 08:04 | 002: $1.10 PKO, Hyper-Turbo (4-max) | $3,500 |
| | 09:04 | 003: $5.50 NLHE | $12,500 |
| | 09:34 | 004: $1.10 PLO (8-max) | $3,500 |
| | 10:04 | 005: $3.30 PKO Zoom, Turbo (6-max) | $10,000 |
| | 10:34 | 006 $5.50 Heads-Up, Total PKO, Hyper-Turbo | $5,000 |
| | 11:04 | 007: $3.30 NLHE | $12,500 |
| | 11:34 | 008: $1.10 PKO, Turbo (8-max) | $8,000 |
| | 12:04 | 009: $3.30 Win The Button | $12,500 |
| | 12:34 | 010: $5.50 PLO, Turbo (6-max) | $8,000 |
| | 13:04 | 011: $11 (8-max) | $80,000 |
| | 13:34 | 012 $3.30 PKO | $40,000 |
| | 14:04 | 013: $5.50 NLHE | $35,000 |
| | 14:34 | 014: $1.10+R, Hyper-Turbo (8-max) | $40,000 |
| | 15:04 | 015: $3.30 PLO-H/L, PKO, Turbo (8-max) | $10,000 |
| | 15:34 | 016: $5.50 PKO, Turbo | $40,000 |
| | 16:04 | 017: $1.10 NLHE | $8,000 |
| | 16:34 | 018: $5.50 Limit 8-Game (6-max) | $3,500 |
| | 17:04 | 019: $1.10 NLHE (6-max) | $5,000 |
| | 17:34 | 020: $3.30 Hyper-Turbo, Bubble Rush (8-max) | $12,500 |
| | 18:04 | 021: $5.50 PKO (8-max) | $20,000 |
| | 18:34 | 022: $3.30 NLHE | $15,000 |
| | 19:04 | 023: $1.10 PKO | $7,500 |
| | 19:34 | 024: $3.30 4-max, Turbo, Shootout | $3,500 |
| | 20:04 | 025: $1.10 Big PKO, Turbo | $3,500 |
| Fri 12 Feb | 07:04 | 026: $1.10 Zoom, Turbo (8-max) | $3,000 |
| | 08:04 | 027: $3.30 PKO, Turbo (6-max) | $10,000 |
| | 09:04 | 028: $1.10 NLHE (6-max) | $5,000 |
| | 09:34 | 029: $5.50 NLHE | $10,000 |
| | 10:04 | 030: $1.10 NLHE | $8,000 |
| | 10:34 | 031: $3.30 NLHE (8-max) | $10,000 |
| | 11:04 | 032: $5.50 PKO, Turbo (8-max) | $35,000 |
| | 11:34 | 033: $1.10 PKO, Hyper-Turbo, Zoom | $10,000 |
| | 12:04 | 034: $3.30 NLHE (8-max) | $30,000 |
| | 12:34 | 035: $5.50 NLO, Turbo (6-max) | $12,500 |
| | 13:04 | 036: $3.30 PKO | $20,000 |
| | 13:34 | 037: $11 PKO (8-max) | $100,000 |
| | 14:04 | 038 $5.50 NLHE | $40,000 |
| | 14:34 | 039: $3.30+R, Hyper-Turbo (8-max) | $40,000 |
| | 15:04 | 040: $5.50 PKO, Turbo, Zoom (8-max) | $50,000 |
| | 15:34 | 041: $1.10 PKO | $10,000 |
| | 16:04 | 042: $3.30 6+ Hold'em (6-max) | $7,500 |
| | 16:34 | 043: $5.50 (8-max) | $15,000 |
| | 17:04 | 044: $1.10 PKO, Turbo, Win the Button | $5,000 |
| | 17:34 | 045: $3.30 PKO, Turbo | $20,000 |
| | 18:04 | 046: $1.10 Omaha H/L, PKO (8-max) | $3,500 |
| | 18:34 | 047 $5.50 PKO, Hyper-Turbo, Bubble Rush | $10,000 |
| | 19:04 | 048 $1.10 Turbo (6-max) | $5,000 |
| | 19:34 | 049: $3.30 Deep Stacks, Hyper-Turbo | $5,000 |
| | 20:04 | 050: $1.10 Hyper Turbo | $3,500 |
Micro Stakes Poker Strategy: How to Beat the Games Online
| Date | Time (ET) | Event | Guarantee |
| --- | --- | --- | --- |
| Sat 13 Feb | 06:04 | 051: $5.50 PKO, Turbo (7-max) | $8,000 |
| | 07:04 | 052 $3.30 NLHE (8-max) | $5,000 |
| | 08:04 | 053: $1.10 NLHE | $5,000 |
| | 08:34 | 054: $3.30 PKO | $10,000 |
| | 09:04 | 055: $1.10 Hyper-Turbo (6-max) | $5,000 |
| | 09:34 | 056: $5.50 PKO (8-max) | $12,500 |
| | 10:04 | 057: $1.10 NLHE | $5,000 |
| | 10:34 | 058: $3.30 PL Fusion (6-max) | $3,500 |
| | 11:04 | 059: $5.50 PKO, Turbo (7-max) | $20,000 |
| | 11:34 | 060: $1.10 NLHE | $7,500 |
| | 12:04 | 061: $3.30 PLO, PKO (6-max) | $5,000 |
| | 12:34 | 062: $9.80 Big PKO (8-max) | $125,000 |
| | 13:04 | 063: $3.30 NLHE | $40,000 |
| | 13:34 | 064: $1.10+R Splash (8-max) | $50,000 |
| | 14:04 | 065: $5.50 PKO | $40,000 |
| | 14:34 | 066: $3.30 Turbo (7-max) | $35,000 |
| | 15:04 | 067: $1.10 NLHE (8-max) | $10,000 |
| | 15:34 | 068: $5.50 NL Omaha H/L, PKO (6-max) | $12,500 |
| | 16:04 | 069: $3.30 Heads-Up, Total PKO, Turbo, Zoom | $10,000 |
| | 16:34 | 070: $1.10 Win the Button (4-max) | $7,500 |
| | 17:04 | 071: $3.30 NL 6+ Hold'em, PK (6-max) | $7,500 |
| | 17:34 | 072: $5.50 Hyper-Turbo, Bubble Rush (8-max) | $5,000 |
| | 18:04 | 073: $1.10 Turbo (7-max) | $3,500 |
| | 18:34 | 074: $5.50 PKO | $10,000 |
| | 19:04 | 075: $3.30 NLHE | $7,500 |
| | 19:34 | 076: $5.50 Big PKO, Hyper-Turbo (6-max) | $5,000 |
| | 20:04 | 077: $1.10 Turbo (6-max) | $3,500 |
| Sun 14 Feb | 06:04 | 078: $1.10 Total PKO, Turbo (6-max) | $3,500 |
| | 06:34 | 079: $3.30 Zoom (8-max) | $10,000 |
| | 07:04 | 080: $5.50 PKO, Turbo (8-max) | $25,000 |
| | 07:34 | 081: $3.30 Big PKO | $10,000 |
| | 08:04 | 082: $1.10 PKO, Deep Stacks, Hyper-Turbo (8-max) | $5,000 |
| | 08:34 | 083: $5.50 NLHE | $15,000 |
| | 09:04 | 084: $1.10 NLHE | $5,000 |
| | 09:34 | 085: $3.30 PKO, Turbo | $15,000 |
| | 10:04 | 086: $5.50 Win the Button (8-max) | $10,000 |
| | 10:34 | 087: $1.10 NL Omaha (6-max) | $3,500 |
| | 11:04 | 088: $3.30 NLHE | $15,000 |
| | 11:34 | 089: $5.50 NLHE | $25,000 |
| | 12:04 | 090: $1.10 Turbo (8-max) | $15,000 |
| | 12:34 | 091: $5.50 PKO | $60,000 |
| | 13:04 | 092: $3.30 (6-max) | $40,000 |
| | 13:34 | 093: $22 Main Event, PKO | $1,000,000 |
| | 14:04 | 094 $5.50 PKO (8-max) | $75,000 |
| | 14:34 | 095: $11 NLHE | $100,000 |
| | 15:04 | 096: $3.30 PKO | $60,000 |
| | 15:34 | 097: $5.50 Turbo (8-max) | $50,000 |
| | 16:04 | 098: $1.10 PKO | $20,000 |
| | 16:34 | 099: $3.30 Limit Horse (6-max) | $7,500 |
| | 17:04 | 100: $1.10 NLHE | $5,000 |
| | 17:34 | 101: $5.50 6+ Hold'em (6-max) | $15,000 |
| | 18:04 | 102: $3.30 Total PKO, Turbo (8-max) | $20,000 |
| | 18:34 | 103: $5.50 PL Omaha H/L, PKO (6-max) | $12,500 |
| | 19:04 | 104: $1.10 Hyper-Turbo, Bubble Rush (8-max) | $7,500 |
| | 19:34 | 105: $3.30 NLHE (8-max) | $20,000 |
| | 20:04 | 106: $5.50 Turbo | $30,000 |
| | 20:30 | 107: $1.10 Turbo (8-max) | $10,000 |