Industry Insiders: Get to Know Bill Cottam of WPT Steps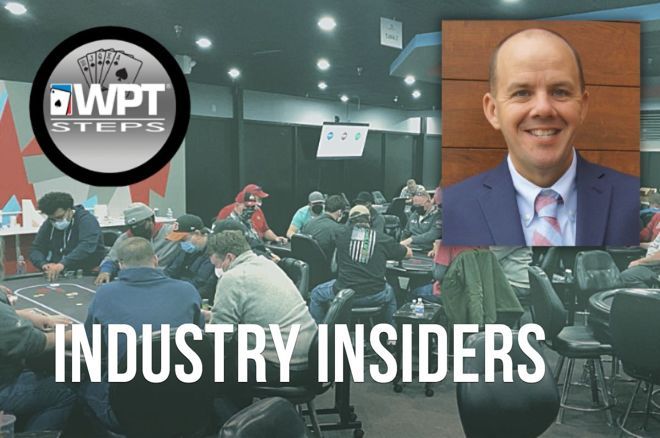 Have you ever wanted to find yourself at a World Poker Tour (WPT) final table?
Well, with WPT Steps it's as easy as one, two, three, and four!
WPT Steps is part of the WPT Family. The biggest difference is the accessibility for players who haven't been able to afford to play in some of Main Event or DeepStacks events. The program is designed so that any player is able to experience playing in a WPT Steps branded event.
Here's how it works in a nutshell.
Join in a Weekly Tournament (Step 1) and win your way all the way to a WPT Main Event. You can also skip Step 1 and go directly into your poker room's Monthly Tournament (Step 2). Each winner of the monthly will then grab their seat in the Venue Semi-Annual Championship (Step 3). This single table six-handed event will be held twice a year at each WPT Steps Venue with first-place winning a WPT Steps Championship entry with travel and lodging (Min $12,000 package).
Right now, WPT Steps is available at seven locations, five in Texas and one each in South Dakota and Ohio:
Texas Card House – Austin, Texas
Texas Card House – Houston, Texas
Texas Card House – Rio Grande Valley, Texas
Wicked River Poker Room – San Antonio,Texas
Kojack's Poker Room – Midland/Odessa, Texas
Mad River Poker Club – Dayton, Ohio
Cadillac Jack's - Deadwood, South Dakota
Expansion is in their plans with the hope of having 10-20 locations by the end of 2021.
The program launched at the start of March at the three Texas Card House locations with others, minus Cadillac Jack's (which is still pending) is slated to launch this month.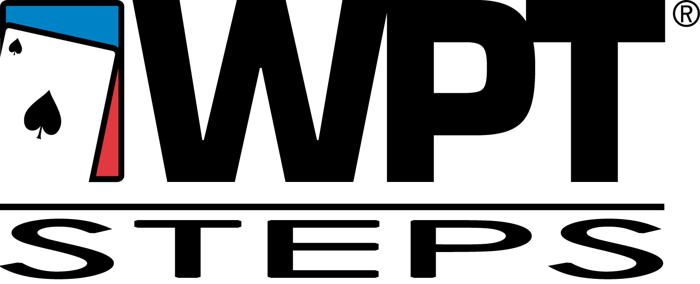 Sr. VP of Sales Bill Cottam
One of the men behind the WPT Steps is 51-year-old Bill Cottam, Sr. VP of Sales and Marketing. Cottam, who grew up in Northern New Mexico and graduated from the University in Vermont with a degree in Communications & Marketing. Cottam spent the first 14 years of his career in radio and television before transitioning to corporate marketing with companies like Anheuser-Busch, US Cellular, and Crocs.
For the past 14 years, he's worked in and out of the poker industry with several projects. Cottam, who currently lives in Edmond, Oklahoma with his wife, Stephanie, and their 17-year-old daughter, Lauren, answered a few questions for PokerNews.
PokerNews: When and how did you come to work in the poker industry?
Cottam: Like most people, I started in the industry as a player. We used to play home games when I worked in the beer industry, and at the start of the online boom, I became addicted. I ended up going out and playing in the World Series of Poker that year and enjoyed my first cash (you would have thought I won the event) and I was hooked.
I went on the very first WPT League poker cruise and met the guys who ran it. We became good friends and I ended up working with them on the cruises as a dealer. Eventually, I moved my way up to where I was managing the poker room. I have also been a part of a few other projects during those years that have had me working in the industry all over the world.
I always kind of did it as a side hustle as I was either in a full-time job or working for myself. About three years ago, I made the decision to make this full-time and have never looked back. I truly enjoy my position as Sr. VP of Sales and Marketing for WPT Steps. I still love to play the game and enjoy conversations with fellow players at the tables. It is the social aspect of the game that I truly look forward to and getting to know players from all over the world.
"WPT Steps was created as a passion project to bring world-class tournament action to the daily grinder."
How did the WPT Steps come to be?
WPT Steps was created as a passion project to bring world-class tournament action to the daily grinder. This is something that Kurt McPhail, President of World Entertainment LLC, and I have been working on for about three years. We wanted to give players with the average bankroll the opportunity to engage with the WPT family and have the chance to advance to a WPT Steps National Championship.
It was also vital for us to give the smaller casinos and poker rooms across the country the opportunity to be a part of the WPT Steps action. This is the first time something like this program has been attainable for these properties. The program is meant to keep the action at the local properties through the initial steps, and then send a bi-annual champion to the National Championship.
Can you tell us a little more about how WPT Steps works?
Step 1 is a Weekly Tournament that is held at your local property. Normal buy-in ranges from $50 to $165. The top 10 percent of the field advances to Step 2 (Monthly Tournament) as well as the share of the cash prize pool.
Step 2 is the Monthly Tournament at the local property. Players can directly buy into the Monthly events as well as win their seats by advancing from Step 1. This is the last chance to directly buy into an event. Buy-in's for the monthly usually range from $200 to $330. The Monthly event advances the winner of the tournament to play in Step 3 which is the Bi-Annual Property Championship. The field also has the opportunity to win cash in the prize pool just like normal tournaments.
Step 3 is the property Bi-Annual Championship. To play in this event you must have won one of the monthly Step 2 tournaments at your property. This is a six-handed final table championship at your property to see who advances to the WPT STEPS National Championship. The winner of the event will not only win a seat into the National Championship but win a prize package valued at $12,000. This includes travel and buy in for the National Championship.
Step 4 – WPT STEPS National Championship. Winners from all of our properties Bi-Annual Championships earn a seat to play in our National Championship. This year we are scheduled to host the event on the WPT CRUISE in October (www.wptcruise.com).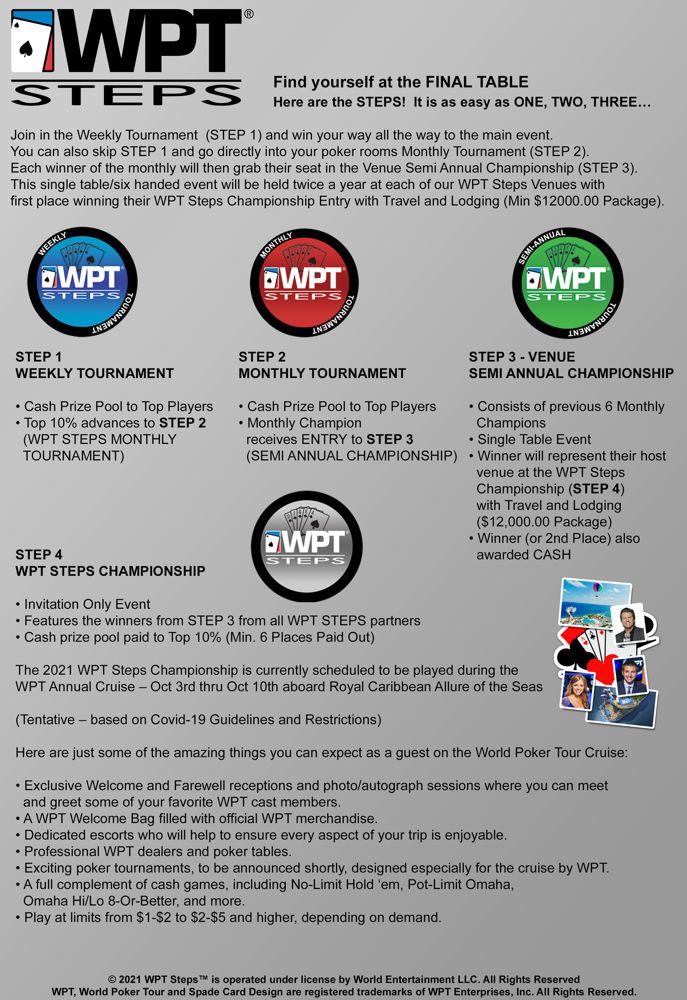 Executive Editor US, PokerNews Podcast co-host & 2013 WSOP Bracelet Winner.