WPT Online Series Hits partypoker From May 14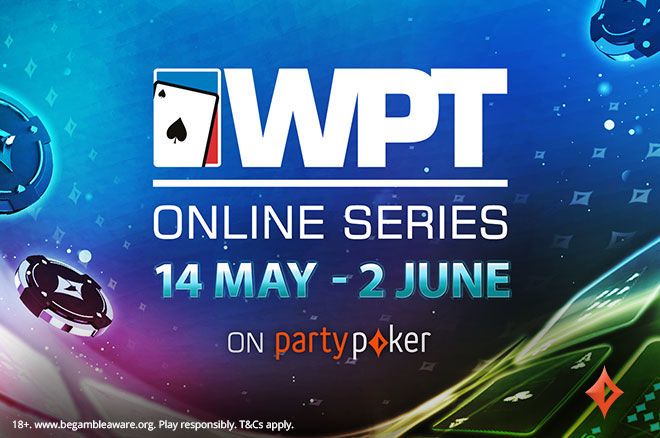 Keep your schedules free throughout May because partypoker and the World Poker Tour have again joined forces to create the 2021 WPT Online Series.
Running from May 14 through June 2, the 2021 WPT Online Series feature a pair of Main Events that are sure to create plenty of excitement among the poker tournament community.
The $3,200 WPT Online Series Main Event shuffles up and deals for the first time on May 23 with the first of two starting flights. Day 1B commences a week late, May 30, with Day 2, Day 3, and the final table taking place between May 31 and June 2.
A cool $3 million is guaranteed for the $3,200 WPT Online Series Main Event, meaning partypoker expects at least 1,000 players to buy in across that brace of flights. Secure the title of champion to walk away with a massive cash prize, a luxury Hublot watch, and your name forever engraved on the Mike Sexton WPT Champions Cup.
Christian Jeppsson Wins WPT Online Championship for $923,786 After Heads-up Deal
The plethora of satellites feeding into this prestigious tournament will help partypoker and the WPT reach the ambitious figure of at least 1,000 entries.
partypoker's tournament lobby is awash with WPT Online Series Main Event satellites. Those satellites are phase tournament, which means you can buy into them at any stage, with the exception of the weekly final where there is no direct buy-in.
Centrolls costing a mere $0.01 award tickets to the $3.30 buy-in Phase 1 satellites. Progress from Phase 1 and take your chips through with you to the $33 buy-in Phase 2. Navigate your way from here and you are entered into the next available Sunday final where at least 15x $3,200 seats are guaranteed.
Check Out The $500,000 Guaranteed WPT Online Series Mini Main Event
Those players who miss out on WPT Online Series Main Event glory can take another bite of the cherry in the $530 WPT Online Series Mini Main Event. The tournament may have mini in its name, but the $500,000 guaranteed prize pool is anything but small.
Buy in direct for $530 or, like the $3,200 bigger brother, win your way in from as little as a single cent.
$0.01 centrolls feed into the $0.55 Phase 1 satellites. These, in turn, progress to the $5.50 Phase 2. The final phase has 30x $530 seats guaranteed.
It is incredible to think the most anyone will pay to win a $530 WPT Online Series Mini Main Event seat is $5.50, while some players will play in the $3,200 WPT Online Series Main Event for a maximum of $33.
Diego Cuellar wins partypoker Powerfest Main Event After Four-Way Deal
Alias Change Coming Up
One of the reasons the WPT Online Series schedule was put back a week is because partypoker reached out to their players and acted on the feedback received. Players suggested they wanted a slightly longer break after grinding the POWERFEST, plus the SCOOP and GG Spring Festival. partypoker listed and acted accordingly.
Another is the fact there is a software update due where players can change their alias again. partypoker enforced an alias change back in February 2019 in order to reduce the effectiveness of third-party tracking tools. A second alias change is on the cards in the run up to the WPT Online Series.
Help Yourself to up to €40 Worth of SPINS and MTT tickets
Now is the time to join partypokert if you do not already have an account. Download partypoker via PokerNews, create your free account, before decided how much to deposit. Deposit $10 to receive $10 worth of SPINS and MTT tickets over the course of a week. Increase that initial deposit to just $20 and $40 worth of tickets are all yours.
Deposit $10 to receive $10 in tickets over the course of a week:
Day 1: 2x $1 SPINS tickets + 1x $3.30 MTT ticket
Day 2: 4x $0.25 SPINS tickets
Day 4: 1x $3.30 MTT ticket
Day 6: 4x $0.25 SPINS tickets
Deposit $20 and receive $30 worth of tickets over the course of a week:
Day 1: 1x $5 SPINS ticket + 1x $3.30 MTT ticket
Day 2: 2x $1 SPINS ticket + 1x $5.50 MTT ticket
Day 4: 1x $5.50 MTT ticket
Day 6: 2x $3 SPINS tickets + 1x$3.30 MTT ticket