2021 Grand Poker Series Hits Golden Nugget Las Vegas From Sep. 28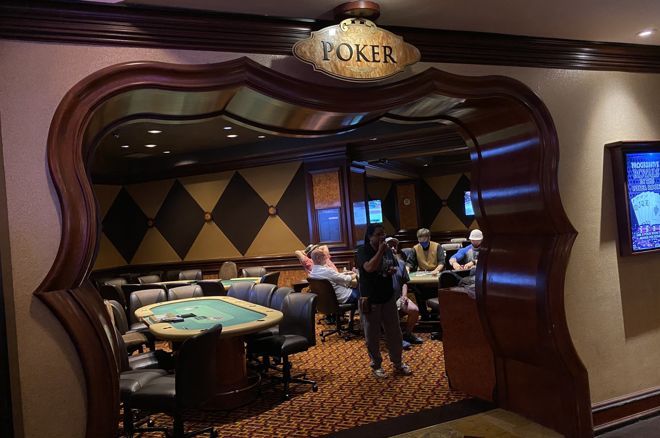 Table Of Contents
It is not only the World Series of Poker that is taking place in Las Vegas this fall, the Golden Nugget is getting into the poker festival spirit by launching its Grand Poker Series alongside it.
Running from September 28 through to October 18, the Grand Poker Series features a bustling schedule of 50 events, combined guarantees in excess of $1.2 million, and with buy-ins starting as low as $120 and increasing to $600.
Up to five events take place every day during the Grand Poker Series, and they come with a wide range of formats including No-Limit Hold'em, Pot-Limit Omaha, Big-O, Stud, Mixed Games, and more.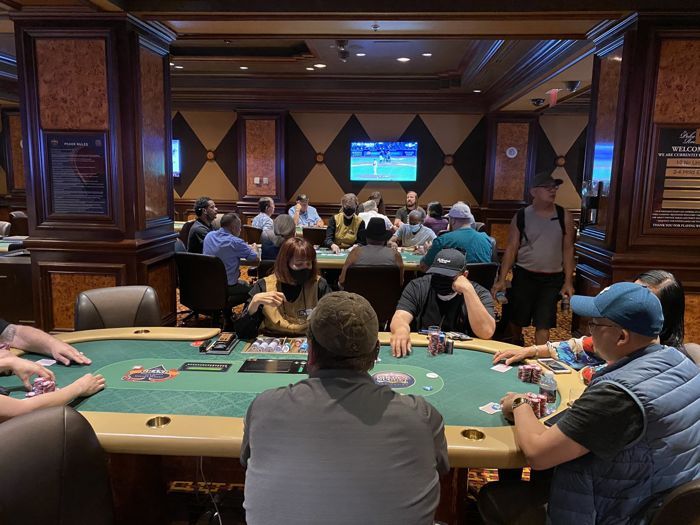 $500K Guaranteed in $600 Main Event
The schedule, which you can find in full below, looks incredible, but two events, in particular, catch the eye.
Event #10 is the No Limit Hold'em $100,000 Guaranteed Ultimate Re-Entry tournament. Buying in costs you $200 of your finest American dollars, and has a Best Stack Forward system that encourages you to take multiple shots across its nine starting flights. Progress more than once and there is a $1,500 bonus waiting for you. The first flight of Event #10 shuffles up and deals at 11:00 a.m. Vegas time on September 30.
The other eye-catching event is Event #22, the Championship No-Limit Hold'em tournament. It commands a $600 buy-in and boasts of a $500,000 guaranteed prize pool. There are three Day 1s, each running from 11:00 a.m. on October 7-9, with Day 2 scheduled for a slightly later time of 12:00 p.m. on October 10.
Everything points towards the Grand Poker Series being a roaring success. it has a tournament for everyone and is perfect for those who want to escape the hustle-bustle of the WSOP and of the Las Vegas Strip.
Plexiglass No More: PokerNews' Room-By-Room Look Into Las Vegas Poker
Golden Nugget Las Vegas 2021 Grand Poker Series Schedule
| Date | Time | Event | Tournament | Buy-in |
| --- | --- | --- | --- | --- |
| Tue 28 Sep | 11:00 a.m. | 1 | Omaha Hi/Low 8 or Better $5K Guarantee | $250 |
| | 1:00 p.m. | 2 | Daily No Limit Hold'em $5K Guarantee | $150 |
| | 6:00 p.m. | 3 | Big-O | $250 |
| | 7:00 p.m. | 4 | Nightly No Limit Hold'em $3K Guaranteed | $120 |
| Wed 29 Sep | 11:00 a.m. | 5 | GNLV Poker Room Freeroll $100K Guarantee | Invitational |
| | 1:00 p.m. | 6 | Daily No Limit Hold'em $5K Guarantee | $150 |
| | 6:00 p.m. | 7 | Pot Limit Omaha Fire Till You're Tired | $100 |
| | 7:00 p.m. | 8 | Nightly No Limit Hold'em $3K Guaranteed | $12 |
| Thu 30 Sep | 10:00 a.m. | 9 | HORSE $5K Guarantee | $250 |
| | 11:00 a.m. | 10A | No Limit Hold'em $100K Guarantee Ultimate Re-Entry | $200 |
| | 3:00 p.m. | 10B | No Limit Hold'em $100K Guarantee Ultimate Re-Entry | $200 |
| | 7:00 p.m. | 10C | No Limit Hold'em $100K Guarantee Ultimate Re-Entry | $200 |
| Fri 1 Oct | 11:00 a.m. | 10D | No Limit Hold'em $100K Guarantee Ultimate Re-Entry | $200 |
| | 3:00 p.m. | 10E | No Limit Hold'em $100K Guarantee Ultimate Re-Entry | $200 |
| | 7:00 p.m. | 10F | No Limit Hold'em $100K Guarantee Ultimate Re-Entry | $200 |
| Sat 2 Oct | 11:00 a.m. | 10G | No Limit Hold'em $100K Guarantee Ultimate Re-Entry | $200 |
| | 3:00 p.m. | 10H | No Limit Hold'em $100K Guarantee Ultimate Re-Entry | $200 |
| | 7:00 p.m. | 10I | No Limit Hold'em $100K Guarantee Ultimate Re-Entry | $200 |
| Sun 3 Oct | 11:00 a.m. | 11 | Omaha Hi/Low 8 /Stud 8 $10K Guarantee | $250 |
| | 12:00 p.m. | 10Day2 | No Limit Hold'em $100K Guarantee Ultimate Re-Entry Day 2 | |
| | 1:00 p.m. | 12 | Daily No Limit Hold'em $10K Guaranteed | $150 |
| | 7:00 p.m. | 13 | Nightly No Limit Hold'em $5K Guaranteed | $120 |
| Mon 4 Oct | 11:00 a.m. | 14 | Mixed PLO/8, Omaha 8/B, Big-O $10K Guarantee | $250 |
| | 1:00 p.m. | 15 | Daily No Limit Hold'em $10K Guarantee | $150 |
| | 6:00 p.m. | 16 | Mixed Triple Draw Lowball Limit [A-5, 2-7, Badugi] | $200 |
| | 7:00 p.m. | 17 | Nightly No Limit Hold'em $5K Guaranteed | $120 |
| Tue 5 Oct | 10:00 a.m. | 18 | Big-O $10K Guarantee | $250 |
| | 11:00 a.m. | 19A | No Limit Hold'em $100K Guarantee (Flight A) | $200 |
| | 3:00 p.m. | 19B | No Limit Hold'em $100K Guarantee (Flight B) | $200 |
| | 7:00 p.m. | 19C | No Limit Hold'em $100K Guarantee (Flight C) | $200 |
| Wed 6 Oct | 10:00 a.m. | 20 | Pot Limit Omaha 8-Handed $10K Guarantee | $250 |
| | 11:00 a.m. | 19D | No Limit Hold'em $100K Guarantee (Flight D) | $200 |
| | 3:00 p.m. | 19E | No Limit Hold'em $100K Guarantee (Flight E) | $200 |
| | 7:00 p.m. | 19F | No Limit Hold'em $100K Guarantee (Flight F) | $200 |
| Thu 7 Oct | 10:00 a.m. | 21 | 8-Game Mix $5K Guarantee | $250 |
| | 11:00 a.m. | 22A | Championship No Limit Hold'em $500K Guarantee Day 1A | $600 |
| | 12:00 p.m. | 19Day2 | No Limit Hold'em $100K Guarantee Day 2 | |
| | 1:00 p.m. | 23 | Daily No Limit Hold'em $10K Guarantee | $150 |
| | 7:00 p.m. | 24 | Nightly No Limit Hold'em $5K Guarantee | $120 |
| Fri 8 Oct | 11:00 a.m. | 22B | Championship No Limit Hold'em $500K Guarantee Day 1B | $600 |
| | 1:00 p.m. | 25 | Daily No Limit Hold'em $10K Guarantee | $150 |
| | 6:00 p.m. | 26 | Night HORSE | $200 |
| | 7:00 p.m. | 27 | Nightly No Limit Hold'em $5K Guarantee | $120 |
| Sat 9 Oct | 11:00 a.m. | 22C | Championship No Limit Hold'em $500K Guarantee Day 1C | $600 |
| | 7:00 p.m. | 28 | Nightly No Limit Hold'em $5K Guarantee | $120 |
| Sun 10 Oct | 12:00 p.m. | 22Day2 | Championship No Limit Hold'em $500K Guarantee Day 2 | |
| | 1:00 p.m. | 29 | Daily No Limit Hold'em $25K Guarantee | $200 |
| | 7:00 p.m. | 30 | Cheap and Deep No Limit Hold'em | $120 |
| Mon 11 Oct | 11:00 a.m. | 31A.1 | Bar Poker Open Championship Day 1A (Flight 1) | Invitational |
| | 4:00 p.m. | 31A.2 | Bar Poker Open Championship Day 1A (Flight 2) | Invitational |
| | 7:00 p.m. | 32 | Tag Team No Limit Hold'em | $200 |
| Tue 12 Oct | 11:00 a.m. | 31B | Bar Poker Open Championship Day 1B (Second Chance) | Invitational |
| | 1:00 p.m. | 33 | Daily No Limit Hold'em $25K Guarantee | $200 |
| | 7:00 p.m. | 34 | Green Chip Bounty No Limit Hold'em | $125 |
| Wed 13 Oct | 11:00 a.m. | 31C.1 | Bar Poker Open Championship Day 1C (Flight 1) | Invitational |
| | 4:00 p.m. | 31C.2 | Bar Poker Open Championship Day 1C (Flight 2) | Invitational |
| | 7:00 p.m. | 35 | Nightly No Limit Hold'em $5K Guarantee | $120 |
| Thu 14 Oct | 11:00 a.m. | 31D | Bar Poker Open Championship Day 1D (Second Chance) | Invitational |
| | 1:00 p.m. | 36 | Daily No Limit Hold'em $25K Guarantee | $200 |
| | 7:00 p.m. | 37 | Nightly No Limit Hold'em $5K Guarantee | $120 |
| Fri 15 Oct | 11:00 a.m. | 31D2 | Bar Poker Open Championship Day 2 | |
| | 1:00 p.m. | 38 | Daily No Limit Hold'em $50K Guarantee | $250 |
| | 7:00 p.m. | 39 | Nightly No Limit Hold'em $5K Guaramtee | $120 |
| Sat 16 Oct | 10:00 a.m. | 40 | Seniors No Limit Hold'em (50+) $50K Guarantee | $250 |
| | 1:00 p.m. | 41 | Daily No Limit Hold'em $25K Guarantee | $200 |
| | 4:00 p.m. | 31FT | Bar Poker Open Championship Final Table | |
| | 7:00 p.m. | 42 | Nightly No Limit Hold'em $5K Guarantee | $120 |
| Sun 17 Oct | 10:00 a.m. | 43 | Seniors ChampionshipNo Limit Hold'em (50+) $50K Guarantee | $400 |
| | 1:00 p.m. | 44 | Daily No Limit Hold'em $25K Guarantee | $200 |
| | 6:00 p.m. | 45 | Triple Stud | $200 |
| | 7:00 p.m. | 46 | Nightly No Limit Hold'em $5K Guarantee | $120 |
| Mon 18 Oct | 10:00 a.m. | 47 | Super Seniors (60+ or played Seniors) $50K Guarantee | $250 |
| | 1:00 p.m. | 48 | Daily No Limit Hold'em $10K Guarantee | $150 |
| | 4:00 p.m. | 49 | Super Deep Stack Turbo No Limit Hold'em | $200 |
| | 7:00 p.m. | 50 | Nightly No Limit Hold'em $3K Guarantee | $120 |