Timothy Gundrum Wins MSPT Riverside $1,100 Main Event ($170,769)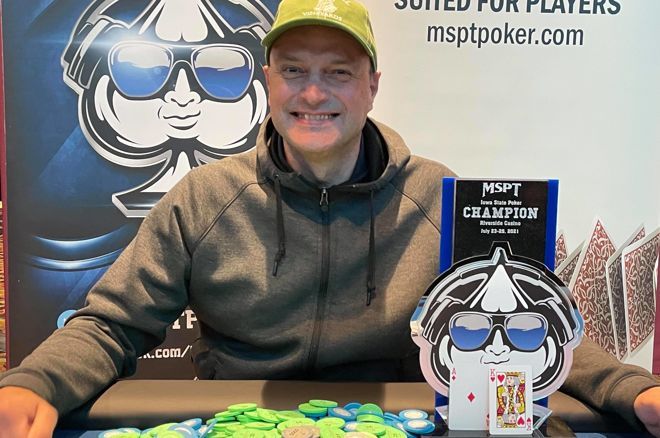 Timothy Gundrum is the newest champion on the Mid-States Poker Tour (MSPT), taking down the $1,100 Main Event at Riverside Casino for a career-best prize of $170,769. Gundert topped a record-setting field of 928, which topped March's previously-set record of 862 entries to earn the lion's share of the $898,660 total prize pool.
"This feels so surreal," said Gundrum after the tournament. "It's the best poker I've played in my life (over a sustained two-day period)," he added.
Gundert came into Day 2 with a stack of 158,000, just shy of the average in the room. A handful of levels later, he was one of the biggest stacks in the field before rejoining the middle of the pack with three tables left. He then made a charge toward the top, ultimately entering the final table second in chips only to find himself as the last man standing nearly four hours later.
MSPT Riverside $1,100 Main Event Final Table Results
| Place | Player | Prize |
| --- | --- | --- |
| 1 | Timothy Gundrum | $170,769 |
| 2 | Jim Erickson | $105,143 |
| 3 | Wesley Cannon | $77,194 |
| 4 | Stephen Torre | $58,412 |
| 5 | Mike Estes | $44,034 |
| 6 | Jason Gross | $33,250 |
| 7 | Todd Bartlett | $26,061 |
| 8 | Peyton Smith | $20,669 |
| 9 | Jalen Heald | $16,175 |
Day 2 Action
A total of 120 players returned to Sunday's Day 2 from two initial starting flights with 99 set to get into the money. That feat was accomplished before the first break of the day when Keith Heine's king-queen was unable to get there against fourth-place finisher Stephen Torre's ace-deuce.
Eliminations after the bubble came steadily at first, with Benjamin Craig (99th - $2,156) getting the ball rolling. Eventually, the pace of bust-outs became frantic, claiming the tournament lives of others like Eric Eelkema (63rd - $2,606), DJ Buckley (60th - $2,606), Ryan Phan (49th - $2,785), and Gary Herstein (37th - $3,055).
Jason Ramos then vaulted to the top of the counts, but fell to the middle of the pack by the time the three-table redraw was reached and eventually fell in 23rd place, while Gundrum, Torre, Peyton Smith, and Todd Bartlett made their way to the top of the counts as the number of players continued to fall. Eventually, just 10 remained and March's 18th-place finisher Jared Ditmarson found his pocket threes unable to avoid counterfeit to the ace-queen of Mike Estes to reduce the field to nine.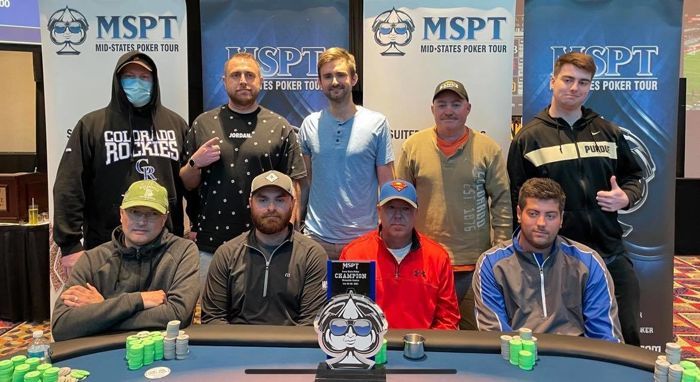 The Road To Victory
Jalen Heald was the first to fall at the final table, finding himself crippled after doubling runner-up Jim Erickson with ace-three suited to two kings before losing the rest when his ace-queen couldn't hold to ace-seven. Smith fell shortly thereafter when he got it in with an overcard and open-ended straight draw but couldn't further improve against the top pair of Stephen Torre. Then, Todd Bartlett went out in seventh after running into pocket aces, marking three eliminations in the first level of the final table.
Six-handed play then continued until Jason Gross jammed with ace-jack and lost a coin flip to Torre's pocket sixes, which was followed by Mike Estes also losing via coin flip with pocket tens to the ace-queen of Wesley Cannon. Cannon picked up some more momentum, doubling through then-chip leader Torre, who further ceded an even bigger to Gundrum to find himself short. Torre then ran ace-three into Erickson's pocket kings in a similar fashion to Heald.
Gundrum then entered three-handed play with a little over half the chips in play but saw Cannon chip away to take the chip lead half an hour later. Then, Gundrum took it right back and eventually wound up knocking Cannon out in third when his king-jack got there against Cannon's two tens to take roughly 85% of chips into heads-up play, where a 10-minute match concluded with ace-king topping Erickson's ace-queen to win it all.
MSPT Headed Back to Grand Falls Casino August 20-22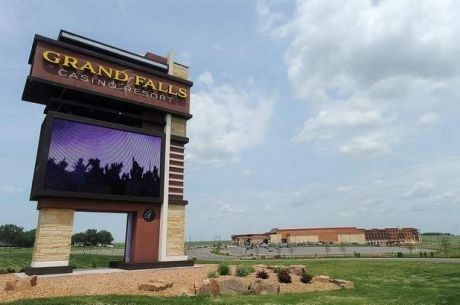 From August 20-22, the Mid-States Poker Tour (MSPT) will head back to Grand Falls Casino in Larchwood, Iowa, which is actually situated just across the border from Sioux Falls, South Dakota, for a $1,100 buy-in, $200,000 guaranteed Main Event. PokerNews will be offering live updates from the stop.
A series of $70 and $260 satellites starting at the end of July will feed into the Main Event, which will feature two starting flights. Day 1a will take place at 3 p.m. on Friday, August 20 with Day 1b taking place at the same time on Saturday, August 21. The surviving players from both flights will then return for Day 2 at 11 a.m. on Sunday, August 22 to play down to a winner.
In August 2020, a record-breaking MSPT Main Event was held at Grand Falls. That $1,100 buy-in tournament was the first mid-major poker tournament in the United States in nearly six months due to the pandemic, and the 518 entrants not only surpassed the venue's previous best field of 238 runners in 2015 but also became the largest major ($1,000+ buy-in) in Iowa history. In the end, 47-year-old Mark Collins, a systems administrator from the St. Louis area, came out on top to win a $107,706 top prize and his second MSPT title. He previously won the MSPT Season 9 Canterbury Park for $102,076.
More recently, the MSPT hosted a $1,100 Main Event at Grand Falls back in January, which is when Chad Bjorkman bested a 488-entry field to win a $101,450 top prize. Then in March, Eric Atchison topped a 794-entry field to win the MSPT $360 Regional Event for $46,020 and his second title in two years.
Click here for more details including upcoming hotel rates.
MSPT Grand Falls Schedule
| Date | Time | Event | Starting Stack inc. add-on | Location |
| --- | --- | --- | --- | --- |
| Wednesday, 7/28 | 1 p.m. | $70 Satellite – 1/5 advance to $260 satellite | 12,000 | Poker Room |
| Thursday, 7/29 | 6 p.m. | $70 Satellite – 1/5 advance to $260 satellite | 12,000 | Poker Room |
| Wednesday, 8/4 | 1 p.m. | $70 Satellite – 1/5 advance to $260 satellite | 12,000 | Poker Room |
| Thursday, 8/5 | 6 p.m. | $70 Satellite – 1/5 advance to $260 satellite | 12,000 | Poker Room |
| Wednesday, 8/11 | 1 p.m. | $70 Satellite – 1/5 advance to $260 satellite | 12,000 | Poker Room |
| Thursday, 8/12 | 6 p.m. | $70 Satellite – 1/5 advance to $260 satellite | 12,000 | Poker Room |
| Saturday, 8/14 | Noon | $260 Satellite - 1/5 advance to $200K GTD Main Event | 15,000 | Poker Room |
| Sunday, 8/15 | 1 p.m. | $70 Satellite – 1/5 advance to $260 satellite | 12,000 | Poker Room |
| Sunday, 8/15 | 4 p.m. | $260 Satellite - 1/5 advance to $200K GTD Main Event | 15,000 | Poker Room |
| Wednesday, 8/18 | 1 p.m. | $70 Satellite – 1/5 advance to $260 satellite | 12,000 | Poker Room |
| Wednesday, 8/18 | 6 p.m. | $260 Satellite - 1/5 advance to $200K GTD Main Event | 15,000 | Poker Room |
| Thursday, 8/19 | Noon | $260 Satellite - 1/5 advance to $200K GTD Main Event | 15,000 | Poker Room |
| Thursday, 8/19 | 6 p.m. | $260 Satellite - 1/5 advance to $200K GTD Main Event | 15,000 | Poker Room |
| Friday, 8/20 | 10:00 AM | $260 Satellite - 1/5 advance to $200K GTD Main Event | 15,000 | Event Center |
| Friday, 8/20 | 3:00 PM | $1,100 Main Event Day 1A (2-Day Trophy Event) | 25,000 | Event Center |
| Saturday, 8/21 | 9:00 AM | $260 Satellite - 1/5 advance to $200K GTD Main Event | 15,000 | Event Center |
| Saturday, 8/21 | 3:00 PM | $1,100 Main Event Day 1B (2-Day Trophy Event) | 25,000 | Event Center |
| Sunday, 8/22 | 11:00 AM | $1,100 Main Event Day 2 Restart (2-Day Trophy Event) | N/A | Event Center |
| Sunday, 8/22 | Noon | $250 Last Chance Showdown NLH | 12,000 | Event Center |