Vincas Tamasauskas Wins First WSOP Gold Bracelet in Event #13: $5,000 Pot-Limit Omaha Championship ($268,926)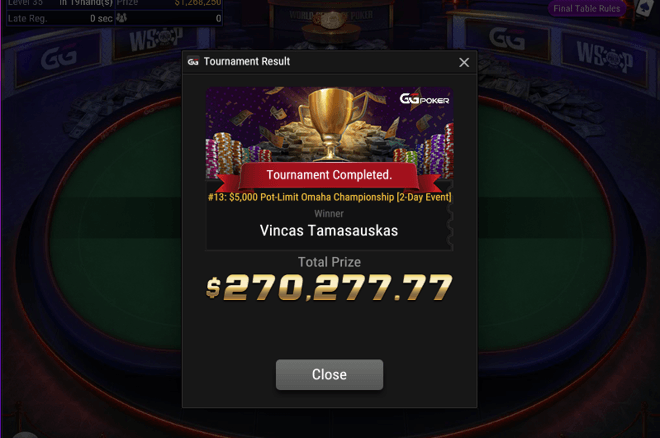 It took fewer than two hours on the final day of Event #13 $5,000 Pot-Limit Omaha Championship to determine the next winner in the 2021 GGPoker WSOP Online Bracelet Events. The tournament attracted a total of 267 entries with the top 39 finishers earning a share of the $1,268,250 prize pool.
Only seven contenders, from as many countries, returned for the final table and Vincas "seimininkas" Tamasauskas captured his first gold bracelet. He follows in the footsteps of fellow Lithuanian bracelet winners Vladas Burneikis and Gediminas Uselis, the latter of which won Event #76 $400 FORTY STACK No Limit Hold'em on GGPoker one year ago.
Tamasauskas earned the top prize of $268,926 after defeating Ben Lakatos in a short-lived heads-up duel, taking over the bragging rights from his brother Vladas who sits in seventh place on the Lithuanian all-time money list.
GGPoker OmahaSquad member Fernando "JNandez87" Habegger finished in third place ahead of Ben Wilinofsky, who was responsible for the vast majority of table action until his departure in fourth place.
GGPoker WSOP Online Event #13: $5,000 PLO Championship Final Table Results
| Place | Winner | Country | Prize (in USD) |
| --- | --- | --- | --- |
| 1 | Vincas "seimininkas" Tamasauskas | Lithuania | $268,926 |
| 2 | Ben Lakatos | Hungary | $194,439 |
| 3 | Fernando "JNandez87" Habegger | Switzerland | $140,583 |
| 4 | Ben Wilinofsky | Canada | $101,645 |
| 5 | David "MPEW299" Wang | Australia | $73,491 |
| 6 | Florian "HoldemKing17" Fuchs | Austria | $53,135 |
| 7 | Hernando "dardusss" Guzman | Mexico | $38,418 |
Unlimited Attempts at WSOP Main Event Seats for $49.99 at ClubGG
Tamasauskas Comes Out on Top After Roller Coaster Final Table
Even though the final table lasted fewer than two hours, it was a fast-paced and topsy turvy affair. Lakatos fell to a short stack only to double twice and even gain the lead. Wilinofsky kept his foot on the gas pedal and scored a massive double through Lakatos to take over the reign at the top of the leaderboard. The Canadian was also responsible for the elimination of start-of-the-day chip leader Hernando "dardusss" Guzman in seventh place.
Immediately after, Tamasauskas doubled through Wilinofsky to slow down the momentum of the Canadian. The stack sizes at the top were converging towards even, while Florian "HoldemKing17" Fuchs and David "MPEW299" Wang lost their battles with a short stack to reduce the field to the final four. Tamasauskas pulled into the lead, and Wilinofsky lost a series of hands to hit the rail in fourth place.
From there on, it was all about the battle between Tamasauskas and Lakatos. Habegger was handcuffed with a shorter stack and eventually had his aces cracked by Tamasauskas. The Lithuanian made quick work of Lakatos in heads-up, ending the tournament with a rivered boat against a turned wheel.
Watch the WSOP Online LIVE on PokerNews Twitch
Successful Final Table for Investors
Six players in the money and three of the seven finalists took advantage of the in-built staking tool in the GGPoker software client. Fuchs successfully sold 80 percent of his action and confirmed the trust of his investors with a sixth-place finish. Wang finished in fifth place and sold 21.3 percent, while Habegger sold out the 60 percent he put up for grabs, securing third place for $140,583.
| Player | Mark-Up | # of Stakers | Percentage Sold | Position | Prize (in USD) |
| --- | --- | --- | --- | --- | --- |
| Fernando "JNandez87" Habegger | 1 | 19 | 60%/60% | 3 | $140,583 |
| David "MPEW299" Wang | 1.09 | 5 | 21.3%/50% | 5 | $73,491 |
| Florian Fuchs | 1.2 | 18 | 80%/80% | 6 | $53,135 |
---
Read More: GGPoker Turns Online Poker into a Business with Innovative Staking Feature
---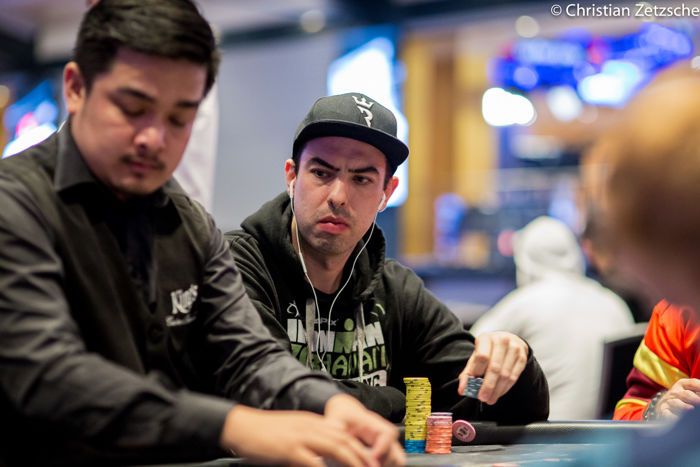 August 19 WSOP Online Action
PokerNews live reporting coverage continues on Thursday, August 19 with Event #14: $500 THE BIG 500. The two-day event is sure to attract some of the biggest names in the poker world, and you can follow the action from start to finish right here at PokerNews.
In the meantime, don't miss out on your chance to win a WSOP Main Event seat on ClubGG. Stage 1s are running in the client every hour, with players just three stages away from securing a $10,000 seat. Check it out!
2021 GGPoker WSOP Online Bracelet Events Schedule and Results
| Date | Event | Entries | Prize Pool | Winner | Prize |
| --- | --- | --- | --- | --- | --- |
| Sunday, 1 August | Event #2: $1,111 Caesars Cares Charity Event | 1,584 | $1,759,824 | Joao Simao | $206,075 |
| Sunday, 1 August | Event #1: $50 The Return NLH [Final Day], $1M GTD | 30,810 | $1,417,260 | Bartlomiej "chester20o" Swieboda | $161,110 |
| Tuesday, 3 August | Event #3: $2,500 Limit Hold'em Championship | 180 | $427,500 | Nicolo Molinelli | $88,461 |
| Thursday, 5 August | Event #4: $800 DOUBLE CHANCE NLH | 1,643 | $1,248,680 | Thiago "IneedWasabi" Crema de Macedo | $161,637 |
| Saturday, 7 August | Event #5: $315 Bounty No-Limit Hold'em Deepstack | 2,989 | $896,700 | Kacper Pyzara | $79,789 |
| Sunday, 8 August | Event #6: $200 FLIP & GO N0-Limit Hold'em [Go Stage], $1M GTD | 6,368 | $1,209,920 | Georgios Sotiropoulos | $117,022 |
| Sunday, 8 August | Event #7: $1,500 MILLIONAIRE MAKER NLH - $1M for 1st [Final Day], $5M GTD | 5,437 | $7,747,725 | Eduardo Pires | $1,384,013 |
| Tuesday, 10 August | Event #8: $5,000 6-Handed No-Limit Hold'em Championship | 479 | $2,275,250 | Daniel Smiljkovic | $423,426 |
| Thursday, 12 August | Event #9: $525 Superstack Turbo Bounty No-Limit Hold'em | 2,229 | $1,114,500 | Lucio "WizardOfAz" Lima | $91,205 |
| Saturday, 14 August | Event #10: $400 DOUBLE CHANCE Pot-Limit Omaha [2-Stack] | 975 | $366,600 | Roland "Quina Quen" Czika | $55,369 |
| Sunday, 15 August | Event #11: $10,000 Super MILLION$ High Roller NLH, $5M GTD | 624 | $6,052,800 | Erik Seidel | $977,482 |
| Sunday, 15 August | Event #12: $1,000 DOUBLE STACK No-Limit Hold'em [Final Day], $4M GTD | 5,894 | $5,599,300 | Hinojas "POLALIFE!" Jerome | $635,736 |
| Tuesday, 17 August | Event #13: $5,000 Pot-Limit Omaha Championship | 267 | $1,268,250 | Vincas "seimininkas" Tamasauskas | $268,926 |
| Thursday, 19 August | Event #14: $500 THE BIG 500 | | | | |
| Saturday, 21 August | Event #15: $10,000 Heads Up NLHE Championship [No Late Reg, 128 Cap] | | | | |
| Sunday, 22 August | Event #16: $1,050 WSOP GGMasters HR Freezeout NLH, $2M GTD | | | | |
| Sunday, 22 August | Event #17: $400 PLOSSUS [Bounty, Final Day], $1M GTD | | | | |
| Tuesday, 24 August | Event #18: $5,000 Short Deck Championship [3-Stack] | | | | |
| Thursday, 26 August | Event #19: $840 6-Handed Bounty No-Limit Hold'em | | | | |
| Saturday, 28 August | Event #20: $1,500 MONSTER STACK NLH [Freezeout] | | | | |
| Sunday, 29 August | Event #21: $25,000 Super High Roller Championship NLH, $5M Gtd | | | | |
| Sunday, 29 August | Event #22: $400 COLOSSUS [Final Day], $3M GTD | | | | |
| Tuesday, 31 August | Event #23: $600 Deepstack Championship No-Limit Hold'em | | | | |
| Thursday, 2 September | Event #24: $1,050 Bounty Pot-Limit Omaha | | | | |
| Saturday, 4 September | Event #25: $777 LUCKY SEVENS No Limit Hold'em 7-Handed | | | | |
| Sunday, 5 September | Event #26: $888 CRAZY EIGHTS No Limit Hold'em 8-Handed | | | | |
| Sunday, 5 September | Event #27: $5,000 MAIN EVENT Online Championship [Final Day], $20M GTD | | | | |
| Tuesday, 7 September | Event #28: $2,100 Bounty Championship No-Limit Hold'em | | | | |
| Thursday, 9 September | Event #29: $1,500 FIFTY STACK No-Limit Hold'em | | | | |
| Saturday, 11 September | Event #30: $525 WSOP Beat the Pros [Freezeout] | | | | |
| Sunday, 12 September | Event #31: ¥815 WSOP Zodiac Autumn Festival [Final Day], ¥2,888,888 GTD | | | | |
| Sunday, 12 September | Event #32: $210 WSOP Bounty Double MILLION$ [Final Day], $2M GTD | | | | |
| Sunday, 12 September | Event #33: $500 The Closer [Final Day], $2,021,000 GTD | | | | |