GGPoker Turns Online Poker into a Business with Innovative Staking Feature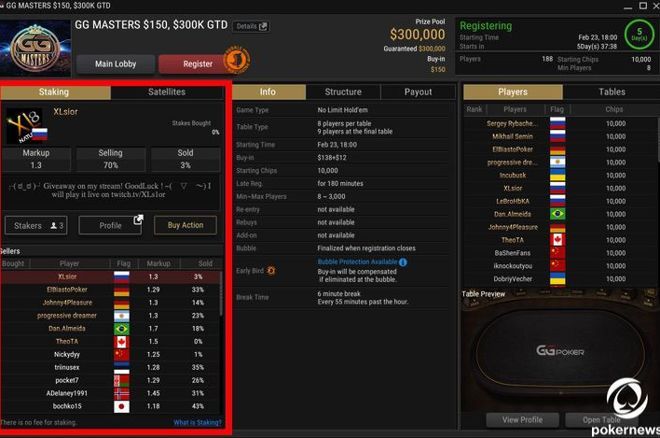 Tournament staking is a unique feature of GGPoker and it is one online poker has been crying out for.
This amazing built-in feature let you support your favorite players or even sell your own action to help spread the cost of your multi-table tournament play.
Backing and staking for tournaments is ultra common in the poker community.
Players sell action for tournaments via social media and online forums. Others have long-term backing deals from so-called stables.
Now you can get in on the action by backing your fellow players or selling pieces of your action, and do so for free, only at GGPoker.
---
SEE IT IN ACTION: Check out how to sell your action on GGPoker!
---
How Tournament Staking Works at GGPoker
Tournament staking works in one of two ways:
Staking: Buying a Stake
Staking is the purchasing of share of someone's poker tournament action. Daniel Negreanu played in last week's $300,000 guaranteed GG Masters and he sold 50% of his action with no mark-up; more on mark-up soon!
Negreanu sold that 50% in 1% increments. This meant you could buy a share of Negreanu in the GG Masters for $1.50 and you'd receive 1% of any winnings.
Unfortunately for those who bought a piece of Negreanu, he failed to reach the money. Had he won the tournament for $44,710, everyone who bought a piece of the Canadian legend would have received $447.10.
Those selling action can charge or apply mark-up to their sale. They do this when they believe they have an edge over the field. Mark-up can be as much as 2x.
---
READ ALSO: GGPoker Set to Launch Spin & Gold Jackpot SNG
---
If you buy a piece of a player's tournament action that has mark-up applied, you are paying a small premium for the privilege.
Negreanu could easily have charged a 1.5x mark-up on his GG Masters sale but we can assume he has a distinct advantage over a typical $150 buy-in tournament player.
Had Negreanu charged 1.5x mark-up, it would cost $2.25 for each 1% he sold instead of $1.50. Any potential payout remains the same as if no mark-up was charged.
Selling: Get Others to Pay for Your Games
You may wish to sell a share of yourself in any given tournament.
The process is similar to buying a stack in that you choose:
how much you want to sell
how much mark-up you want to charge
Potential buyers can then view your profile to see you most recent results in low, medium, and high stakes tournaments, including how deep you have gone in tournaments with those buy-ins.
If you manage to navigate your way to the money places, you pay out anyone who bought a piece of you based on the stake they purchased.
---
DID YOU KNOW? Check out how to sell your action on GGPoker!
---
Selling action is a great way to reduce the exposure on your bankroll, or to take a shot in a higher stakes tournament.
Likewise, buying a share of someone else is a great way to try and make money from poker when you don't have the inclination or time to play yourself!
All tournament staking is handled automatically by the GGPoker software so it is a seamless process.
It's integrated into the GGPoker software, which protects both buyers and seller from unscrupulous players who may attempt to scam you.
Register on GGPoker to Use this Feature (and Get a Bonus)
GGPoker is the only real money poker site where you can sell your action or buy shares of other players.
To use this feature and play on what is probably the best mobile poker app of 2020, to play Hold'em and Omaha, you should register on this page.
Do that — and you'll get a welcome bonus, too!
No code is needed to get your hands on a welcome promo offer worth up to $600.
Create your account
Make one deposit.
GGPoker will match your initial deposit 200% up to a maximum of $600.
All you need to do then is play cash games or tournaments to clear your bonus.
The bonus comes into your account in $10 increments and you have 90-days to clear the full amount. $10 is released for every 6,000 Fish Buffet Points, or for every $60 contributed to the cash game rake or tournament fees.