Will Poker Players Enjoy The Card Counter Starring Oscar Issac & Tiffany Haddish?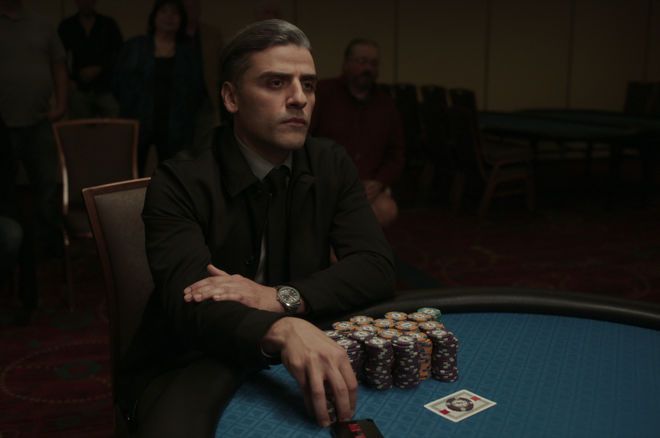 Table Of Contents
Today, The Card Counter by Focus Features starring Oscar Isaac, Tiffany Haddish, Tye Sheridan, and Willem Dafoe debuts in theaters. The rated R movie, written and directed by Paul Schrader (who you might know from his work on Taxi Driver and Raging Bull, was executive produced by Martin Scorsese, among others.
So, how is the movie? Below is my no-spoiler review of the new flick.
For those unfamiliar with the 110-minute movie, here's how it's described followed by a film's trailer:
"Redemption is the long game in Paul Schrader's THE CARD COUNTER. Told with Schrader's trademark cinematic intensity, the revenge thriller tells the story of an ex-military interrogator turned gambler haunted by the ghosts of his past decisions, and features riveting performances from stars Oscar Isaac, Tiffany Haddish, Tye Sheridan and Willem Dafoe."
How Does Poker Fit In?
As a whole, it seemed the biggest concern the poker community had was with the film's title, The Card Counter. There were fears that filmmakers would associate card counting, which is traditionally reserved for blackjack, with poker, a game in which counting cards doesn't really play a role.
I am happy to say that not only are those fears unfounded, Schrader did an excellent job of differentiating between blackjack and poker. The film opens with a blackjack montage (why is every card show a spade?) followed by an early explanation of card counting and how it applies to the game.
It isn't until about 10 minutes in the film poker enters the picture, with some solid World Series of Poker (WSOP) Circuit branding. Kudos to the filmmakers for getting the WSOP on board, an entity known for being super stingy with their brand. It is around this same time that the film offers what I felt was a solid explanation of how staking and make-up work in the poker world.
It became clear that the filmmakers didn't make the mistake of associating card counting with poker, and I don't think viewers will either.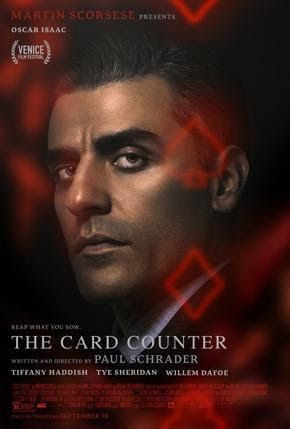 This was no doubt in part to having a pair of experienced poker professionals advising on set in Joe "Stapes" Stapleton and "Captain" Tom Franklin (you won't be able to miss the latter's cameo appearance). Every Hollywood film that plans to incorporate poker should hire a poker advisor. Too many times will a production bungle things, so having someone there overseeing all things poker seems like a no-brainer (or at least will be appreciated by the poker community). Nice job by both Stapes and "Captain" Tom in helping steer the figurative poker ship.
Something else I found interesting was that while poker played a big role in the film, no noteworthy poker hands were shown. In one scene, Isaac's character talked about a memorable bad beat, but in almost every other poker sequence the drama and intensity of the situation stood on their own without viewers actually seeing what the hands were. For me, it had the same effect without the risk of bungling hand dynamics (i.e. the preposterous James Bond Casino Royale hand comes to mind).
One of my favorite parts of the film was its poker authenticity. I've been to dozens of real WSOP Circuit stops across the country, and I felt it was accurately portrayed on the big screen in terms of size and feel. One scene in particular really stood out where all the main characters are walking down the hallway on their way to a poker tournament. The hallway is filled with real-life poker booths featuring familiar brands such as OddsChecker, D&B Publishing, RunGood Poker Gear, and even PokerNews (keep an eye out for our sign and poker shirts).
Finally, I can't help but wonder if we'll see some "USA, USA, USA" guys at this year's WSOP (perhaps during the tag team event). If you haven't seen the movie yet, you'll have no idea what I'm talking about, but trust me, when you see them on the screen you'll know exactly what I'm talking about.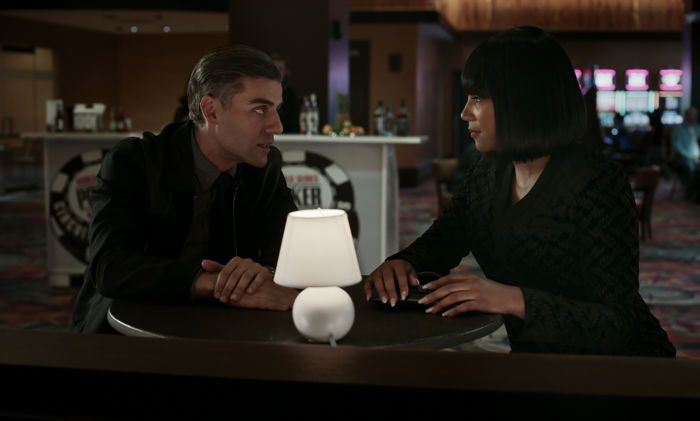 The Good
One of the highlights for me was the stellar cast. Oscar Isaac and Tye Sheridan, the latter of who replaced Shia LeBeouf in the cast, both put in solid performances, as did Tiffany Haddish, though to be honest, I didn't really feel the chemistry between her and Isaac's character. It just didn't feel natural, but rather a bit forced. As for Dafoe, my only qualm is he wasn't in the movie enough. He always seems to hit it out of the park, but here it was more like a single given how little screen time he had.
"It really is a high-profile production, which isn't something we see often when it comes to poker-centric films."
I also dug the camerawork in several scenes, specifically what they did during interrogation flashback scenes. I like when films take risks and they payoff, which I felt happened here. It really is a high-profile production, which isn't something we see often when it comes to poker-centric films.
The dialogue was engaging as well, especially in one scene where Isaac's character talks about his preference for "anonymous gambling" as opposed to "celebrity gambling." There are players like that in the game, so I thought it was a spot-on observation.
Finally, Tiffany Haddish in a WSOP t-shirt --- I don't have much to say other than I thought it was pretty damned cool.
The Bad
While I thought the acting was excellent, I felt it outpaced the actual character development. I wanted to know these characters better, but the film didn't really give me the opportunity.
There also seemed to be some strange cuts and transitions throughout the film. Oftentimes it seemed there was a crude transition from one heavy moment to something lighter or even tangential. I don't think it was egregious, but enough to make me take notice.
If I had any qualm about the actual poker, it stems from one of the final scenes. Without giving too much away, let's just say Isaac's character makes an absurd decision at a major final table. Any poker player who watches the movies will immediately know what I'm talking about.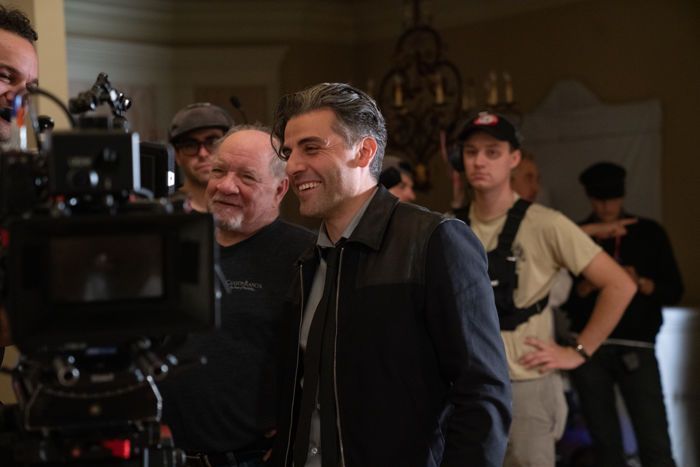 Conclusion
The Card Counter isn't really a poker movie so much as it's a revenge thriller. Poker, and the larger gambling mythos, plays a large role in the film, but it's more of a backdrop to the main story, which is that of an ex-military interrogator confronting the ghosts of his past decisions.
If you go in hoping to watch a movie about poker, you'll probably be disappointed. However, if you go in hoping to watch a Hollywood movie in which poker plays a prominent role, you'll be sure to enjoy it a bit more.
One of the lines in the film that I really liked was "The World Series of Torture." While that may have been true in the story, the film itself was far from it. I actually enjoyed The Card Counter.
That said, it's not the next Rounders, and by that I mean it's not a film that's going to energize nor revolutionize poker. Instead, it's more in line with the 2013 film Runner Runner starring Justin Timberlake and Ben Affleck. Is it great? No. But is it entertaining? Yes.
While The Card Counter doesn't do poker many favors, it doesn't do it a disservice. I think it's worth a watch for no other reason than to support the poker aspects of the film.
Grade: B-
Executive Editor US, PokerNews Podcast co-host & 2013 WSOP Bracelet Winner.