John Gardner Wins 2021 Grand Poker Series $600 Championship Event ($100,266)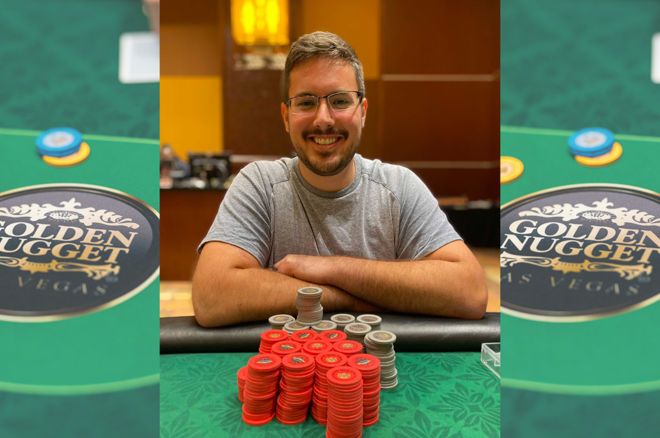 John Gardner has claimed victory in Event #22: $600 Championship No-Limit Hold'em $500,000 Guarantee, the Main Event of The Grand Poker Series at the Golden Nugget in downtown Las Vegas.
Three Day 1 flights attracted 1,096 combined entries for a total prize pool of $565,536. Of those, 138 players made it into the money for Day 2. The second day ended with only nine players left, and a final table was set for a third and final day. The final table lasted just under three hours and Gardner, who came into the day second in chips, ended up playing heads-up with Mark Harraka, who was the final table chip leader.
2021 Grand Poker Series Championship Final Table Results
| Place | Player | Country | Prize |
| --- | --- | --- | --- |
| 1 | John Gardner | United States | $100,266 |
| 2 | Mark Harraka | United States | $66,570 |
| 3 | Danny Dagostino | United States | $44,325 |
| 4 | Ken Huynh | United States | $31,025 |
| 5 | Jason Bartholomew | United States | $22,515 |
| 6 | Jesse Jaurigue | United States | $17,095 |
| 7 | Benjamin Jacobs | United States | $13,615 |
| 8 | Phillip Latimer | United States | $12,390 |
| 9 | Greg Koutelidakis | United States | $9,545 |
Final Table Action
Action at the final table started quickly, and only a few hands into the day, Jason Bartholomew knocked out Greg Koutelidakis after completing his nut flush draw on the turn against Koutelidakis' flopped two pair.
Three shorter stacks were soon gone in quick succession, with Phillip Latimer getting knocked out in eighth, Benjamin Jacobs falling in seventh, and Jesse Jaurigue gone in sixth.
After a short break, Gardner stared down and called down Bartholomew with second-top pair while Bartholomew could only show ace-high in a huge pot that helped propel Gardner to eventual victory. Ken Huynh was next to go when he ran his sevens into the eights of Danny Dagostino, who then fell in third when his cowboys were cracked by Gardner's flopped straight.
That set up a heads-up battle between Gardner and Harraka, with the former starting with a chip advantage of almost three times the latter's stack. The first all-in and call came on a nine-eight-seven flop and Gardner's jack-nine was in a great position against Harraka's jack-eight. The board ran out blanks and Gardner was officially the champion of the championship event.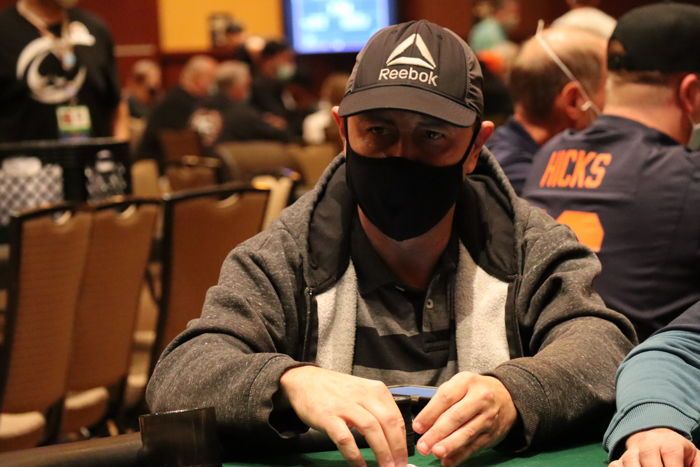 Gardner, who is from Eagle Mountain, Utah and describes himself as "just a recreational" with a wife and three kids, said he was into poker when he was younger but only recently got back into it within the last couple of years. His previous biggest cash before this was for under a thousand dollars.
He added, "Thanks to the casino and the tournament directors and the dealers. They were all great. It was a good tournament and a lot of fun."
Congratulations to John Gardner, winner of the Golden Nugget Grand Poker Series Event #22: $600 Championship!
While the 2021 Grand Poker Series Championship is in the books, the series continues through October 18. That includes the popular invite-only Bar Poker Open Championship, which will see players from across the country descend upon the Golden Nugget. Click here for a look at the remaining Grand Poker Series schedule.
Here's a look at all those who've captured titles thus far at the 2021 Grand Poker Series:
| | | | | | | | | | | | | | | |
| --- | --- | --- | --- | --- | --- | --- | --- | --- | --- | --- | --- | --- | --- | --- |
| Date | Tournament | GTD | Entries | Prize Pool | Winner | Hometown | Prize | | | | | | | |
| 28-Sep | Event #1: $250 Omaha 8 or Better | $5,000 | 95 | $18,990 | Jose Leon | Bellflower, CA | $3,480 | | | | | | | |
| 28-Sep | Event #2: $150 Daily NLH | $5,000 | 41 | $5,000 | Mary Campbell | Spring, TX | $1,535 | | | | | | | |
| 28-Sep | Event #3: $250 Big-O | N/A | 70 | $10,640 | Eric Plunkett | Solvan, CA | $3,370 | | | | | | | |
| 28-Sep | Event #4: $120 Nightly NLH | $3,000 | 47 | $4,089 | Daryl Oppelt | Brookings, SD | $1,324 | | | | | | | |
| 29-Sep | Event #5: GNLV Poker Room Invitational | $100,000 | 99 | $100,000 | Michael Brewer | Oxford, NC | $9,100 | | | | | | | |
| 29-Sep | Event #6: $150 Daily NLH | $5,000 | 72 | $7,920 | Adam Mirliss | Prescott, AZ | $2,460 | | | | | | | |
| 29-Sep | Event #7: $100 Pot-Limit Omaha Fire Till You're Tired | N/A | 48 | $9,470 | David Wortham | Murrieta, GA | $2,376 | | | | | | | |
| 29-Sep | Event #8: $120 Nightly NLH | $3,000 | 36 | $3,132 | Matthew Maddox | Toulumne, CA | $1,034 | | | | | | | |
| 30-Sep | Event #9: $250 HORSE | $5,000 | 87 | $17,400 | Kathy Chang | Valencia, CA | $3,765 | | | | | | | |
| 30-Sep | Event #10: $200 NLH Ultimate Re-Entry | $100,000 | 2,076 | $315,552 | Justin Hagan | Roseville, CA | $28,402 | | | | | | | |
| 3-Oct | Event #11: $250 Omaha 8/Stud 8 | $10,000 | 178 | $35,600 | Darlene Springman | Las Vegas, NV | $5,387 | | | | | | | |
| 3-Oct | Event #12: $150 Daily NLH | $10,000 | 155 | $17,050 | June Jenkins | Hamilton, Ontario, Canada | $3,580 | | | | | | | |
| 3-Oct | Event #13: $120 Nightly NLH | $5,000 | 101 | $8,787 | Michael James | West Allis, WI | $1,000 | | | | | | | |
| 4-Oct | Event #14: $250 Mixed PLO/8, Omaha 8/B, Big-O | $10,000 | 186 | $37,200 | Derek Bugg | Puyallup, WA | $7,240 | | | | | | | |
| 4-Oct | Event #15: $150 Daily NLH | $10,000 | 219 | $24,090 | Qijon Troy | Honolulu, HI | $3,035 | | | | | | | |
| 4-Oct | Event #16: $200 Mixed Triple Draw Lowball Limit | N/A | 108 | $16,416 | Joe Konstan | St. Paul, MN | $4,796 | | | | | | | |
| 4-Oct | Event #17: $120 Nightly NLH | $5,000 | 75 | $6,525 | Eric Kendall | Carmel, IN | $840 | | | | | | | |
| 5-Oct | Event #18: $250 Big-O | $10,000 | 109 | $21,800 | Michael Howell | Las Vegas, NV | $5,965 | | | | | | | |
| 5-Oct | Event #19: $200 NLH $100K GTD | $100,000 | 1,905 | $289,560 | Jenyue Chiang | Mesa, AZ | $23,550 | | | | | | | |
| 6-Oct | Event #20: $250 Pot-Limit Omaha 8-Handed | $10,000 | 141 | $28,200 | Luis Alvarez | South Houston, TX | $7,070 | | | | | | | |
| 7-Oct | Event #21: $250 8-Game Mix | $5,000 | 102 | $20,400 | Jacob Naumann | Largo, FL | $5,200 | | | | | | | |
| 7-Oct | Event #22: $600 Championship NLH | $500,000 | 1,096 | $565,536 | John Gardner | Eagle Mountain, UT | $100,266 | | | | | | | |
| 7-Oct | Event #23: $150 Daily NLH | $10,000 | 123 | $13,530 | Norsavanh Phousith | Woonsocket, RI | $1,370 | | | | | | | |
| 7-Oct | Event #24: $120 Nightly NLH | $5,000 | 50 | $5,000 | Gregory Robbins | Fresno, CA | $1,700 | | | | | | | |
| 8-Oct | Event #25: $150 Daily NLH | $10,000 | 108 | $11,880 | Braxton Lake | Jersey City, NJ | $2,420 | | | | | | | |
| 8-Oct | Event #26: $200 Night HORSE | N/A | 91 | $13,832 | Michael Ornelas | Los Angeles, CA | $3,972 | | | | | | | |
| 8-Oct | Event #27: $120 Nightly NLH | $5,000 | 42 | $5,000 | Yette Silverman | Jensen Beach, FL | $1,700 | | | | | | | |