Own Goal for Winamax As Bordeaux FC Severs Partnership After Twitter Gaffe

Social media can be a precarious place.
A mistimed tweet or ill-judged Facebook post can be seen by millions of people the second it hits the internet, which has often landed people and companies in hot water. One of the latest organisations to join the infamous club is French poker operator Winamax.
Around six months ago, the company became a partner with French football side FC Girondins de Bordeaux. It was a relationship that was due to last three seasons, however, that was cut short following a diatribe of tweets by Winamax ridiculing the on-field misfortunes of the club.
Radio network France Bleu discovered that at least 20 disparaging tweets had been posted from the official Winamax Sport Twitter account within a three-month time frame. One of the most engaged posts is still live on their profile.
On December 22, Bordeaux FC lost a match versus LOSC Lille. A few days later Winamax Sport tweeted "Girondins de Bordeaux." which was accompanied with a meme asking for sad stories that only consist of three words.
Despite receiving a reported €1.3 million a year from the gaming outfit, the mocking proved too much for Bordeaux and they severed ties with Winamax last week.
This was backed up by the club's deputy general manager Thomas Jacquemier who stated, "We are terminating our partnership contract with Winamax, whose communication had dissociated itself from the club through videos or tweets about the last match. We have humour, but here we are not in the spirit of a partnership."
Winamax Continues Bordeaux Pile On
After those incursions, you would think the messaging would stop. That was simply not the case. Winamax appeared to double down on its position following criticism and then tweeted: "We have been looking for a good defense for an hour, but like the Girondins, we can't find it."
Then, following a 6-0 defeat, Winamax sarcastically praised their former associate by congratulating them for not conceding a goal for 20 hours.
Since the split, the Winamax logo has been removed from the team's jersey and has since been replaced by the clubs charitable foundation, Coeur Marine et Blanc
Dulux Paints Tottenham Hotspur in Bad Light
Another social media account that found themselves in the deep end was British paint brand Dulux. In 2021, they partnered with a small London based English Premier League club named Tottenham Hotspur FC.
If you are unfamiliar with Spurs, they are currently in the midst of a 14-year run baron spell, winning no notable honors in that time. Much to the joy of rival fans and armchair pundits, they are often the ridicule on social media. The team at Dulux obviously did not want to disappoint and joined in on the fun with a series of tweets of their own.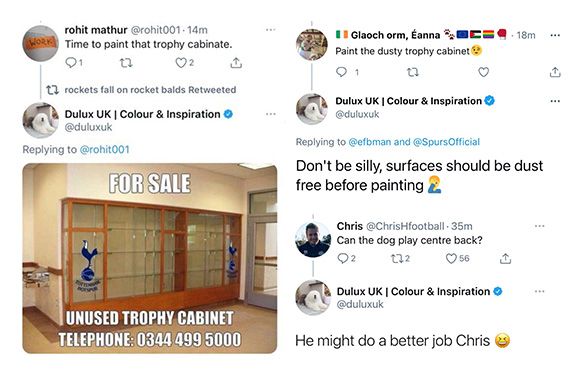 Following the barrage of truthful but inappropriate statements from the company, they issued an apology to the football club and all was forgiven.
Calum has been a part of the PokerNews team since September 2021 after working in the UK energy sector. He played his first hand of poker in 2017 and immediately fell in love with the game. Calum's proudest poker achievement is winning the only tournament he has ever played in Las Vegas, the prestigious $60 Flamingo evening event.