Government Crackdown? Texas Card House in Dallas Loses Permit, Owners Baffled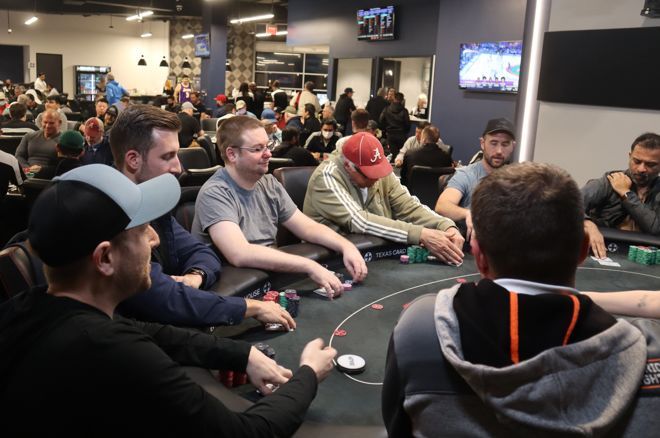 Table Of Contents
The Texas Card House (TCH) in Dallas mysteriously had its permit revoked by the city months after it was approved, but the room is still in operation and games were spread as of Friday evening.
PokerNews reached out to the Dallas City Attorney's Office for an explanation as to what violations the card room allegedly committed but we haven't yet received a response. We also contacted Ryan Crow, CEO for Texas Card House, and are awaiting a response. We'll share any information we're provided as soon as possible.
TCH issued the following statement on social media:
"As we understand the concern, we can assure you that we would honor any outstanding chips or balances for our members in the event that we are shut down. However, we feel strongly about our ability to overcome this battle and foresee this process taking a long time in the interim. One of the many perks of playing at TCH locations, we are bigger than just one location. Additionally, we back our product 100% and are committed to doing the right things by our players, staff, and community."
Is it Gambling or Not?
In the meantime, what we know thus far is that the city sent TCH a letter informing the poker club that their business license is being revoked, but with only a minimal explanation provided. According to the notice, the Northwest Dallas business had its city permit revoked for "keeping a gambling place."
That claim is in question considering Texas Card House doesn't take rake out of any pots. In the state of Texas, collecting rake in cash games is illegal per the state's strict gambling laws.
Poker rooms must operate differently in the Lone Star State than elsewhere. Instead of taking rake, the rooms charge membership and/or seat fees that are charged hourly or sometimes daily. At TCH, players must pay $13 per hour to play, and that is specifically why the card room is confused as to the reason for the permit revocation.
Crow told Dallas' CBS affiliate (KTVT) that he spent hundreds of hours over a two-year period communicating his plans with the city, ensuring that his business was operating within the law.
His permit was approved last year and the Northern Texas poker room quickly became a popular spot to play cards in the area. More than 400 players fill up the room each day, on average. Not only that, but over 200 employees will lose their jobs if the room is forced to close.
Other Rooms Facing Similar Issues
Texas Card House operates three other rooms throughout the state in Austin, Houston, and Rio Grande Valley, where local authorities are less hands-off when it comes to poker room operations.
In Dallas, however, things are a bit different, and TCH isn't the only poker room to learn that the hard way. Champions Club, an upscale establishment featuring a high-priced steakhouse, opened as a members-only club last summer.
The company initially applied for a license as a standard poker room but the city's building official denied the application. Champions then reapplied with a restaurant and bar and the Certificate of Occupancy was approved. But after an appeal with the Dallas Board of Adjustment, the city upheld the original decision, meaning Champions could only open as a restaurant and bar without poker.
Champions has since filed a lawsuit against the city and still hopes to one day add a poker room to its operation. The proposed card room promoted a $2 million guaranteed poker series in September prior to its grand opening, but that was of course canceled.
When Champions attempted to open a poker room, many residents in the area voiced their displeasure and protested the proposed plan.
"As residents of the communities that will be directly and adversely impacted by these proposed poker rooms, we should have the right to decide whether a gambling operation opens so close to our family homes, schools, churches, businesses, and parks," a July petition opposing the Champions Club poker room reads. "We vehemently oppose the operation of any organized poker/gambling venues adjacent to our neighborhoods."
The petition was successful in stopping Champions Club from opening a poker room.
PokerNews will continue to monitor the situation in Dallas at both Texas Card House and Champions Club.
*Image from Texas Card House Twitter.