New Real Money Poker Platform WPT Global Goes Live in 50+ Countries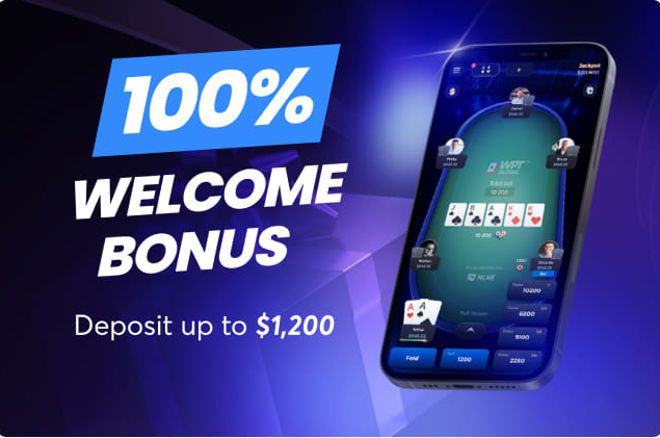 Table Of Contents
Fans of the World Poker Tour (WPT) can now enjoy real money poker games in over 50 countries and dependencies with the licensing of WPT Global.
Since its launch in 2003, the WPT has been an iconic brand at the forefront of the poker community. Now, with WPT Global, fans and players are able to take it to the next level and are able to play on a "cutting-edge" new online platform, home to the largest pool of recreational players in online poker.
The official website promises "unparalleled security and safety" for all players on WPT Global, with the site committed to upholding the highest standards of security and game integrity.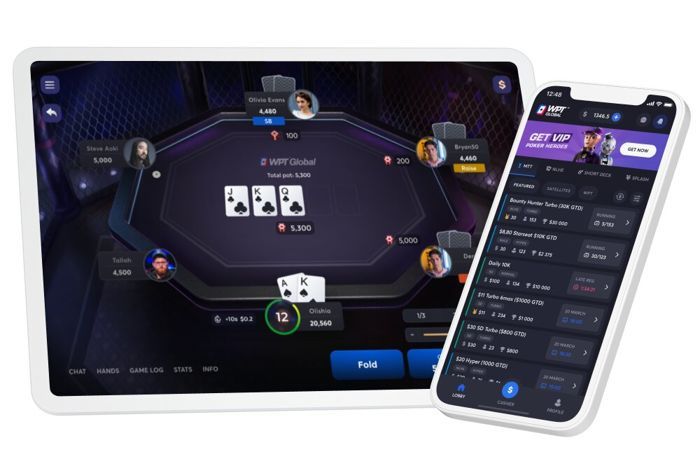 Note: WPT Global is not available to customers in the United States or United Kingdom
WPT Global Welcome Match Bonus
Not only do players get a free ticket upon registration, players who sign up to WPT Global through PokerNews will receive a Welcome Bonus on registration. This Bonus is a 100% Deposit Match Bonus for all new players who deposit at least $20.
However, the Bonus goes as high as $1,200, meaning if you deposit $1,200 when signing up, it will be matched in your account.
Claiming your bonus couldn't be easier, as all it takes is to play on WPT Global. Your bonus is unlocked in $5 increments straight to the cashier for every $20 in rake contributions you make through tournaments or cash games.
Free to Play Slots in the US
Cash Games, Tournament and Satellites
There are both No Limit Hold'em and Short Deck cash games on offer on WPT Global
The cash games section of the WPT Global client offers a variety of different stakes - Micro, Low, Mid or High. For reference, the highest stakes cash games currently on offer are ¥200/¥400/¥800 with a ¥200 ante, or ~$31/$63/$136 with a $31 ante.
There are also several exciting features including:
Ante Games
Bomb Pots
Straddle Games
Pace Poker (fast-fold)
The new client features tournaments - including the highly anticipated $1 for $1 Million - offering players the chance to win a share of $1 million for just a single dollar. There are also WPT Satellites offering players to win tickets to live WPT tournaments around the world.
Gamavrs
One of the unique features of WPT Global is the integration of Gamavrs. These are unique NFTs that offer in-game benefits on WPT Global such as freeroll tournaments, exclusive tables and access to WPT Live Events.
Depending on the rarity of your NFT, players will stand out from the crowd with members-only club events and exclusive features.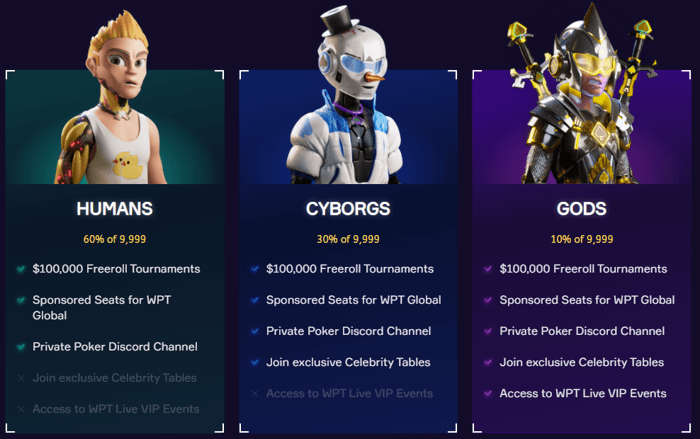 A total of 60% of the 9,999 NFTs will be Humans rarity, offering players access to $100,000 Freeroll Tournaments, sponsored seats for WPT Global and access to a Private Poker Discord channel.
Cyborgs are the next level of rarity, making up 30% of the 9,999 NFTs. This level of rarity allows players who own a Cyborg the ability to join exclusive Celebrity tables on WPT Global.
The final level of rarity is Gods, with just 10% of the 9,999 NFTs being this rare. The final perk sees players gain access to WPT Live VIP Events.
WPT Global FAQs
What is WPT Global?

WPT Global is a brand new online gaming platform, providing real money poker to players in over 85 countries around the world.
How do I sign up to WPT Global?

Simply download and register with WPT Global through PokerNews
How do I claim my WPT Global deposit bonus?

Sign up to WPT Global and make a deposit of at least $20 to receive your deposit match bonus. Your bonus is released in $5 increments for every $20 rake contribution
What countries can I play on WPT Global?

WPT Global is currently live in: Albania, Andorra, Angola, Argentina, Austria, Azerbaijan, Bangladesh, Barbados, Bolivia, Bosnia and Herzegovina, Botswana, Brazil, Burundi, Cabo Verde, Cambodia, Cameroon, Canada, Chile, Colombia, Congo, Costa Rica, Côte d'Ivoire, Croatia, Dominica, Dominican Republic, Ecuador, Egypt, El Salvador, Equatorial Guinea, Fiji, Finland, Gabon, Gambia, Georgia, Ghana, Greenland, Grenada, Guatemala, Guinea, Guinea-Bissau, Guyana, Honduras, Hungary, Iceland, India, Indonesia, Ireland, Jamaica, Jordan, Kazakhstan, Kenya, Kyrgyzstan, Laos, Lebanon, Liechtenstein, Luxembourg, Madagascar, Maldives, Mali, Mexico, Moldova, Monaco, Mongolia, Montenegro, Morocco, Namibia, Nepal, New Caledonia, New Zealand, Nicaragua, Nigeria, North Macedonia, Oman, Palau, Panama, Papua New Guinea, Paraguay, Peru, Poland, Saudi Arabia, Senegal, Seychelles, Slovakia, Slovenia, South Africa, South Korea, Sri Lanka, Taiwan, Tajikistan, Tanzania, Thailand, Ukraine, Uruguay, Uzbekistan, Venezuela, Zambia and Zimbabwe.
Will Shillibier is based in the United Kingdom. He started working for PokerNews as a freelance live reporter in 2015 and joined the full-time staff in 2019. He graduated from the University of Kent in 2017 with a B.A. in German. He also holds an NCTJ Diploma in Sports Journalism.