Arnaud Enselme Wins the Latest PokerNews Cup in Breathtaking Fashion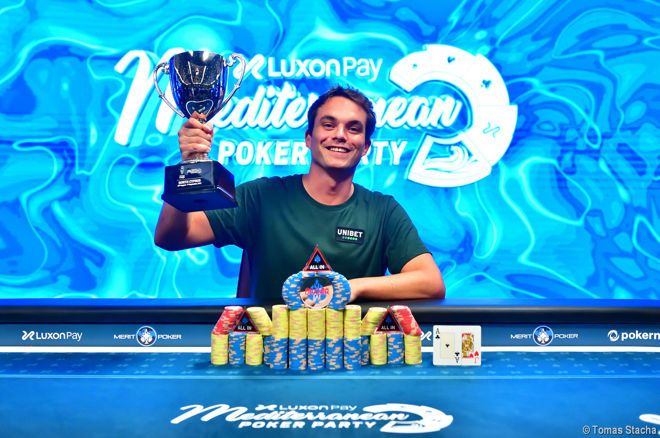 Table Of Contents
After an action-packed 11-and-a-half hours of Day 2 play here today at the 2022 Luxon Pay Mediterranean Poker Party at the incredible Merit Royal Diamond Hotel & Casino, there could only be one winner of the $500 PokerNews Cup: Arnaud Enselme.
After a grueling 30-and-a-half levels of play, Enselme bested Dmitry Koleznev in heads-up play that saw one of the wildest ends to a tournament in recent memory. The two players, on virtually equal stacks, had stopped play for 15 minutes to agree to a deal but were forced to complete the hand that had already been dealt before going through with the agreement. However, the two ended up flipping for the win, with Enselme coming out the victor.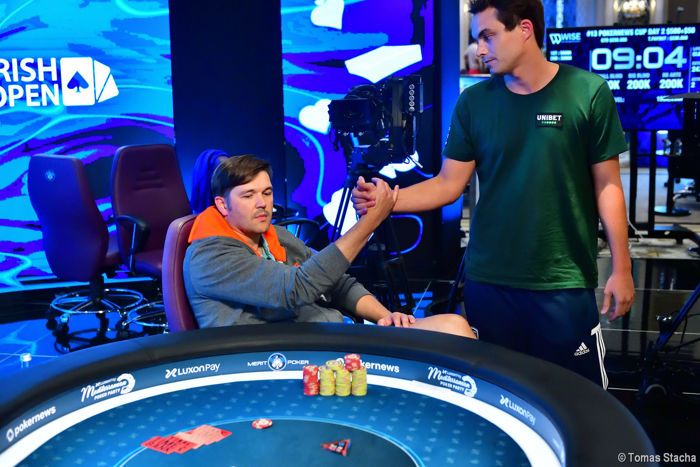 Winner's Reaction
For being the last one standing from a total of 332 entries, Enselme was awarded the $50,000 first prize and the illustrious PokerNews Cup trophy. To make life even sweeter, the victory sends the Unibet-sponsored professional to over $1 million in lifetime live poker tournament earnings on HendonMob.
"That's right, I knew that (he eclipsed $1 million). It's great, it's very special. I've always played a lot online and now I'm playing much more live poker, especially after signing with Unibet. It's my first win of the year, I've been waiting for it since January so it feels amazing. I'm very proud of that. I'm very proud to pull through, even in the tough moments, with tough opponents, and I'm very happy I came out with the win."
Of course, Enselme had to speak about the dramatic finish that saw him take down the full $50,000 first prize instead of playing it out for several thousands of dollars less.
"We agreed to a deal but then the floor came and explained that we had to play the hand that was in process. The guy (Koleznev) went all in and I had ace-jack. Even though we were talking about a deal, my hand was just too strong to fold and he showed up with a real hand. He really looked like he wanted a deal but that's just how it went."
$500 PokerNews Cup Final Table Results
| | | | |
| --- | --- | --- | --- |
| Place | Player | Country | Prize |
| 1 | Arnaud Enselme | France | $50,000 |
| 2 | Dmitry Koleznev | Russia | $30,000 |
| 3 | Gheorghe Butuc | Moldova | $20,250 |
| 4 | James O'Brien | Ireland | $15,000 |
| 5 | Vittorio Maugini | Italy | $11,000 |
| 6 | Ercan Hasan | Turkey | $9,000 |
| 7 | Furkan Beg | Turkey | $7,500 |
| 8 | Konstantinos Nanos | Greece | $6,250 |
| 9 | Vladislav Fedoseev | Russia | $5,000 |
Action of the Day
Play began with 49 players already in the money after having qualified through the three different flights over the course of the previous two days, with Enselme coming in with a healthy 222,000 chips (44 big blinds). However, he was far behind the overall chip leader, Sakis Adrianopoulos, who came into the day with exactly 500,000 chips (100 big blinds). However, Adrianopoulos would not have great luck and finished in 22nd place for $2,000, notably losing heaps in Level 18 when he hit a set of jacks on the river as Veselin Petrov hit his nut flush. He would bust about 40 minutes later after getting in with top pair against Vittorio Maugini, who outkicked him on the flop.
The Day 1a and Day 1b chip leaders, Russians Vladislav Fedoseev and Elena Yasyuchenya, would fare much better as they finished 9th and 10th, respectively.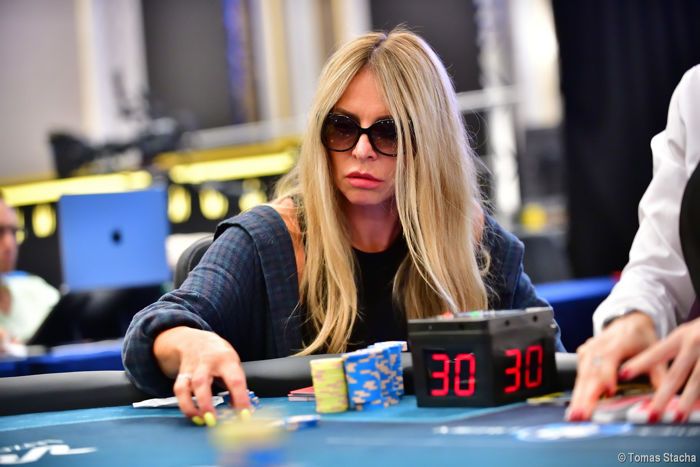 One of the most entertaining players in the field, Furkan Beg, had players laughing all day with his table talk. He also let his cards do the talking for him, taking his original stack of 86,000 chips (17 big blinds) and turning that into a very respectable seventh-place finish for $7,500.
After Beg's bustout, the final six players played out a long battle that, at one point, saw all six players sharing just 62 big blinds between them. There was even talk of a deal at one point that would've seen the remaining $135,250 shared between the players in some fashion but Enselme was the one to strike the deal down, noting that he was feeling confident in his play. That confidence would pay off as he would eliminate three of his five opponents en route to the win.
Heads-up Play
After Koleznev eliminated Gheorghe Butuc, Enselme came into heads-up play with a 3:1 chip advantage. The two players would get it all in on the fourth hand against one another, with Koleznev defeating Enselme with ace-king suited against ace-nine. After a single shove/fold, Koleznev and Enselme were neck-and-neck, with Enselme covering Koleznev by just 100,000 chips.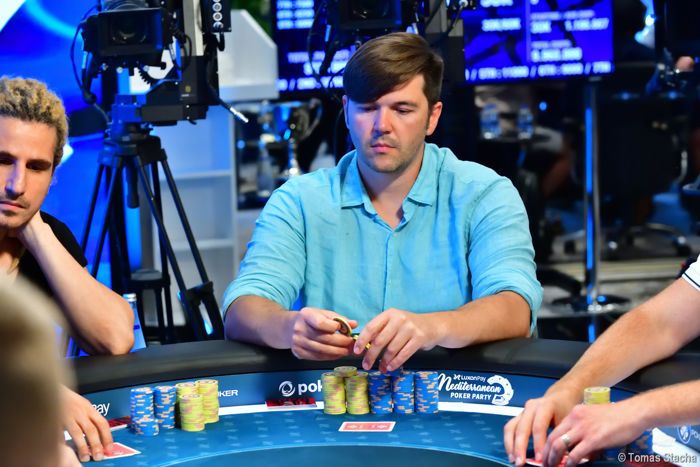 The sixth and final hand would be dealt and talks of a deal would halt action for roughly 15 minutes. The two players would agree to a personal deal but that was nixed as the floor ruled that the two had to play for a significant difference between second place and first place to facilitate a deal. After a few minutes, a second and final agreement was set in place but the floor also ruled that the players must first finish the hand before any paperwork could be signed.
However, a deal would never get completed as Enselme opened to 500,000 (2.5 big blinds). Koleznov shoved and Enselme called, and the two would flip for the remaining $20,000 and the trophy:
Dmitry Koleznev:

Arnaud Enselme:
The flop came
to give Enselme two pair and left Koleznev drawing to just two outs. The
and
completed the board and Enselme let out a primal roar that could be heard throughout the poker room.
Koleznev was notably distraught and disappointed in the outcome as he left with just $30,000, far less than if the hand was never played at all.
As for Enselme, he booked the $50,000 win and took himself over $1,000,000 in career live earnings in what he described as one of his favorite poker rooms in the world.
Be sure to keep it with the PokerNews team for coverage of the final days of the 2022 Luxon Pay Mediterranean Poker Party at the incredible Merit Royal Diamond Hotel & Casino.
Blaise Bourgeois is a full-time digital nomad living and playing poker in Latin America. He's part of the PokerNews live reporting team for the 2022 World Series of Poker.