Rivers Poker Room's Record-Setting $1.2M Bad Beat Jackpot Triggered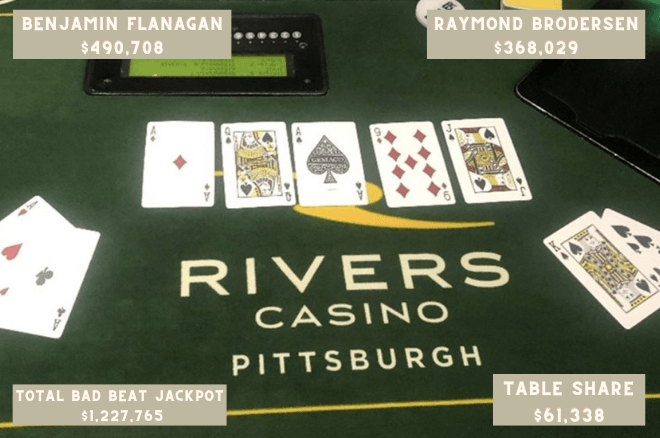 Table Of Contents
Benjamin Flanagan of West Virginia lost a hand with quad aces to a royal flush in a $1/$3 no-limit hold'em game at Rivers Casino in Pittsburgh, but walked away a six-figure winner thanks to the poker room's $1.2 million bad beat jackpot.
Flanagan rivered quad aces on a board of A♠9♦J♠Q♠A♦, but ran into the K♠10♠ of Raymond Broderson, a local player, for a royal flush.
The hand created the largest bad beat jackpot in US live poker history. Everyone at the table was ecstatic with the outcome of the hand because all six players received a large payout, two of whom took home life-changing money.
Life-Changing Money Awarded to Multiple Players
As is customary in bad beat jackpots, the player who lost the hand received the largest share of the $1,226,000 pool. Flanagan, who suffered the most thrilling bad beat of his life, was paid $490,708, or 40% of the entire jackpot. Broderson scooped a 30% share ($368,029), along with the miniscule, in comparison, pot he won with a royal flush. The remaining six players at the table were paid $61,338 each even though they had nothing to do with the outcome of the hand.
Nick Rigby, the Pittsburgh native who gained notoriety during the 2021 World Series of Poker when he ran deep in the Main Event and introduced to the poker world the "dirty diaper" game (deuce-three) he plays, shared a picture of the historic bad beat jackpot on Twitter.
The largest bad beat in US history has finally been hit for $1,226,000 in Pittsburgh @RiversPokerPitt - May tournam… https://t.co/Eshndh1XzI

— Rigby (@GTO_Diaper)
Rivers Casino had been heavily promoting the jackpot over the past few weeks, including a Twitter video on August 11 when the pot had reached $1.1 million. Two weeks later, it finally hit.
Biggest But Not the Only Massive Poker Bad Beat Jackpot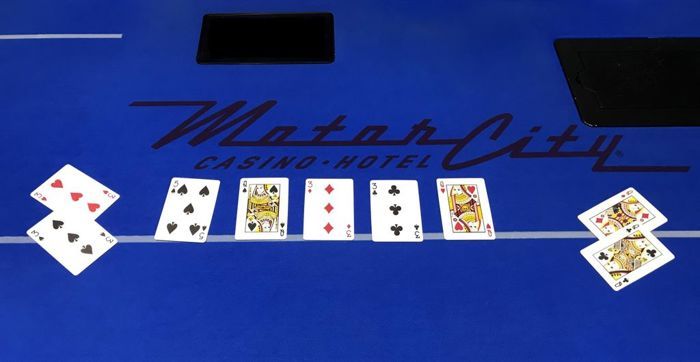 The $1.22 million awarded at Rivers was far and away the largest in United States live poker history. In 2018, a player won $427,452 at Motor City Casino in Detroit when his quad threes lost to quad kings. The total jackpot pool was at $1,068,590, more than $200,000 less than was paid out at Rivers Casino this week.
In August 2017, across the border in Canada, a $1,210,989 bad beat jackpot at hit Playground Poker Club when Shane Galle rivered a straight flush against the quad jacks of Elphege Delarosbil at a $1/2 no-limit hold'em table. Delarosbil was paid $460,149, while Galle took home $230,088.
This past June, at the very same casino, a record-setting $2.2 million jackpot hit, with the winner, who lost with quad 10's, received approximately $845,000.
Most bad beat jackpots don't come close to reaching seven figures before hitting. It all depends on the card room, and the pots range anywhere from $5,000 to what was witnessed at Rivers Casino earlier this week.
Rules for triggering the jackpot differ from casino to casino, but the standard is aces full of jacks losing to quads or better. In most cases, the winning and losing players in the hand must play both hole cards to qualify. These rules, of course, vary depending on the card room. Once a jackpot hits, the pot is decreased to a reserve fund that is much lower than when it last hit.
Online poker sites such as GGPoker have regular bad beat jackpots running. In December 2021, the bad beat jackpot at GGPoker hit a whopping five times over a 24-hour period, and the poker site paid out more than $1 million during that short span.
Earlier this year, the same poker site awarded its largest pot-limit Omaha jackpot of $593,177, spread out among the six players at the table.