Bad Beat Jackpot Pays Out More Than $1M in 24-Hours at GGPoker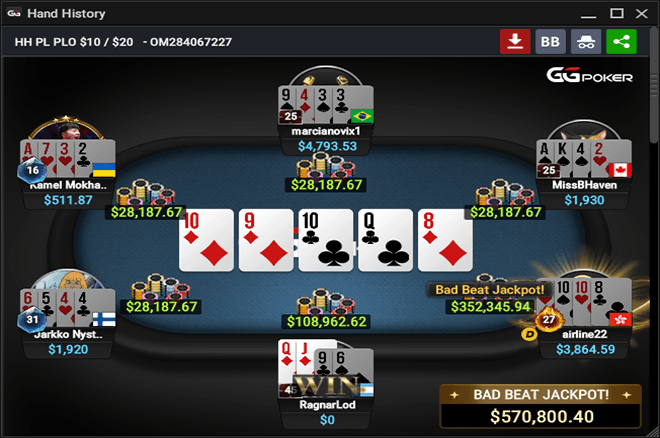 Nobody likes being on the wrong side of a bad beat, that is unless you are a GGPoker player. Why? Because there is a bad beat jackpot at GGPoker that pays out potentially massive prizes. The bad beat jackpot was hit not once, not twice, but five times in a 24-hour period this weekend, and awarding huge consolation prizes to the players involved!
One unlucky, or should that be lucky, GGPoker player was involved in two bad beat jackpots in the space of 12 hours!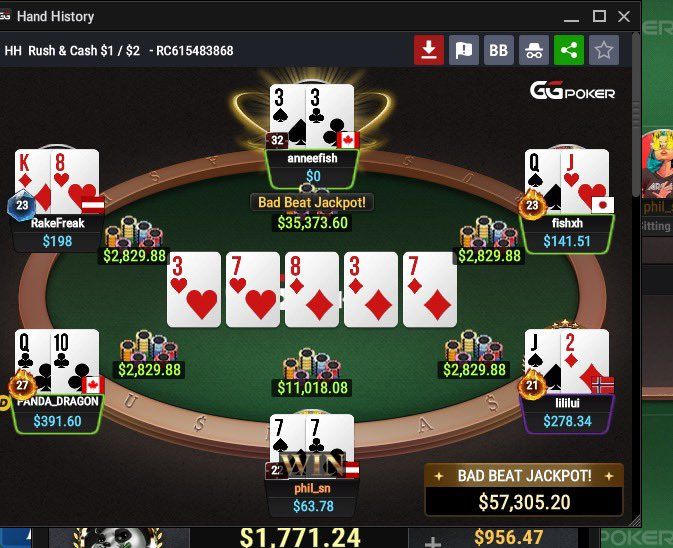 "phil_sn" was grinding a $1/$2 Rush & Cash table when his pocket sevens improved to quads and beat the quad threes of "anneefish." As the winner of the hand, phil_sn won a cool $11,018.08 while anneefish was rewarded $35,373.60 for suffering such a bad beat. The four other players at the table won $2,829.88 just for being dealt into the hand!
Almost unbelievably, phil_sn was part of another bad beat jackpot 12 hours later. He was streaming his Rush & Cash session when he got his stack in with four-of-a-kind nines against the quad queens of "Setamies"! phil_sn banked a cool $35,135.19 for being on the losing side of the beat, Setamies netted $10,540.55, with their table mates scooping $2,810.81 each!
While those payouts were impressive, there were some even bigger prizes giving out afterwards.
The bad beat jackpot triggered at a $2/$5 five-card PLO table when a player lost with a jack-high straight flush versus a king-high straight flush! The loser of the hand turned out to be the winner because they won $89,286.32 of the $144,643.81 jackpot. The winner of the hand saw their bankroll boosted by $27,472.19, with the other players dealt into the hand walking away with $7,142.90.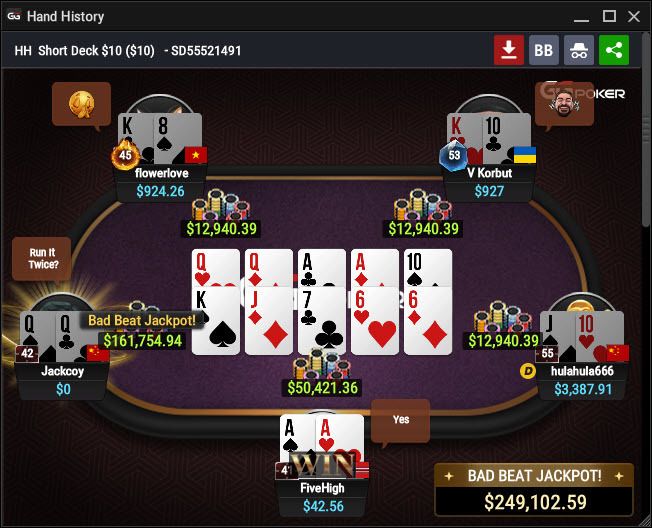 Almost $250,000 was paid out at a $10 Short Deck table. "FiveHigh" must have thought all their Christmases had come at once when they were all-in with four aces. "Jackcoy" had their stack into the middle having flopped quad queens! This meant FiveHigh received $50,421.36, Jackcoy reeled in a cool $161,754.94, with three three other players adding $12,940.39 to their GGPoker account balances.
The biggest jackpot was still to come, but it was worth the wait. It happened at a $10/$20 PLO table in a hand between "airline22" and "RagnarLod." The former flopped quad tens and looked set to win a mammoth-sized pot. That was until RagnarLod improved to a queen-high straight flush with the eight of diamonds on the river!
Airline22 saw a massive $352,345.94 land at his feet for losing with four-of-a-kind tens, with Argentina's RagnarLod winning an additional $108,962.62. Another $28,187.67 was awarded to the other four active players at the table for a total bad beat jackpot worth $570,800.40!
Isn't it time you were playing at GGPoker?