Beau "Don K. Nado" Wilshire Wins the MSPT Grand Falls $1,110 Main Event ($104,579)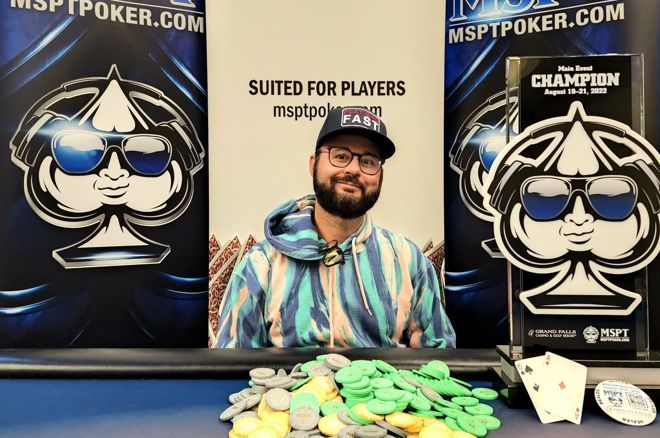 Table Of Contents
After two full days of play, there is a new Mid-States Poker Tour (MSPT) Main Event champion in the MSPT world. Beau "Don K. Nado" Wilshire has bested the stacked field of 503 entrants and won the MSPT Grand Falls Casino $1,110 Main Event.
There may not have been a more interesting winner in the field. From Shawnee, Kansas, Wilshire washes golf carts part-time.
"I'm more of a cash game player," Wilshire said. "I mostly play online. This is my first tournament win. I can finally show my family a trophy so they don't think I'm a drug dealer."
The 503 entrants generated a $486,410 prize pool and a first-place prize of $104,579, which Wilshire took home along with the MSPT Main Event trophy. When asked what he's going to do with the money, WIlshire shared, "I'm going to buy my cat, McLovin'...like Superbad, some cat food."
MSPT Grand Falls Main Event Final Table Results
| | | |
| --- | --- | --- |
| *Place | Player | Prize |
| 1 | Beau "Don K. Nado" Wilshire | $104,579 |
| 2 | Juston Welter | $64,255 |
| 3 | Adam Schulz | $46,306 |
| 4 | Elizabeth Ethridge | $35,022 |
| 5 | Ben Wiora | $26,266 |
| 6 | JC Nguyen | $19,943 |
| 7 | Mikiyo Aoki | $15,565 |
| 8 | Mo Nuwwarah | $12,160 |
| 9 | Ryan Remington | $9,242 |
Others to finish in the money by making the top 54 spots were WSOP bracelet winners John Reading (13th - $5,837) and Chad Himmelspach (19th - $4,426), MSPT Hall of Famer Blake Bohn (24th - $3,745), Luke Blindert (29th - $2,627), Dan "DQ" Hendrickson (34th - $2,627), and Thane Fliginger (42nd - $2,383).
Memorable Hands On the Path to Victory
Wilshire had his fair share of hands to share with the family and McLovin'. He flopped a set of fives during three-handed play to run down the aces of Adam Schultz. He also eliminated Elizabeth Ethridge in fourth place when he woke up with a better overpair. In fact, he also eliminated sixth-place JC Nguyen with a sick hero call; seventh-place finisher Mikiyo Aoki when he won a race by turning a set; and eighth-place finisher and former PokerNews senior editor Mo Nuwwarah when he won a race by flopping a king. He single-handedly eliminated half of the final table on his path to victory.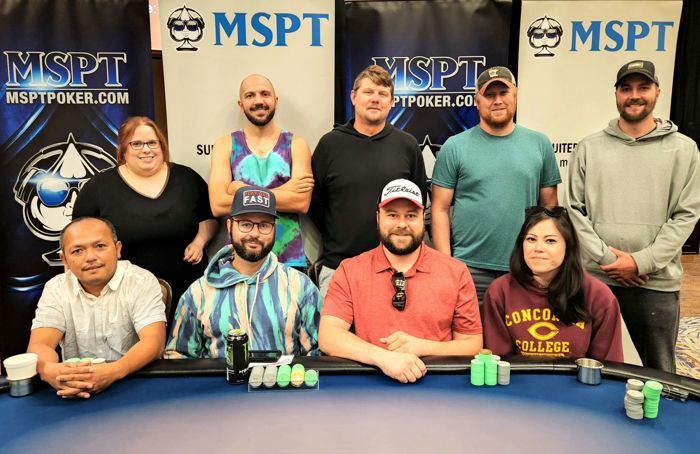 "I'm driving six hours home tonight," said Wilshire. "Well, actually seven since it's an electric car and I'll have to charge it. That's the worst part about them."
His car will lose charge a little faster than usual tonight, weighed down by a six-figure check and a heavy trophy to show his family. Safe travels, Don K. Nado. Safe travels.
That does it for our coverage here in Larchwood, Iowa at the Grand Falls Casino. Congratulations to Beau "Don K. Nado" Wilshire for his first tournament win.
The MSPT will now head to Las Vegas for a stop at The Venetian from September 3-5 followed by the 2022 United States Poker Championship at San Diego's Sycuan Casino Resort from September 15-25.
Check out the MSPT Hub on PokerNews here!
Terrance "TJ" Reid is a writer, poker player, and lover of games of all types. He played professional poker in his twenties before deciding to pursue his love of writing. Terrance is part of the 2022 PokerNews WSOP team.