Popular Streamer Ludwig Also Calls Out Ethan "RampagePoker" Yau's Scammer Over $100k Debt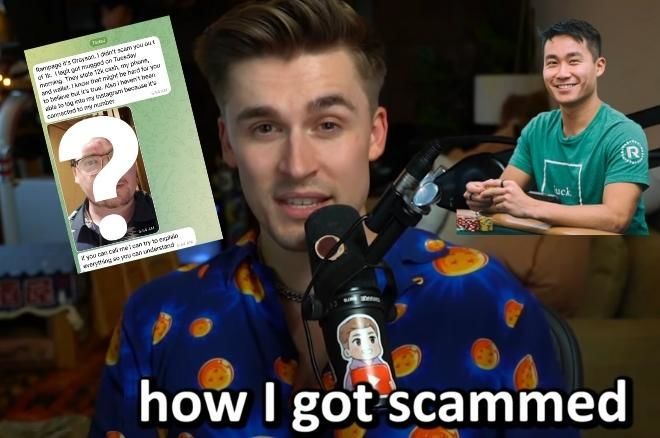 Table Of Contents
The poker world is littered with stories of scammers, imposters and conmen. Stories of a $500k Bitcoin scam, a $25m Sports Betting 'Fraud Scheme' or illegal gambling operations — and that's just in 2022.
Now a story that began with $1,000 being stolen has ballooned after popular online streamer Ludwig came forward with details of how he had been scammed out of over $100,000.
---
What is Ghosting? Multi-Accounting? Collusion? Online Poker Cheating Explained
---
The Initial Scam
In June 2022, WSOP bracelet-winner Ethan "RampagePoker" Yau took to Twitter to call out an indivudal who he says stole $1,000 from him.
According to text messages included in that tweet, Grayson Hunter Goss borrowed $1,000 in cash for a "really good" $1-$2-$5 Pot-Limit Omaha cash game. Yau duly gave him the money, only to be ghosted less than a week later.
"Unfortunate to say I fell victim to his little blue check mark and met him 3 times," Yau said. "Didn't think $1000 was actually enough to steal but here we are. Please learn from my mistakes, don't trust anyone you don't know."
Unfortunate to report I got scammed of a measly $1000. A reminder to never give/lend people you don't know money..… https://t.co/Tt5qQ4qcRn

— Rampage (@rampagepoker)
Yau received an update the following day from Goss who said he had been mugged, losing his phone, wallet and $12,000 in cash in the process.
"I don't care about the $1000, I care more about the numerous people messaging me about how they got scammed by the same person."
Free to Play Slots in the US
Ludwig's Involvement
The story created some ripples in the online community, with many commending Yau on calling out a scammer in the poker community.
Fast forward to August 2022, and someone else has come forward to call out Goss, popular online streamer Ludwig who earlier this year hosted a celebrity cash game on Hustler Casino Live where he won over $400,000. He says that he was paid out in both cash and by check — a 50:50 split in each — and that he deposited the check into his bank account.
[email protected] said "This might be, seriously, the best poker game that was publicly shown of all time."

— Hustler Casino Live (@HCLPokerShow)
Ludwig says that he kept around $100,000 cash, and ended up taking half of that on a trip to Las Vegas. The trip did not go well, ending up with just $5,000 from the original $50,000.
This was when Ludwig met Goss at a Pai Gow table at the casino. After introducing himself as a professional gambler with an "algorithm that can beat the game" and a sports bettor. By the end of the trip, Ludwig gave $6,000 to Goss to gamble with, with Goss able to take a 30% cut of any profits.
After a couple of weeks, Ludwig sent more money — about $5,000 — to Goss via cryptocurrency, and even cashed out $17,000 from his supposed "winnings".
Best Poker Apps to Play Online Poker with Friends
The Tennis Bet
During the 2022 French Open, Goss then rang Ludwig regarding a sports betting opportunity. According to Goss, he had found out that Maria Sakkari, a Greek professional tennis player and world No. 3, had broken up with her boyfriend and was going to "throw" her second-round match against Karolina Muchova.
Goss described this as a "sure-fire bet," not so much anything being rigged, and told Ludwig to "send as much money as he could," with Ludwig eventually sending Goss $50,000.
Sakkari subsequently lost the match in straight sets to Muchova, netting Ludwig $108,000 on a $40,000 bet. However, when Ludwig asked to get paid out, Goss said he didn't have the money.
Ludwig was patient, but several weeks later after receiving a text of Yau's initial Twitter thread the penny finally dropped.
Ludwig Contacts Goss
"I spent the next couple weeks trying to understand how I had gotten myself into such a dumb position where I got scammed out of this insane amount of money," Ludwig says. "How I can overcome the embarassment of going through this?"
After he found out, Ludwig tried to contact Goss with no success. He eventually used the casino host in order to acquire Goss' new phone number and confront him.
"The authorities are getting contacted, I'm talking to other people he's scammed to get a whole report [...] I'm trying to get him banned from every casino in Vegas so he can't do it or even walk into the casino," Ludwig continued.
Ludwig says he's spoken a couple more times with Goss, with Goss admitting to the scam and agreeing to self-ban himself from every casino in Las Vegas. Ludwig said that he knows that Goss will never be able to pay back all of it unless he gambles again, or gets a job and agrees to give Ludwig a 10% cut of any paycheck he receives. Ludwig says he didn't want to do either of those things.
"So what do I do? I either put the guy in jail or I publicly shame him and get him to ban himself from all casinos. I'm going with [the second] route.
"I think a 23-year-old kid who fucked up and is fucking people over deserves to get what's coming for them but also deserves the other 70 years of their life that they're going to live."
Will Shillibier is based in the United Kingdom. He graduated from the University of Kent in 2017 with a B.A. in German, and then studied for a NCTJ Diploma in Sports Journalism at Sportsbeat in Manchester. He previously worked as a freelance live reporter, and video presenter for the World Poker Tour.