Dan Bilzerian's Cannabis Company in Hot Water w/ Government Officials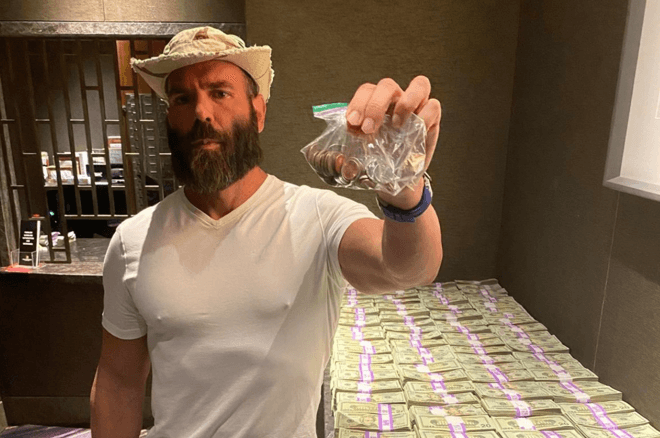 Dan Bilzerian may not be a GGPoker Ambassador anymore, but the controversial playboy is still making headlines. The "King of Instagram's" most recent foray into the mainstream news isn't poker related but rather concerns his cannabis company, Ignite International Brands Ltd., which was launched in 2017 in Canada.
Following an inquiry by the Ontario Securities Commission (OSC), the United States Department of Justice and Securities and Exchange Commission (SEC) have both launched their own investigations for accounting fraud. Back in May, the SEC filed subpoenas in California seeking financial records related to the alleged fraud.
In July, the company announced its intention to go from a publicly-traded company to a private entity, which according to Business Wire, was approved in a shareholder meeting at the end of August on the same day the SEC sought a court order forcing the company to turn over documents.
The press release read in part: "At the Meeting, shareholders of the Company approved: (i) the fixing of the number of directors of the Company at five (5); (ii) the election of the five nominated directors, being Dan Bilzerian, Lester Lee, Greg Gilpin-Payne, Ralph Gilpin-Payne and Tom Bunker."
According to The Globe and Mail, Bilzerian's company, which traded under "BILZ-CN." peaked in 2019 with a market capitalization of more than $750-million; however, it had dropped to approximately $170 million when it stopped trading in North America.
In a court filing, SEC staff attorney Patricia Pei alleged "possible violations of the antifraud provisions of the federal securities laws" and that uncovered information "indicates [Ignite] may have filed public financial statements that include false or misleading representations" in 2020.
However, this past week the SEC clarified by issuing a statement that it "is continuing its fact-finding investigation and, to date, has not concluded that any individual or entity has violated the federal securities laws."
Is Dan Bilzerian Destined to Take on an NFL Owner in $100M Game of Poker?
Bilzerian's Time in the Limelight Continues
When it comes to poker, Bilzerian has made the headlines – both good and bad – since December 2020. That is when it was announced he was joining GGPoker as an ambassador. His signing immediately ruffled feathers when he controversially called Vanessa Kade, who was critical of his signing, a "hoe" on his first day on the job.
During the 2021 WSOP summer in the fall, the rumor mill began churning that Bilzerian may play a $100,000,000 heads-up poker match, but a month later he called out his supposed opponent, billionaire Alec Gores, for stalling on the match. Since then, things have stagnated, especially after Gores was linked to a possible acquisition of an NFL football team.
Bilzerian also released his book, The Setup, in 2021 (check out the PokerNews book review here), and in December sparred with Doug Polk on the latter's podcast where the Upswing Poker founder grilled the Instagram icon over how he really made his money.
Bilzerian's run as a poker ambassador came to a head back in June when he appeared on the No Jumper Podcast and revealed that he was no longer representing GGPoker.
Bilzerian sat down for an interview with Adam22 for a two-hour conversation. At around the 1:10:00 mark, Bilzerian said some unflattering things about the poker community.
"Most poker players are f*****g nerds," Bilzerian told Adam22, who is also a poker enthusiast. "I don't really hangout with that many of them, I don't really want to associate with them. I shut most of them out of my f*****g games. I never really let pros in."
Bilzerian then went on to say that he's turned down numerous seven-figure offers to promote NFT's and other products such as poker sites, but, in the end, "I just won't sell out."
The social media star said that GGPoker didn't hold up their end of the contract. He used an example of a freeroll tournament he went to Turks and Caicos to promote but the poker site didn't listen to his requests on how to promote the event, he claims.
"Initially, I tried to do it, you know what I mean, I did some posts and drove them a f******d of traffic," Bilzerian claims. "But then they were supposed to give me a percentage of the people that I recruited, and you know, we had like 100,000 that we downloaded, there's like a lot of people. So, the numbers they were saying they were going to pay me was millions a month."
Bilzerian then claimed that GGPoker wasn't paying him the affiliate revenue he expected.
"So, we just agreed to kind of like end it, you know," Bilzerian said of the GGPoker relationship.
Read more about Dan Bilzerian's autobiography The Setup, where he talks in-depth about his past.
Featured image Facebook/Dan Bilzerian.
Click here to see Dan Bilzerian's player profile on PokerNews!
Executive Editor US, PokerNews Podcast co-host & 2013 WSOP Bracelet Winner.