Bartender Staked by Johnnie "Vibes" In MSPT Sycuan Binks $41K Score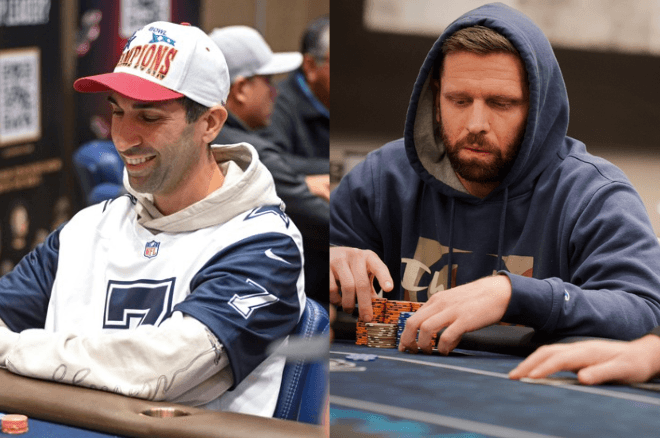 Table Of Contents
The Mid-States Poker Tour (MSPT) Sycuan $1,110 buy-in Main Event that wrapped up Sunday had an unlikely fourth-place finisher who took home a career-high $41,518 after navigating through the field of 613 runners. Corey Peeples, a California father, bartender and poker enthusiast, had only played $80 tournaments before he was staked in the MSPT event by poker vlogger Johnnie "Vibes" Moreno, who "felt inspired" to give Peeples a shot at chasing a big score.
"Tuesday I was eating Ramen & the bartender watches my vlog so we were chatting poker," Moreno wrote on Twitter. "He's a Dad now & doesn't get to play anymore. Lives vicariously through vlogs."
Moreno and Peeples agreed to a staking arrangement that would see Peeples keep 50% of his winnings with 40% going to Moreno and 10% to another bartender.
"Since he has no real poker tournament experience I had no expectations of making money," tweeted Moreno. "Just wanted to do something nice for these guys."
Moreno's kind gesture paid off for all those involved as Peeples was able to spin up his $1,110 buy-in and get by far his biggest tournament cash ever. Indiana's Jason Mendoza ended up winning the MSPT Sycuan Main Event for a career-best $102,823, while Alexei Racila (2nd - $77,000) and Thomas Kornecook (3rd - $77,000) also made deep runs, according to MSPT live updates.
2023 $1,110 MSPT Sycuan Main Event Final Table Results
| | PLACE | PLAYER | PRIZE (IN USD) |
| --- | --- | --- | --- |
| | 1 | Jason Mendoza | $102,823 |
| | 2 | Alexei Racila | $77,000 |
| | 3 | Thomas Kornecook | $77,000 |
| | 4 | Corey Peeples | $41,518 |
| | 5 | Jonathan Frisch | $31,435 |
| | 6 | Thomas Carlin | $23,724 |
| | 7 | Haiqing Li | $18,386 |
| | 8 | Scott Storrt | $14,325 |
| | 9 | Rigoberto Rodriguez | $11,269 |
Sweating With Corey
As the poker enthusiast turned MSPT grinder made it deep on Day 2, his poker-vlogging backer was there every step of the way. Moreno documented the deep on social media and kept his 17,600 Twitter followers updated on Peeples' progress.
"I don't know if you know this, but there were like thousands of people sweating you on Twitter," Moreno told Peeples in a post-tournament interview. "The man does not have a Twitter."
"Thank you guys, I'm sorry," Peeples said. "I'm not going to get one, either."
Moreno was there when Peeples made the final table and scored an early double-up when his ace-jack sucked out on an opponent's ace-king.
After letting his followers know that Peeples had $41,518 locked up with four left, Moreno filmed the action as Peeples check-raised all in with ace-high against the two pair of Kornecook, whose hand held up after the river to end Peeples' unlikely run.
"(I've ) probably played 15 tournaments at casinos," Peeples told Moreno. "I've definitely played a couple $80 (tournaments) at Oceans (Casino Resort). I probably dug more into the daily at Seven Mile (Casino). It's like a $50 but you can re-buy."
"Super proud of this guy," Johnny "Vibes" said.
Read more about poker in California
The Peeples Champion
Moreno wasn't exaggerating when he told Peeples there were thousands sweating him on social media. Many were casual poker fans and viewers of Moreno's vlog, but there were also plenty of household names who voiced support for the staked player, including all-time bracelet leader Phil Hellmuth.
Other players who tweeted support for Peeples include 2021 MSPT Player of the Year Kyna England, Michael Holtz, Danielle Andersen and Will Jaffe.
@JohnnieVibes I showed him this post, he said he wasn't on twitter. Was a very nice and super humble guy. Good luck!! ###

— Kyna England (@Kyna_CooL)
Read about last year's MSPT Sycuan Main Event where Gianluca Pace got through a field of 460 runners to take home $74,562.
Photo courtesy Johnnie Moreno