Felix Schneiders: His Journey from Streaming Poker in his Basement to the PSPC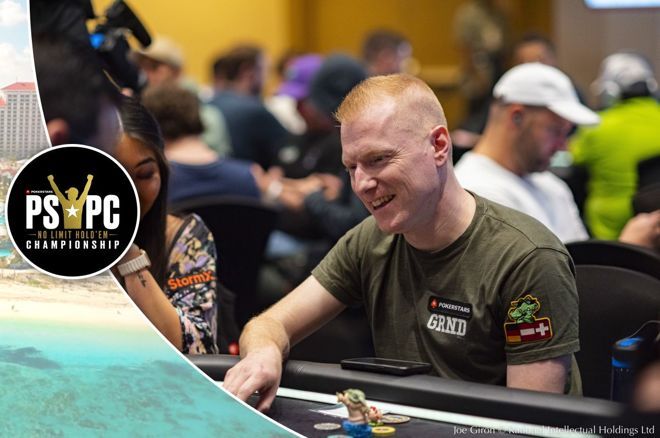 It's been almost ten years since Felix "xflixx" Schneiders joined PokerStars. Over the years his role within PokerStars has shifted — initially joining as a member of Team Online before now being part of a varied and hugely talented team of Ambassadors.
Schneiders is in The Bahamas for the PokerStars Players NL Hold'em Championship and spoke to PokerNews about his almost a decade working with PokerStars, the changes he's made to his content and the poker journey he's on within the German-speaking community.
Follow Updates from the 2023 PokerStars Players Championship
Changing Things...For The Better
"It really has been a long journey," Schneiders told PokerNews. "And it's taken a lot of turns that I wouldn't have expected. I started out as a cash game streamer, streaming in English and building an English community.
"Then I switched to German. And it clicked. It resonated with me more, I became more natural on camera and it just helped me to be a better streamer."
---
Sunday Million Where Poker Dreams Are Made says Felix "xflixx" Schneiders
---
Schneiders said the community initially shrank as viewers adjusted to the change in language, but when the dust settled the positives vastly outweighed the negatives.
"There's really no better feeling than winning a tournament, and getting to share those moments on stream was great"
"It was more intimate and it was more relatable for my audience. I mean, most of them were German to begin with so it was more of a community that continued to grow from there.
"Another switch was switching to tournament poker, which is something I never expected I would do. And now I can't get enough of tournament poker. It's so good."
Having never anticipated this switch from cash games to tournaments, Schneiders says the change was as unexpected as it was overwhelmingly positive.
"At heart, I'm still a cash game player, and I always used to grind cash games. But it's just way more fun to play tournaments. There's really no better feeling than winning a tournament, and getting to share those moments on stream was great."
Onto the Live Scene
Another huge switch for Schneiders was to take things out of the basement and onto the live poker scene. With PokerStars offering one of the strongest live poker brands in the world, it made perfect sense for Schneiders to take his community of poker fans and introduce them to the live felt.
"I had never done that before," Schneiders admits. "I was always an online kid just nerding it up in front of my computer. But I realized there's more than life to online poker.
"Poker gives you the freedom to travel, to meet people, and to just do crazy things and live life. That's what I tried to do last year, and it was a hell of a ride. I went to all the Road to PSPC stops just to cover that series, which was crazy because everyone was just so hungry for live poker"
"Poker gives you the freedom to travel, to meet people, and to just do crazy things and live life"
As a result of the switch, Schneiders' content changed entirely along with the team that came along with him to help create it.
"We did only Live Poker. I built up a content team to help me along on the journey, with moderators who were familiar with my stream and my content. So they started helping me join as a cameraman or content editor. And we experimented with so many different types of content, and we really started to enjoy this.
"So my content has evolved from a solo cash game streamer online, to this whole community-drive community-based style of content from live events all over the world.
"To travel the world and to travel to different places, to stream and to get to share this with everybody it's the most amazing experience."
Germans at the PSPC
Now at the PSPC the German-speaking community is well-represented, something that Schneiders is relishing.
"I've met a lot of people — even Platinum Pass winners — who come up to me who used to watch my content. And there's this amazing connection. They used to watch my stream endlessly and now they're here at the PSPC after winning a Platinum Pass. The connections still remain even after all these years — it's crazy.
"There are Platinum Pass winners who are completely outside of the live poker scene, who maybe have never played live poker before. And they're here for the first time. So it's super important that they have people to cling to and to connect with."
---
German Soccer Player & Olympian Max Kruse Wins WSOP Bracelet
---
Over the next five days, Schneiders will be cheering on the community of German-speaking players hoping that one will follow in Colillas' footsteps.
"It's a lot different to the last PSPC. [In 2019] we were a small group of people, and we really felt that it was important to have this team spirit. This time we've decided to just get as many German-speaking people from the community together — from Germany, Austria, Switzerland. Just basically so they feel supported and they're here together with other people and they're not on their own.
"We want to make sure they have people to talk to. That's so important in poker, to have a community of people you can vent to, or to bring you food, or just to rail you when you go deep. It just gives you a lot of stability."
Will Shillibier is based in the United Kingdom. He started working for PokerNews as a freelance live reporter in 2015 and joined the full-time staff in 2019. He graduated from the University of Kent in 2017 with a B.A. in German. He also holds an NCTJ Diploma in Sports Journalism.