Free Poker Network Returns to the Golden Nugget Jan. 6-8 for the Chasin' Bracelets National Championship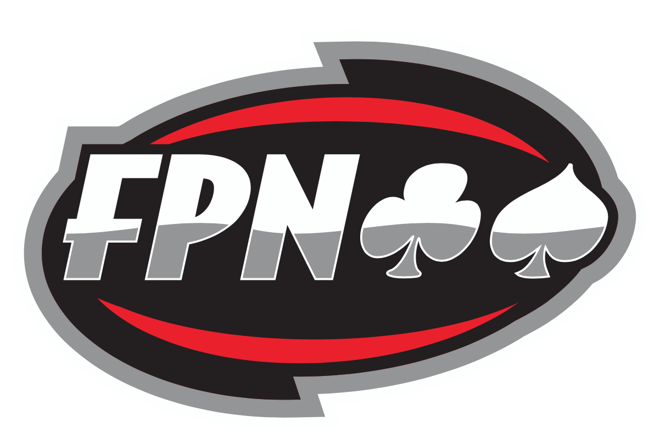 The Free Poker Network(FPN) will return to the Golden Nugget in Downtown Las Vegas for the Chasin' Bracelets National Championship from January 6-8.
Players from around the country have been working all year to claim their spot in Las Vegas for an opportunity to win a $11,500 Main Event poker package and 19 other $1,500 packages will be given away in the Chasin' Bracelets National Championship tournament in the Golden Nugget ballroom. A total of over $45,000 in prizes will be given away throughout the event and PokerNews will be on hand to capture all of the action from Saturday's Tag Team Championship and Sunday's Main Event.
Players qualified for their spot in the championship tournament throughout the year in local and online tournaments, as well as through drawings and opportunities to win a seat instantly. FPN players (and their families) that did not qualify direction for the event still have the opportunity to do so through cash buy-in qualifiers on January 6 and 7.
The first of four cash buy-in qualifiers will be on Friday at 10:00 a.m. and another opportunity will follow at 4:00 p.m. Both satellites cost $160 to enter and there will be $1,500 Mystery Bounty prizes available in addition to championship seats for the top 15% of the field.
Saturday will feature two more qualifiers, a mega-edition at 10:00 a.m. with seats for the top 25% of the field, and a Tag Team Championship at 4 p.m. which will award seats to both members of each team in the top 10% of the field. Saturday's events will also cost $160, and all winning players will return for their shot at the championship on Sunday at 10:00 a.m. Sunday's championship will be livestreamed on the FPN Youtube channel with commentary from Poker Night in America's Chris Hanson.
In addition to the Free Poker Network festivities, the Golden Nugget will be hosting its Grand Poker Series Winter Classic From January 6-14.
The series will kick off with a $150 buy-in NLH event with a $5,000 guarantee, followed by a $125 Cheap and Deep NLH event with a $3,000 guarantee.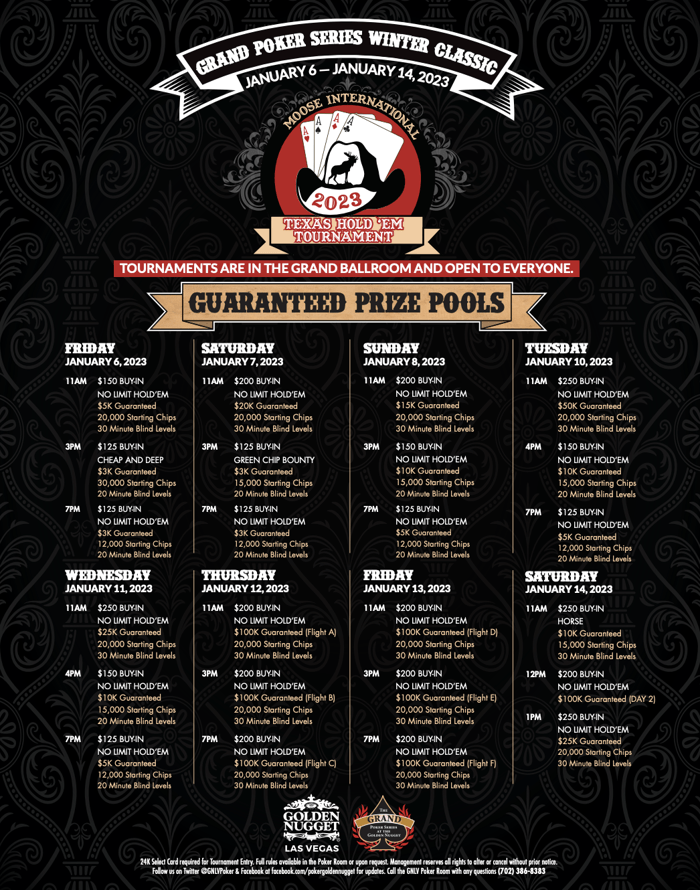 A $200 NLH event will follow with a $20,000 guarantee and will take place the same day as a $125 Green Chip Bounty event with a $3,000 guarantee. Other highlights of the series include a $200,000 guaranteed $200 NLH event and a $50,000 guaranteed $250 NLH event.
The Golden Nugget is known to host many of the best low and mid-stakes tournaments in Las Vegas and earlier this year hosted the 2022 PokerNews Cup, which blew past its $1 million guarantee with 1,245 entries for a prize pool of $1.2 million.
The full schedule for the upcoming 2023 Grand Poker Series Winter Classic at the Golden Nugget is available in the table below.
2023 Grand Poker Series Winter Classic Schedule
| | DAY | DATE | TIME | EVENT # | TOURNAMENT | BUY-IN | STARTING CHIPS | BLIND LEVELS |
| --- | --- | --- | --- | --- | --- | --- | --- | --- |
| | Friday | 1/6/23 | 11:00 AM | 1 | No Limit Hold'em $5K Guarantee | $150 | 20,000 | 30 Minutes |
| | Friday | 1/6/23 | 3:00 PM | 2 | Cheap and Deep No Limit Hold'em $3K Guarantee | $125 | 30,000 | 20 Minutes |
| | Friday | 1/6/23 | 7:00 PM | 3 | No Limit Hold'em $3K Guarantee | $125 | 12,000 | 20 Minutes |
| | Saturday | 1/7/23 | 11:00 AM | 4 | No Limit Hold'em $20K Guarantee | $200 | 20,000 | 30 Minutes |
| | Saturday | 1/7/23 | 3:00 PM | 5 | Green Chip Bounty No Limit Hold'em $3K Guarantee | $125 | 15,000 | 20 Minutes |
| | Saturday | 1/7/23 | 7:00 PM | 6 | No Limit Hold'em $3K Guarantee | $125 | 12,000 | 20 Minutes |
| | Sunday | 1/8/23 | 11:00 AM | 7 | No Limit Hold'em $15K Guarantee | $200 | 20,000 | 30 Minutes |
| | Sunday | 1/8/23 | 3:00 PM | 8 | No Limit Hold'em $10K Guarantee | $150 | 15,000 | 20 Minutes |
| | Sunday | 1/8/23 | 7:00 PM | 9 | No Limit Hold'em $5K Guarantee | $125 | 12,000 | 20 Minutes |
| | Tuesday | 1/10/23 | 11:00 AM | 11 | No Limit Hold'em $50K Guarantee | $250 | 20,000 | 30 Minutes |
| | Tuesday | 1/10/23 | 4:00 PM | 12 | No Limit Hold'em $10K Guarantee | $150 | 15,000 | 20 Minutes |
| | Tuesday | 1/10/23 | 7:00 PM | 13 | No Limit Hold'em $5K Guarantee | $125 | 12,000 | 20 Minutes |
| | Wednesday | 1/11/23 | 11:00 AM | 14 | No Limit Hold'em $25K Guarantee | $250 | 20,000 | 30 Minutes |
| | Wednesday | 1/11/23 | 4:00 PM | 15 | No Limit Hold'em $10K Guarantee | $150 | 15,000 | 20 Minutes |
| | Wednesday | 1/11/23 | 7:00 PM | 16 | No Limit Hold'em $5K Guarantee | $125 | 12,000 | 20 Minutes |
| | Thursday | 1/12/23 | 11:00 AM | 17A | No Limit Hold'em $100K GUARANTEE (Flight A) | $200 | 20,000 | 30 Minutes |
| | Thursday | 1/12/23 | 3:00 PM | 17B | No Limit Hold'em $100K GUARANTEE (Flight B) | $200 | 20,000 | 30 Minutes |
| | Thursday | 1/12/23 | 7:00 PM | 17C | No Limit Hold'em $100K GUARANTEE (Flight C) | $200 | 20,000 | 30 Minutes |
| | Friday | 1/13/23 | 11:00 AM | 17D | No Limit Hold'em $100K GUARANTEE (Flight D) | $200 | 20,000 | 30 Minutes |
| | Friday | 1/13/23 | 3:00 PM | 17E | No Limit Hold'em $100K GUARANTEE (Flight E) | $200 | 20,000 | 30 Minutes |
| | Friday | 1/13/23 | 7:00 PM | 17F | No Limit Hold'em $100K GUARANTEE (Flight F) | $200 | 20,000 | 30 Minutes |
| | Saturday | 1/14/23 | 11:00 AM | 18 | HORSE $10K Guarantee | $250 | 15,000 | 30 Minutes |
| | Saturday | 1/14/23 | 12:00 PM | 17 Day 2 | No Limit Hold'em $100K GUARANTEE - DAY 2 | N/A | N/A | N/A |
| | Saturday | 1/14/23 | 1:00 PM | 19 | No Limit Hold'em $25K Guarantee | $250 | 20,000 | 30 Minutes |
NOTE: Event 10 on Monday is the Moose Main Event and is not open to the public
Las Vegas-based PokerNews Live Reporting Executive, originally from Chicago, IL