UPDATE: Mattress Mack Loses $3 Million Bet on TCU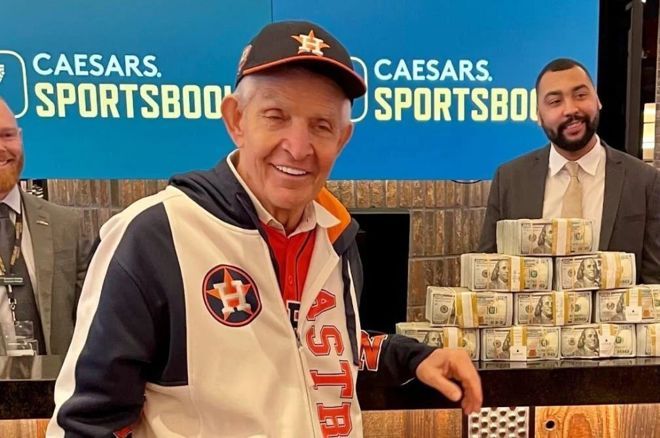 Table Of Contents
Post-Game Edit: Georgia not only covered the 13-point spread, but put a licking on TCU, winning 65-7 to claim the 2022 national championship. As such, Mattress Mack loses his $3 million wagers, although he'll likely end up ahead because of a mattress sales promotion.
Houston billionaire furniture store owner Jim McIngvale, more commonly known as "Mattress Mack," is once again putting his money where his mouth is on a Texas sports team.
The founder of the Gallery Furniture retail chain has wagers exceeding $3 million on the heavy underdog Texas (TCU) Horned Frogs in Monday night's College Football Championship Game against the Georgia Bulldogs, the defending champs.
Mattress Mack, who backed a group of Houston-area poker players this past summer at the 2022 World Series of Poker, has a penchant for making massive sports bets.
This past fall, he won a sports betting record $72 million when his beloved Houston Astros won baseball's World Series against the Philadelphia Phillies.
Man with a Plan
There's a method to McIngvale's madness. He isn't just a degenerate gambler with too much money to spend. Instead, he's a brilliant salesman who uses these highly publicized sports wagers to promote his business.
In the $10 million to win $72 million World Series wager, he offered a win-win promotion to his customers. When the Astros won, he refunded the thousands of customers that spent over $3,000 on mattresses during the promotional period. And if the Phillies were to have won, well, Gallery Furniture would have received thousands of new customers.
Mattress Mack's wager on TCU, which is spread across multiple sportsbooks including Caesars Sportsbook, DraftKings, and WynnBet, also comes with a similar promotion, which he explained in the following video:
I may look different, but the opportunity should look familiar! Think Astros promotion at @GFToday, with the Frogs… https://t.co/aw0MtpiuDd

— @MattressMack (@MattressMack)
Customers purchasing a $3,000 or higher Temper, Pedic Sealy Posturepedic, Stearns Foster mattress will receive a full refund doubled if TCU wins.
You might be wondering how it's a wise business move to pay the customer's back double their investment. It's simple — he wagered $3 million on the game and stands to receive an $8 million payout if TCU pulls off the upset.
Sports Betting for Beginners: What Is Over/Under?
Can TCU Actually Win the Game?
If TCU loses, Mattress Mack will likely win even though his sports bets will be lost. That's because he stands to gain thousands of new mattress sales due to the promotion.
The Horned Frogs have been college football's biggest surprise story of 2022, going 11-1 in the regular season one year after finishing 5-7. They followed that up with a victory over Kansas State in the Big-12 Championship game last month, and then an upset over Big Ten champion Michigan in the Fiesta Bowl, the College Football Playoff semifinals.
On Monday at 7:30 p.m. ET (ESPN) at SoFi Stadium in Los Angeles, the Cinderella story could come to a fairy-tale ending with a win over the heavily favored (-13) Georgia Bulldogs.
Georgia, the SEC conference champions, are 14-0 overall. They have a steady quarterback — Stetson Bennett — who has experience playing in and winning the championship game (2021), and one of the most physical and athletic defenses in the country. The Bulldogs can put up numbers offensively and shut down a high-powered offense on the other side of the ball.
Not only that, but they escaped a marginally tough schedule unscathed. TCU, on the other hand, competed in an objectively weak Big-12 conference, and had no quality out-of-conference wins until the bowl game against Michigan.
But they've played underdog all year, and they're still unbeaten, one win away from being crowned national champions. Few gave TCU a shot against Michigan, and virtually no one before the season predicted the Horned Frogs would even compete for a spot in the College Football Playoff. So, there's at least a puncher's chance that Mattress Mack's wager will come through.
Quarterback Max Duggan, a surprise Heisman Trophy finalist, has been silencing critics all year. Who is to say he, and the Horned Frogs, won't do it one last time on Monday?
That said, Georgia covering the 13-point spread is the most likely outcome. That's our prediction and we're sticking to it.
*Images sourced from Twitter.