Aliaksandr Hirs Takes Down Merit Poker Carmen Series $5,300 High Roller ($204,700)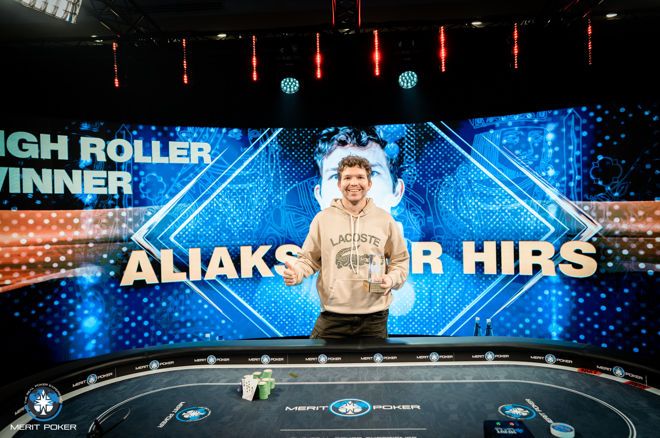 Event #13: $5,300 High Roller of the Merit Poker Carmen Series has drawn to a close after three days of play. Belarusian Aliaksandr Hirs emerged as the last player standing from an initial field of 187 to capture the lion's share of the $860,200 prize pool after defeating Fahredin Mustafov in a one-sided heads-up affair.
This marks Hirs' first live tournament victory, with the $204,700 first-place prize adding a significant chunk to his career earnings of $396,757. However, it's not his largest ever cash, which took place in August 2022 at EPT Barcelona when he finished third in the $2,200 ESPT High Roller for $284,668.
2023 Merit Poker Carmen Series Final Table Results
| Place | Player | Country | Prize Money |
| --- | --- | --- | --- |
| 1 | Aliaksandr Hirs | Belarus | $204,700 |
| 2 | Fahredin Mustafov | Bulgaria | $143,800 |
| 3 | Ryan Mandara | United Kingdom | $92,700 |
| 4 | Simeon Spasov | Bulgaria | $68,900 |
| 5 | Eduard Barsegian | Russia | $51,900 |
| 6 | Anton Ionel | Romania | $41,750 |
| 7 | Carlos Aoun | Lebanon | $34,800 |
| 8 | Egor Romaniuk | Canada | $28,050 |
| 9 | Lev Kydatov | Russia | $21,250 |
Winner's Reaction
Although Hirs is relatively new to the live poker scene, he has been racking up a steady slate of impressive results online, a fact he reflected on after his victory.
"It's a similar game [online] but also a different atmosphere".
That different ambience is something Hirs points to as a reason why he is now playing more live events.
"It's interesting to play with different players because you can see them. Online, you can only see the icon. Now you can see the players and their emotions. It's really good".
Bubble Play
A total of 28 players returned for the final day, meaning none had yet made it into the money, as the top 23 would secure the min-cash.
With several short stacks in the field, bubble play did not last long. Ultimately, Alexandru Papazian, Romania's all-time money leader, was the individual unfortunate enough to burst the bubble after he got in his last few chips in with a dominated hand against Carlos Aoun and failed to improve. Everyone left was guaranteed $8,100, but with such big money up top, nobody would be happy heading home just yet.
Final Table Action
The tournament average stack rarely strayed above the 35 big blind mark and was often significantly below that point. As a result, the final table was set not too long into the day after Sakis Adrianopoulos jammed his ace-four right into Anton Ionel's ace-jack.
With that, the remaining nine took their seats to grind out what would be a relatively long final table. Lev Kydatov was the short stack entering the final table, and it came as no surprise that he was first out the door when his big slick failed to hold against the ace-jack held by Simeon Spasov.
Next to head to the exit was the congenial Egor Romaniuk. He flopped top-top to only to see a rampant Hirs turn over ladies for the overpair. Not long after, Aoun hit the showers in seventh place, as he was felled in a blind on blind encounter with Ionel.
It took some time for the next player to go, but eventually, Ionel, whose stack had been dwindling away for some time, lost a flip against Mustafov to send him to the rail in sixth place. Just a few hands later, Eduard Barsegian fell to the wayside, after being unable to overcome Hirs' tens.
Spasov displayed great skill throughout the day and was near or at the top of the leaderboard for a good portion of the final table. But after taking a few bad beats, he got his remaining chips in with jack-nine against the eight-seven of Hirs, who paired up to scoop the pot.
Start of day chip leader Ryan Mandara coasted for much of the day but succumbed to a seemingly unstoppable Hirs after check-jamming his flush draw on the flop and failing to hit.
That elimination set up a heads-up showdown between Hirs and Mustafov. Hirs entered with a sizable chip advantage, one that he never relinquished. Though Mustafov put up a good fight, it was Hirs' day. After flopping top pair, Hirs bet-called a shove from Mustafov, who had an open-ended straight draw. The draw failed to come in, and that was all she wrote.
Follow the Action on PokerNews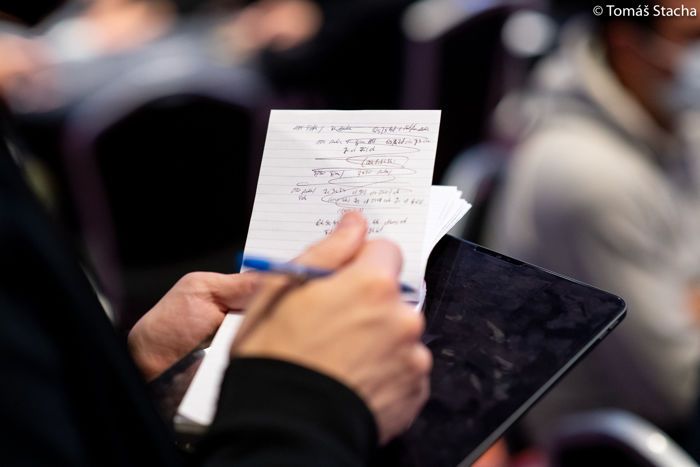 The PokerNews live reporting team will also have boots on the ground bringing you updates from the Main Event.
Make sure not to miss a hand by checking out our live reporting page when the events kick off.
Merit Poker Live Reporting Hub
Follow all the action from the Merit Poker Carmen Series on PokerNews
Merit Poker Carmen Series Schedule
| Date | TIME (EET) | BUY-IN | EVENT | GUARANTEE |
| --- | --- | --- | --- | --- |
| Weds, Mar 22 | 11:00 AM | $220+$20+$9 | NL Qualifier to Warm Up Day 1A win your seat at 100K chips | $6,600 (3 Seats) |
| Weds, Mar 22 | 12:00 PM | $2.000+$200 | NL Warm Up Day 1A | $700,000 ( INCL 9 TCK ) |
| Weds, Mar 22 | 5:30 PM | $500+$50 | NL Turbo Bounty $200 K.O. | $20,000 |
| Weds, Mar 22 | 9:30 PM | $300+$30 | NL Satellite to Warm Up Day 1B | $22,000 (10 Seats) |
| Thur, Mar 23 | 11:00 AM | $220+$20+$9 | NL Qualifier to Warm Up Day 1B win your seat at 100K chips | $6,600 (3 Seats) |
| Thur, Mar 23 | 12:00 PM | $2.000+$200 | NL Warm Up Day 1B | $700,000 ( INCL 9 TCK ) |
| Thur, Mar 23 | 5:30 PM | $220+$20+$9 | NL Qualifier to WUp Day 1C win your seat at 100K chips | $8,800 (4 Seats) |
| Thur, Mar 23 | 9:00 PM | $600+$60 | NL Hyper Turbo Deep Stack | $20,000 |
| Thur, Mar 23 | 9:30 PM | $2.000+$200 | NL Warm Up Day 1C | $700,000 ( INCL 9 TCK ) |
| Fri, Mar 24 | 10:00 AM | $2.000+$200 | NL Warm Up Day 1D Turbo | $700,000 ( INCL 9 TCK ) |
| Fri, Mar 24 | 12:30 PM | $2.000+$200 | NL Warm Up Day 2 | $700,000 ( INCL 9 TCK ) |
| Fri, Mar 24 | 10:00 PM | $500+$50 | NL Satellite To ME Day 1A | $99,000 (30 Seats) |
| Sat, Mar 25 | 12:00 PM | Closed | NL Warm Up Day 3 | $700,000 ( INCL 9 TCK ) |
| Sat, Mar 25 | 1:00 PM | $1.000+$100 | NL Mystery Bounty ($600 Mystery Bounty ) Day 1A | $10,000 |
| Sat, Mar 25 | 7:00 PM | $1.000+$100 | NL Seniors Event (50+) y.o. | $30,000 |
| Sat, Mar 25 | 9:00 PM | $700+$70 | NL Satellite To High Roller Day 1 | $26500 (5 Seats) |
| Sun, Mar 26 | 12:00 PM | $1.000+$100 | NL Mystery Bounty ($600 Mystery Bounty ) Day 1B | $100 |
| Sun, Mar 26 | 1:00 PM | Closed | NL Warm Up Final Day | $700,000 ( INCL 9 TCK ) |
| Sun, Mar 26 | 5:00 PM | $530+$55+$20 | NL Qualifier to HR Day 1 win your seat at 100K chips | $15,900 (3 Seats) |
| Sun, Mar 26 | 8:00 PM | $5.000+$300 | NL High Roller Event 8-Handed Day 1 | $250,000 ( INCL 5 TCK ) |
| Sun, Mar 26 | 9:00 PM | $500+$50 | NL Satellite to ME Day 1A | $49,500 (15 Seats) |
| Mon, Mar 27 | 12:00 PM | Closed | NL Mystery Bounty ($600 Mystery Bounty ) Final Day | $100 |
| Mon, Mar 27 | 12:30 PM | $1.500+$150 | NL Bounty $750 K.O. | $75 |
| Mon, Mar 27 | 4:00 PM | $530+$55+$20 | NL Qualifier to HR Day 2 win your seat at 100K chips | $15,900 (3 Seats) |
| Mon, Mar 27 | 8:00 PM | $5.000+$300 | NL High Roller Event 8-Handed Day 2 | $250,000 ( INCL 5 TCK ) |
| Mon, Mar 27 | 9:00 PM | $500+$50 | NL Satellite to ME Day 1A | $49,500 (15 Seats) |
| Tue, Mar 28 | 11:00 AM | $330+$30+$13 | NL Qualifier to Main Event Day 1A win your seat at 100K chips | $9,900 (3 Seats) |
| Tue, Mar 28 | 12:00 PM | $3.000+$300 | NL Main Event Day 1A | $1,500,000 ( INCL 9 TCK ) |
| Tue, Mar 28 | 2:00 PM | Closed | NL High Roller Event 8-Handed Final Day | $250,000 ( INCL 5 TCK ) |
| Tue, Mar 28 | 5:30 PM | $500+$50 | NL Hyper Turbo Deep Stack | $20,000 |
| Tue, Mar 28 | 10:00 PM | $500+$50 | NL Satellite To ME Day 1B | $49,500 (15 Seats) |
| Weds, Mar 29 | 11:00 AM | $330+$30+$13 | NL Qualifier to Main Event Day 1B win your seat at 100K chips | $9,900 (3 Seats) |
| Weds, Mar 29 | 12:00 PM | $3.000+$300 | NL Main Event Day 1B | $1,500,000 ( INCL 9 TCK ) |
| Weds, Mar 29 | 7:00 PM | $330+$30+$13 | NL Qualifier to Main Event Day 1C win your seat at 100K chips | $16,500 (5 Seats) |
| Weds, Mar 29 | 10:00 PM | $1.000+$100 | NL Mix-Max 9-Handed Day 1 | $100,000 |
| Thur, Mar 30 | 11:00 AM | $330+$30+$13 | NL Qualifier to Main Event Day 1C win your seat at 100K chips | $9,900 (3 Seats) |
| Thur, Mar 30 | 12:00 PM | $3.000+$300 | NL Main Event Day 1C | $1,500,000 ( INCL 9 TCK ) |
| Thur, Mar 30 | 3:00 PM | $1.000+$100 | PL Omaha Bounty 8-Max $500 K.O. | $40,000 |
| Thur, Mar 30 | 6:00 PM | $600+$60 | NL Win The Button $300 K.O. | $20,000 |
| Thur, Mar 30 | 7:00 PM | $3.000+$300 | NL Main Event Day 1D Turbo | $1,500,000 ( INCL 9 TCK ) |
| Thur, Mar 30 | 10:00 PM | $1.000+$100 | NL Mix-Max 7-Handed Day 2 | $100,000 |
| Fri, Mar 31 | 12:00 PM | $3.000+$300 | NL Main Event Day 2 | $1,500,000 ( INCL 9 TCK ) |
| Fri, Mar 31 | 9:00 PM | $1.000+$100 | 💣 Double Board PLO Bomb Pot 8-Handed | $50,000 |
| Fri, Mar 31 | 10:00 PM | Closed | NL Mix-Max 6-Handed Final day | $100,000 |
| Sat, Apr 1 | 12:00 PM | Closed | NL Main Event Day 3 | $1,500,000 ( INCL 9 TCK ) |
| Sat, Apr 1 | 12:30 PM | $2.000+$200 | NL Mystery Bounty ($1.000 Mystery Bounty ) Day 1A | $150,000 ( INCL, 5 TCK ) |
| Sat, Apr 1 | 4:00 PM | $600+$60 | NL Bounty $300 K.O. | $25,000 |
| Sat, Apr 1 | 7:00 PM | $2.000+$200 | NL Mystery Bounty ($1.000 Mystery Bounty ) Day 1B | $150,000 ( INCL, 5 TCK ) |
| Sat, Apr 1 | 9:30 PM | $600+$60 | NL Turbo Deep Stack | $25,000 |
| Sun, Apr 2 | 11:00 AM | $2.000+$200 | NL Mystery Bounty ($1.000 Mystery Bounty ) Day 1C Turbo | $150,000 ( INCL, 5 TCK ) |
| Sun, Apr 2 | 1:00 PM | Closed | NL Main Event Final Day | $1,500,000 ( INCL 9 TCK ) |
| Sun, Apr 2 | 1:00 PM | $600+$60 | NL Deep Stack Bounty 6-Max $300 K.O. | $20,000 |
| Sun, Apr 2 | 5:00 PM | $3.000+$300 | NL Merit Classic | |
| Sun, Apr 2 | 7:00 PM | Closed | NL Mystery Bounty ($1.000 Mystery Bounty ) Final Day | $150,000 ( INCL, 5 TCK ) |
| Sun, Apr 2 | 7:30 PM | $500+$50 | NL Turbo Deep Stack Bounty 6-Max $200 K.O. | $15,000 |