Arie Kliper Marks Wedding Anniversary With a Win in Merit Poker Carmen Series $2,200 Warmup ($206,800)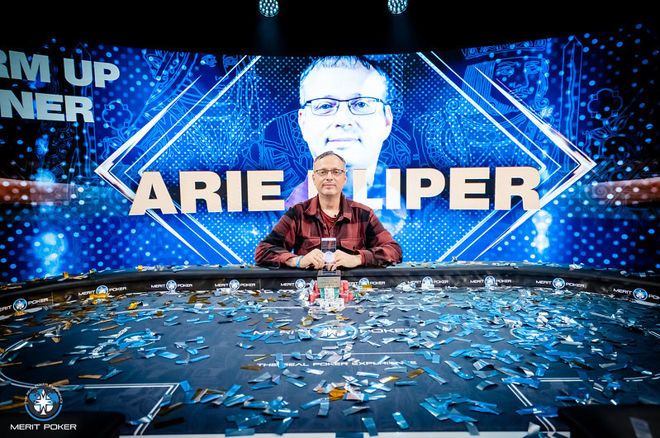 Table Of Contents
The day was already promising to be a special one for Arie Kliper and his family.
Kliper and his wife were celebrating their wedding anniversary, and Merit Poker even presented them with a cake and confetti to help mark the occasion. Meanwhile, Kliper still had something else to take care of: he was still in the Merit Poker Carmen Series $2,200 Warmup on the tournament's final day and with a chance to notch the largest score of his poker career.
He did just that, defeating Koray Korkmaz at the end of a gruelling, nearly eight-hour-long final table to walk away with the prestigious Merit Poker trophy. Kliper has tournament cashes from 2010, but the $206,800 top prize is more than triple his previous biggest score.
He had his family cheering him on the entire time. His wife was on the rail at the Merit Crystal Cove Hotel and Casino. His children were filling up the chatbox of the Merit Poker livestream with support for their dad. He had a contingent of fellow Israeli pros ready to celebrate. It all helped propel him to victory.
"I think it's great. The best," Kliper said following his victory after winning this tournament on such an important day. "It means everything. When you have support, nothing can stop you."
$2,200 Warmup Final Table Results
| PLACE | PLAYER | country | EARNINGS |
| --- | --- | --- | --- |
| 1 | Arie Kliper | Israel | $206,800 |
| 2 | Koray Korkmaz | Turkey | $152,400 |
| 3 | Cenk Nigbolu | Turkey | $93,300 |
| 4 | Julien Loire | France | $69,000 |
| 5 | Eduard Barsegian | Russia | $51,800 |
| 6 | Gurcan Gungoren | Turkey | $41,500 |
| 7 | Mikhail Zamyatin | Russia | $34,600 |
| 8 | Boris Angelov | Bulgaria | $27,600 |
| 9 | Dmitry Gromov | Russia | $20,700 |
Day 4 Action
Day 4 began with 21 players remaining out of a starting field of 611 entries. Recep Aydemir (19th), Nicolas Chouity (13th), and Ran Ilani (11th) fell short of the final table, leaving Julien Loire as the overwhelming chip leader with more than a third of the chips in play at the start of the final table.
Kliper began the final table in seventh place with 3,130,000. Despite eliminating Dmitry Gromov in ninth place when he called all in with ace-nine and beat king-jack, his stay there was nearly short-lived. Kliper was all in for his last 3,485,000 with ace-ten but ran into the two kings of Gurcan Gungoren. Kliper was two cards away from elimination, but he spiked the three-outer on the turn and paired his ace to double up.
Kliper doubled up again off Mikhail Zamyatin when he turned a straight in a limped pot and beat Zamyatin's two pair. Kliper's momentous journey through the final table was only the beginning, from being nearly out the door to now second place in chips.
In a three-bet pot with Boris Angelov, Kliper turned top pair and a flush draw with jack-nine and called when Angelov shoved with ace-high. Angelov was out in eighth place, and Kliper was up near 20,000,000 and atop the chip leaderboard. He also eliminated Zamyatin when he flopped top set with tens to crack Zamyatin's jacks. Finally, Kliper picked up aces to take out Gungoren, notching his fourth straight knockout at the final table.
Kliper finally took a hit when he tried to bluff-shove Korkmaz on the turn, but Korkmaz called with a pair of jacks to double up. Then, in the biggest pot of the tournament so far, both Kliper and Eduard Barsegian flopped two pair and put nearly 20,000,000 chips in the middle. The Russian somehow didn't go broke, while Kliper took a commanding chip lead over the remaining five players.
His big lead caused him to change his approach to a more active, aggressive style. "Be more aggressive. You can pressure the other players who want to advance in the money. Very simple," he said.
Discover Why JackPoker is one of the Fastest-Growing Online Poker Sites
After playing five-handed for nearly three hours, Barsegian got his last 6,300,000 in with tens but ran into the jacks of Korkmaz to hit the rail. Loire, never able to get anything going at the final table, blinded down to less than five big blinds when he got his last chips in with nines, and Kliper called with ace-king. It was Kliper's day, and sure enough, a king hit on the river to send the former chip leader out in fourth place.
Korkmaz tied Kliper on the leaderboard when he turned the nut straight after Kliper had flopped two pair. Kliper retook the lead when he rivered a flush and called an 8,000,000 raise on the river.
Cenk Nigbolu then busted in third place, leaving Kliper and Korkmaz heads-up. Nigbolu began the final table at the bottom of the chip counts with just five big blinds but doubled up six times before finally succumbing to Kliper's ace-king.
Kliper led Korkmaz 48,300,000 to 12,800,000 at the start of heads-up play, but the theatrics throughout the final table wasn't about to stop now. First, Korkmaz hit an ace on the river after Kliper paired a queen on the flop to double up. Korkmaz won another all-in when he paired his jack on the flop and passed Kliper for the chip lead.
Korkmaz had a chance to win the tournament when he had Kliper all in and dominated with ace-queen to queen-eight, but Kliper flopped a pair and turned a flush to double up. Kliper doubled up again when he had nines and sixes to beat Korkmaz's eights and sevens.
Again with a sizeable advantage, Kliper moved all in with king-four, and Korkmaz called for his last 7,500,000 with ace-queen. Kliper paired his four on the flop, and the tournament ended.
It was a golden anniversary for Kliper and a wonderful present he could share with his wife. It was already a special day. Some aggressive play, good cards, and a little luck helped make it even more memorable.
Follow the Action on PokerNews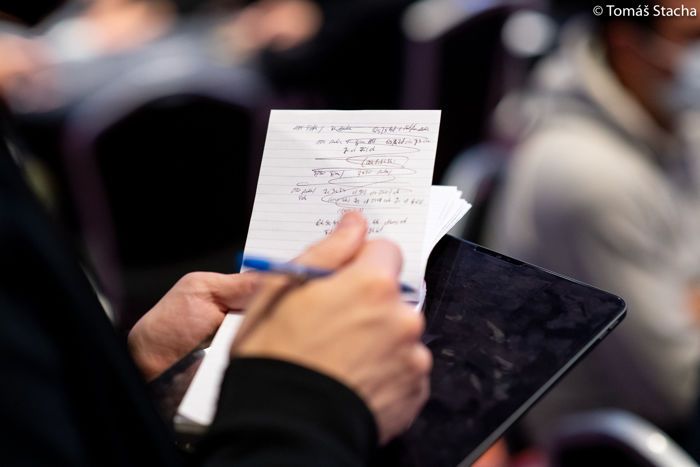 The PokerNews live reporting team will also have boots on the ground bringing you updates from the $5,300 High Roller and Main Event.
Make sure not to miss a hand by checking out our live reporting page when the events kick off.
Merit Poker Live Reporting Hub
Follow all the action from the Merit Poker Carmen Series on PokerNews
Merit Poker Carmen Series Schedule
| Date | TIME (EET) | BUY-IN | EVENT | GUARANTEE |
| --- | --- | --- | --- | --- |
| Weds, Mar 22 | 11:00 AM | $220+$20+$9 | NL Qualifier to Warm Up Day 1A win your seat at 100K chips | $6,600 (3 Seats) |
| Weds, Mar 22 | 12:00 PM | $2.000+$200 | NL Warm Up Day 1A | $700,000 ( INCL 9 TCK ) |
| Weds, Mar 22 | 5:30 PM | $500+$50 | NL Turbo Bounty $200 K.O. | $20,000 |
| Weds, Mar 22 | 9:30 PM | $300+$30 | NL Satellite to Warm Up Day 1B | $22,000 (10 Seats) |
| Thur, Mar 23 | 11:00 AM | $220+$20+$9 | NL Qualifier to Warm Up Day 1B win your seat at 100K chips | $6,600 (3 Seats) |
| Thur, Mar 23 | 12:00 PM | $2.000+$200 | NL Warm Up Day 1B | $700,000 ( INCL 9 TCK ) |
| Thur, Mar 23 | 5:30 PM | $220+$20+$9 | NL Qualifier to WUp Day 1C win your seat at 100K chips | $8,800 (4 Seats) |
| Thur, Mar 23 | 9:00 PM | $600+$60 | NL Hyper Turbo Deep Stack | $20,000 |
| Thur, Mar 23 | 9:30 PM | $2.000+$200 | NL Warm Up Day 1C | $700,000 ( INCL 9 TCK ) |
| Fri, Mar 24 | 10:00 AM | $2.000+$200 | NL Warm Up Day 1D Turbo | $700,000 ( INCL 9 TCK ) |
| Fri, Mar 24 | 12:30 PM | $2.000+$200 | NL Warm Up Day 2 | $700,000 ( INCL 9 TCK ) |
| Fri, Mar 24 | 10:00 PM | $500+$50 | NL Satellite To ME Day 1A | $99,000 (30 Seats) |
| Sat, Mar 25 | 12:00 PM | Closed | NL Warm Up Day 3 | $700,000 ( INCL 9 TCK ) |
| Sat, Mar 25 | 1:00 PM | $1.000+$100 | NL Mystery Bounty ($600 Mystery Bounty ) Day 1A | $10,000 |
| Sat, Mar 25 | 7:00 PM | $1.000+$100 | NL Seniors Event (50+) y.o. | $30,000 |
| Sat, Mar 25 | 9:00 PM | $700+$70 | NL Satellite To High Roller Day 1 | $26500 (5 Seats) |
| Sun, Mar 26 | 12:00 PM | $1.000+$100 | NL Mystery Bounty ($600 Mystery Bounty ) Day 1B | $100 |
| Sun, Mar 26 | 1:00 PM | Closed | NL Warm Up Final Day | $700,000 ( INCL 9 TCK ) |
| Sun, Mar 26 | 5:00 PM | $530+$55+$20 | NL Qualifier to HR Day 1 win your seat at 100K chips | $15,900 (3 Seats) |
| Sun, Mar 26 | 8:00 PM | $5.000+$300 | NL High Roller Event 8-Handed Day 1 | $250,000 ( INCL 5 TCK ) |
| Sun, Mar 26 | 9:00 PM | $500+$50 | NL Satellite to ME Day 1A | $49,500 (15 Seats) |
| Mon, Mar 27 | 12:00 PM | Closed | NL Mystery Bounty ($600 Mystery Bounty ) Final Day | $100 |
| Mon, Mar 27 | 12:30 PM | $1.500+$150 | NL Bounty $750 K.O. | $75 |
| Mon, Mar 27 | 4:00 PM | $530+$55+$20 | NL Qualifier to HR Day 2 win your seat at 100K chips | $15,900 (3 Seats) |
| Mon, Mar 27 | 8:00 PM | $5.000+$300 | NL High Roller Event 8-Handed Day 2 | $250,000 ( INCL 5 TCK ) |
| Mon, Mar 27 | 9:00 PM | $500+$50 | NL Satellite to ME Day 1A | $49,500 (15 Seats) |
| Tue, Mar 28 | 11:00 AM | $330+$30+$13 | NL Qualifier to Main Event Day 1A win your seat at 100K chips | $9,900 (3 Seats) |
| Tue, Mar 28 | 12:00 PM | $3.000+$300 | NL Main Event Day 1A | $1,500,000 ( INCL 9 TCK ) |
| Tue, Mar 28 | 2:00 PM | Closed | NL High Roller Event 8-Handed Final Day | $250,000 ( INCL 5 TCK ) |
| Tue, Mar 28 | 5:30 PM | $500+$50 | NL Hyper Turbo Deep Stack | $20,000 |
| Tue, Mar 28 | 10:00 PM | $500+$50 | NL Satellite To ME Day 1B | $49,500 (15 Seats) |
| Weds, Mar 29 | 11:00 AM | $330+$30+$13 | NL Qualifier to Main Event Day 1B win your seat at 100K chips | $9,900 (3 Seats) |
| Weds, Mar 29 | 12:00 PM | $3.000+$300 | NL Main Event Day 1B | $1,500,000 ( INCL 9 TCK ) |
| Weds, Mar 29 | 7:00 PM | $330+$30+$13 | NL Qualifier to Main Event Day 1C win your seat at 100K chips | $16,500 (5 Seats) |
| Weds, Mar 29 | 10:00 PM | $1.000+$100 | NL Mix-Max 9-Handed Day 1 | $100,000 |
| Thur, Mar 30 | 11:00 AM | $330+$30+$13 | NL Qualifier to Main Event Day 1C win your seat at 100K chips | $9,900 (3 Seats) |
| Thur, Mar 30 | 12:00 PM | $3.000+$300 | NL Main Event Day 1C | $1,500,000 ( INCL 9 TCK ) |
| Thur, Mar 30 | 3:00 PM | $1.000+$100 | PL Omaha Bounty 8-Max $500 K.O. | $40,000 |
| Thur, Mar 30 | 6:00 PM | $600+$60 | NL Win The Button $300 K.O. | $20,000 |
| Thur, Mar 30 | 7:00 PM | $3.000+$300 | NL Main Event Day 1D Turbo | $1,500,000 ( INCL 9 TCK ) |
| Thur, Mar 30 | 10:00 PM | $1.000+$100 | NL Mix-Max 7-Handed Day 2 | $100,000 |
| Fri, Mar 31 | 12:00 PM | $3.000+$300 | NL Main Event Day 2 | $1,500,000 ( INCL 9 TCK ) |
| Fri, Mar 31 | 9:00 PM | $1.000+$100 | 💣 Double Board PLO Bomb Pot 8-Handed | $50,000 |
| Fri, Mar 31 | 10:00 PM | Closed | NL Mix-Max 6-Handed Final day | $100,000 |
| Sat, Apr 1 | 12:00 PM | Closed | NL Main Event Day 3 | $1,500,000 ( INCL 9 TCK ) |
| Sat, Apr 1 | 12:30 PM | $2.000+$200 | NL Mystery Bounty ($1.000 Mystery Bounty ) Day 1A | $150,000 ( INCL, 5 TCK ) |
| Sat, Apr 1 | 4:00 PM | $600+$60 | NL Bounty $300 K.O. | $25,000 |
| Sat, Apr 1 | 7:00 PM | $2.000+$200 | NL Mystery Bounty ($1.000 Mystery Bounty ) Day 1B | $150,000 ( INCL, 5 TCK ) |
| Sat, Apr 1 | 9:30 PM | $600+$60 | NL Turbo Deep Stack | $25,000 |
| Sun, Apr 2 | 11:00 AM | $2.000+$200 | NL Mystery Bounty ($1.000 Mystery Bounty ) Day 1C Turbo | $150,000 ( INCL, 5 TCK ) |
| Sun, Apr 2 | 1:00 PM | Closed | NL Main Event Final Day | $1,500,000 ( INCL 9 TCK ) |
| Sun, Apr 2 | 1:00 PM | $600+$60 | NL Deep Stack Bounty 6-Max $300 K.O. | $20,000 |
| Sun, Apr 2 | 5:00 PM | $3.000+$300 | NL Merit Classic | |
| Sun, Apr 2 | 7:00 PM | Closed | NL Mystery Bounty ($1.000 Mystery Bounty ) Final Day | $150,000 ( INCL, 5 TCK ) |
| Sun, Apr 2 | 7:30 PM | $500+$50 | NL Turbo Deep Stack Bounty 6-Max $200 K.O. | $15,000 |