Ricardo Nagamoto Wins 17th Anniversary PokerStars Sunday Million for $1,000,000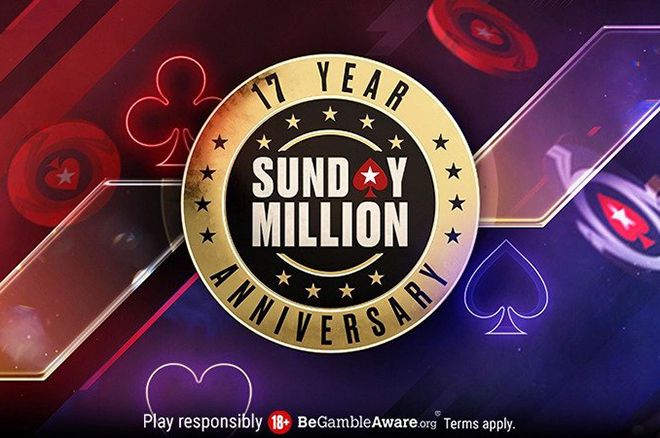 Brazilian grinder Ricardo "RFN1986" Nagamoto is on cloud nine today after becoming the PokerStars Sunday Million 17th Anniversary champion. Triumphing in such a prestigious tournament would be reason enough to celebrate, but the fact Nagamoto is now a millionaire, thanks to the $1,000,000 top prize, gives him even more reasons to bask in the glory of victory.
PokerStars slapped a $7.5 million guarantee on the prize pool, and it was easily reached, with the 39,500 entrants creating a $7,900,000 prize pool. The top 5,927 finishers received a slice of the seven-figure pie, a min-cash in this $215 buy-in event weighing in at $373, increasing to at least $70,374 for an appearance at the final table.
A whole host of top-tier players found themselves deep into the special edition Sunday Million but fell short of reaching the nine-handed final table. Chris "ImDaNuts" Oliver, Jans "Graftekkel" Arends, Renan "Internett93o" Bruschi, Sweden's "mamamamama70," Andrey "ThePateychuk" Pateychuk, and Stevan "random_chu" Chew being among those that saw healthy return on their investment.
Nick Walsh of Team PokerStars fame was eliminated in 16th place, a result good for $26,112. Walsh got his chips into the middle holding ace-king and lost a crucial coinflip against the pocket nines of the eventual champion, Nagamoto.
Once Hungary's "DefBeat976" crashed out in tenth place, the final table was set, with each of all but two of those finalists guaranteed to take home at least a six-figure prize.
Sunday Million 17th Anniversary Edition Final Table Results
| Place | Player | Country | Prize |
| --- | --- | --- | --- |
| 1 | Ricardo "RFN1986" Nagamoto | Brazil | $1,000,000 |
| 2 | roflcopter88 | Denmark | $723,474 |
| 3 | PAX176 | Poland | $519,001 |
| 4 | songoks | Lithuania | $372,317 |
| 5 | Vlad "dariepoker" Darie | Romania | $267,090 |
| 6 | atredezini | Brazil | $191,603 |
| 7 | Paulo "paulinhoo00" Brombin | Brazil | $137,450 |
| 8 | Suferring102 | Brazil | $98,603 |
| 9 | Manuel "young_diam18" Blaschke | Austria | $70,734 |
Final table action commences around the 1hr 38 min mark
Austria's Manuel "young_diam18" Blaschke was the first finalist heading for the exits. Blaschke came unstuck an hour into the final table's action when the blinds were 1,750,000/3,500,000/450,000a. Vlad "dariepoker" Darie min-raised under the gun before calling the 58,227,684 three-bet shove from Blaschke on the button. Darie turned over pocket queens, Blaschke king-ten, and an ace-high board resulted in the first elimination of the final table.
Eighth place and the last five-figure score went to Brazil's "Suferring102." Blinds had increased to 2,000,000/4,000,000/500,000a when Suferring102 open-shoved for 25,372,418 from middle position with ace-five of clubs. Darie, from the next seat along, flat-called with pocket tens, but then relinquished his hand after "songoks" squeezed all-in from the small blind for 68,010,413 with what turned out to be ace-queen. Darie would have flopped a set had he stayed in the hand, but would have ultimately lost to the full house of songoks that won the pot after pairing their queen on the flop and seeing aces land on the turn and river. Game over for Suferring102.
Check out the Incredible PokerNews Online Tournament Calendar
Register for your favourite online poker tournaments here!
Paulo "paulinhoo00" Brombin became seventh-place finisher after a clash with Nagamoto did not go to plan. Nagamoto min-raised to 8,000,000 with ace-ten before calling the 27,288,448 shove from Brombin, which he made with pocket kings. An ace on the flop proved enough to bust the dangerous Brombin from the 17th Anniversary edition of the PokerStars Sunday Million.
The final six became five when "atredezini" bowed out. A short-stacked atredezini doubled up after finding pocket aces, but those aces came back to haunt them later on. atredezini min-raised to 12,000,000 under the gun with pocket aces, and "PAX176" called in the big blind with pocket threes. The flop fell seven-four-five with two spades, PAX176 check before calling the 49,546,626 shove from atredezini. A six of spades improved PAX176 to a straight, but atredezini held the ace of spades for a flush redraw. However, the river bricked and atredezini was gone.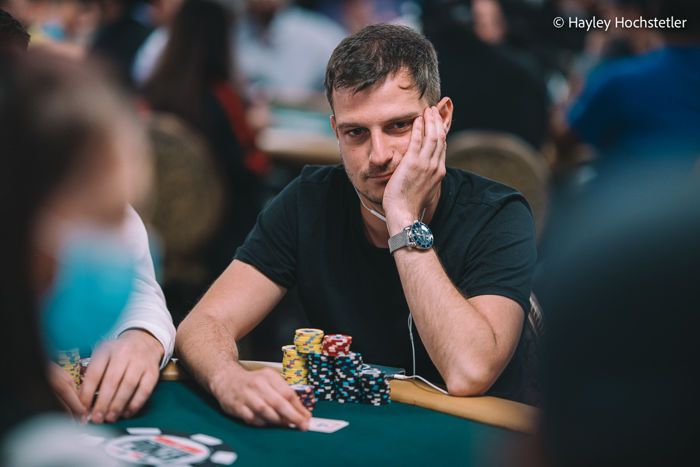 Darie's participation in the tournament ended at the hands of Denmark's "roflcopter88." A short while before his exit hand, Darie lost a huge pot with ace-queen to the nine-eight suited of songoks when the latter flopped a straight. Darie exited when roflcopter88 min-raised to 12,000,000 with a pair of tens in the hole, and Darie decided to essentially three-bet shove for 63,745,798 with the inferior pocket nines. The Dane called Darie's shove, and won the hand courtesy of a king-high board. That hand gave roflcopter88 what looked to be a unassailable lead, as they had a stack of more than 575,000,000 chips with their nearest rival sitting behind an 88,000,000 stack.
The rich became richer in a battle of the blinds immediately after Darie's demise. Lithuania's songoks, who won their seat for only $22, open-shoved for 42,627,599 with king-five, and roflcopter88 called with queen-seven. A queen on the river ended songok's dreams of turning a satellite win into a seven-figure prize. They did, however, take home $372,317.
Team PokerStars' Nick Walsh Shares His 5 Tips for Tournament Package Winners
Heads-up was set when PAX176 ran out of steam. Nagamoto limped in from the small blind with pocket aces, and instantly called when PAX176 moved all-in for 48,403,322 with the dominated ace-jack. The five community cards failed to come to PAX176's rescue, and Nagamoto went into the one-on-one battle with roflcopter88 trailing 151,820,034 chips to 638,179,966. Nagamoto came out the better from the early confrontations and continued chipping away at the leader until they claimed the chip lead for himself. Nagamoto turned a set of deuces when roflcopter88 had flopped top pair on a ten-high flop to put himself in the driving seat.
The 17th Anniversary edition of the PokerStars Sunday Million concluded during the 4,000,000/8,000,000/1,000,000a level. roflcopter88 min-raised with ace-nine, Nagamoto three-bet to 56,000,000, and called when roflcopter88 committed their 204,819,864 stack. Nagamoto called with pocket queens, and those ladies held, crowned Nagamoto as the champion, an accolade that came with $1,000,000!