PokerStars US SCOOP Kicks Off; Offers $5 Million in Guarantees in PA, NJ & MI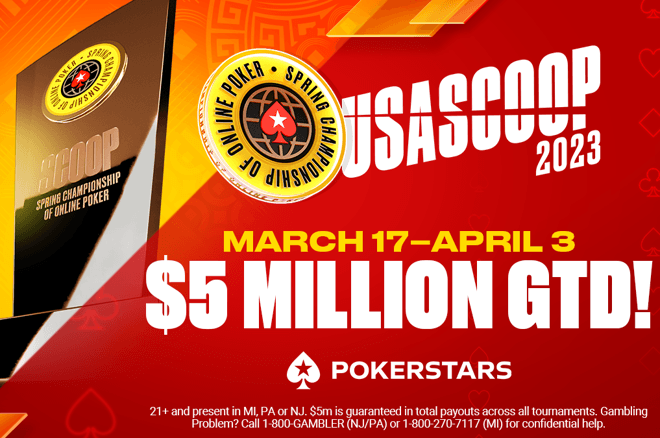 The PokerStars US 2023 Spring Championship of Online Poker (SCOOP) returns this month and will offer the largest-ever series guarantee of $5 million across liquidities in Pennsylvania, New Jersey and Michigan. The series features something for everyone, with 252 events across various buy-ins running from March 17-April 3, and culminating with a two-day $300 buy-in Main Event that gets underway April 2.
Of the $5 million guaranteed prize money, $3 million will go to the Shared Liquidity pool of players in Michigan and New Jersey, while $2 million will be up for grabs on PokerStars PA.
In addition to the hundreds of tournament offerings, the series will feature more than 600 satellites into selected events starting from only $1, including a Depositor Freeroll and SCOOP Spin & Go's where the top prize multiplier awards $300 entries into the Main Event.
"We're thrilled to announce our largest series guarantee ever to players in the US," PokerStars US Managing Director Severin Rasset said in a press release. "We've made a concerted effort to ensure that this series is accessible to all players by curating an inclusive schedule with a wide range of buy-ins. Our aim is to provide everyone with the opportunity to compete for a coveted SCOOP trophy."
Find out more about PokerStars PA!
Online Poker Action in PA, NJ & MI
The US SCOOP series gets underway on March 17 with the 8-Game Championship special, which is offered at $20, $50, and $200 buy-ins, followed by the Turbo Night Fight events with buy-ins of $10, $30, and $100 in Pennsylvania and $30, $100 and $250 in the Shared Liquidity markets at PokerStars NJ and PokerStars MI.
All of the events offer guaranteed prize pools, and some of the bigger guarantees include the $75,000 guaranteed $500 Sunday Special Championship in Pennsylvania and the $125,000 guaranteed $100 Sunday Special Championship in Shared Liquidity.
Some other highlights in Shared Liquidity include the $500 7-Max Friday Night Championship with a $50,000 guarantee, the $200 KO Special Championship with a $125,000 guarantee, and the $1,000 Super Tuesday Championship with a $75,000 guarantee.
Series highlights on PokerStars PA, include the $50,000 guaranteed $1,000 Freezeout Championship, the $65,000 guaranteed $1,000 Super Tuesday Championship, and the $60,000 guaranteed $500 Thrill Championship.
The main draw of the series is the $300 Main Event, which gets underway on April 2, and comes with a $300,000 guaranteed prize pool in Shared Liquidity and a $200,000 guarantee in Pennsylvania. In addition to the two-day Main Event, the series will feature a $50 Mini Main Event and a $2,500 High Roller Main Event.
Aside from the upcoming US SCOOP series, there are always plenty of tournament options on PokerStars for players in Pennsylvania, Michigan, and New Jersey, including regular Sunday Special and Thursday Thrill events.
The full schedules for the upcoming US SCOOP series' in Shared Liquidity and Pennsylvania are available in the tables below.
PokerStars US 2023 SCOOP Shared Liquidity Full Schedule
| | | | | | | | |
| --- | --- | --- | --- | --- | --- | --- | --- |
| | Event No. | Event Name | Date | Day | Time | Guarantee | Buy-in |
| | 1 | SCOOP 01-H: $200 8-Game [8-Game Championship], $20K Gtd | 17-Mar | Friday | 19:00 | $20,000 | $200 |
| | 1 | SCOOP 01-L: $20 8-Game [8-Game Championship], $4K Gtd | 17-Mar | Friday | 19:30 | $4,000 | $20 |
| | 1 | SCOOP 01-M: $50 8-Game [8-Game Championship], $7.5K Gtd | 17-Mar | Friday | 20:00 | $7,500 | $50 |
| | 2 | SCOOP 02-H: $250 NLHE [7-Max, Turbo Night Fight], $25K Gtd | 17-Mar | Friday | 20:30 | $25,000 | $250 |
| | 2 | SCOOP 02-L: $30 NLHE [7-Max, Turbo Night Fight], $7.5K Gtd | 17-Mar | Friday | 20:30 | $7,500 | $30 |
| | 2 | SCOOP 02-M: $100 NLHE [7-Max, Turbo Night Fight], $15K Gtd | 17-Mar | Friday | 21:00 | $15,000 | $100 |
| | 3 | SCOOP 03-H: $250 NLHE [Kickoff Championship], $75K Gtd | 18-Mar | Saturday | 18:00 | $75,000 | $250 |
| | 3 | SCOOP 03-L: $30 NLHE [Kickoff Championship], $15K Gtd | 18-Mar | Saturday | 18:00 | $15,000 | $30 |
| | 3 | SCOOP 03-M: $100 NLHE [Kickoff Championship], $40K Gtd | 18-Mar | Saturday | 18:30 | $40,000 | $100 |
| | 4 | SCOOP 04-H: $100 NLHE [6-Max, Turbo, Progressive KO], $25K Gtd | 18-Mar | Saturday | 20:00 | $25,000 | $100 |
| | 4 | SCOOP 04-L: $10 NLHE [6-Max, Turbo, Progressive KO], $4K Gtd | 18-Mar | Saturday | 20:00 | $4,000 | $10 |
| | 4 | SCOOP 04-M: $30 NLHE [6-Max, Turbo, Progressive KO], $10K Gtd | 18-Mar | Saturday | 20:30 | $10,000 | $30 |
| | 5 | SCOOP 05-H: $100 NLHE [6-Max, Turbo, Zoom], $20K Gtd | 18-Mar | Saturday | 22:00 | $20,000 | $100 |
| | 6 | SCOOP 06-H: $100 NLHE [Progressive KO, Sunday Warm Up], $20K Gtd | 19-Mar | Sunday | 15:00 | $20,000 | $100 |
| | 6 | SCOOP 06-L: $10 NLHE [Progressive KO, Sunday Warm Up], $4K Gtd | 19-Mar | Sunday | 15:00 | $4,000 | $10 |
| | 6 | SCOOP 06-M: $30 NLHE [Progressive KO, Sunday Warm Up], $10K Gtd | 19-Mar | Sunday | 15:30 | $10,000 | $30 |
| | 7 | SCOOP 07-M: $100 NLHE [Sunday Special Championship], $125K Gtd | 19-Mar | Sunday | 17:00 | $125,000 | $100 |
| | 7 | SCOOP 07-H: $500 NLHE [Sunday Special Championship], $100K Gtd | 19-Mar | Sunday | 17:30 | $100,000 | $500 |
| | 7 | SCOOP 07-L: $10 NLHE [Sunday Special Championship], $20K Gtd | 19-Mar | Sunday | 17:30 | $20,000 | $10 |
| | 8 | SCOOP 08-H: $200 NLHE [Turbo, Sunday Second Chance], $30K Gtd | 19-Mar | Sunday | 20:00 | $30,000 | $200 |
| | 8 | SCOOP 08-L: $20 NLHE [Turbo, Sunday Second Chance], $7.5K Gtd | 19-Mar | Sunday | 20:00 | $7,500 | $20 |
| | 8 | SCOOP 08-M: $50 NLHE [Turbo, Sunday Second Chance], $12.5K Gtd | 19-Mar | Sunday | 20:30 | $12,500 | $50 |
| | 11 | SCOOP 11-L: $10 Razz [Mixed Game Monday: Razz], $1K Gtd | 20-Mar | Monday | 18:00 | $1,000 | $10 |
| | 9 | SCOOP 09-H: $300 NLHE [6-Max, Battle Royale Championship], $50K Gtd | 20-Mar | Monday | 19:00 | $50,000 | $300 |
| | 9 | SCOOP 09-L: $30 NLHE [6-Max, Battle Royale Championship], $10K Gtd | 20-Mar | Monday | 19:00 | $10,000 | $30 |
| | 9 | SCOOP 09-M: $100 NLHE [6-Max, Battle Royale Championship], $25K Gtd | 20-Mar | Monday | 19:30 | $25,000 | $100 |
| | 10 | SCOOP 10-H: $100 PLO8 [PLO8], $12.5K Gtd | 20-Mar | Monday | 20:30 | $12,500 | $100 |
| | 10 | SCOOP 10-L: $10 PLO8 [PLO8], $2.5K Gtd | 20-Mar | Monday | 20:30 | $2,500 | $10 |
| | 10 | SCOOP 10-M: $30 PLO8 [PLO8], $5K Gtd | 20-Mar | Monday | 21:00 | $5,000 | $30 |
| | 12 | SCOOP 12-H: $1,000 NLHE [Freezeout Championship], $60K Gtd | 21-Mar | Tuesday | 19:00 | $60,000 | $1,000 |
| | 13 | SCOOP 13-H: $100 NLHE [Progressive KO, 6-Max Big KO], $20K Gtd | 21-Mar | Tuesday | 19:30 | $20,000 | $100 |
| | 12 | SCOOP 12-M: $250 NLHE [Freezeout Championship], $30K Gtd | 21-Mar | Tuesday | 20:00 | $30,000 | $250 |
| | 13 | SCOOP 13-M: $30 NLHE [Progressive KO, 6-Max Big KO], $12.5K Gtd | 21-Mar | Tuesday | 20:30 | $10,000 | $30 |
| | 12 | SCOOP 12-L: $100 NLHE [Freezeout Championship], $20K Gtd | 21-Mar | Tuesday | 21:00 | $20,000 | $100 |
| | 13 | SCOOP 13-L: $10 NLHE [Progressive KO, 6-Max Big KO], $5K Gtd | 21-Mar | Tuesday | 21:30 | $4,000 | $10 |
| | 14 | SCOOP 14-H: $200 PLO [PLO Championship], $20K Gtd | 22-Mar | Wednesday | 19:00 | $20,000 | $200 |
| | 14 | SCOOP 14-L: $20 PLO [PLO Championship], $5K Gtd | 22-Mar | Wednesday | 19:00 | $5,000 | $20 |
| | 14 | SCOOP 14-M: $50 PLO [PLO Championship], $10K Gtd | 22-Mar | Wednesday | 19:30 | $10,000 | $50 |
| | 15 | SCOOP 15-H: $250 NLHE [6-Max, Turbo Storm], $30K Gtd | 22-Mar | Wednesday | 21:00 | $30,000 | $250 |
| | 15 | SCOOP 15-L: $30 NLHE [6-Max, Turbo Storm], $10K Gtd | 22-Mar | Wednesday | 21:00 | $10,000 | $30 |
| | 15 | SCOOP 15-M: $100 NLHE [6-Max, Turbo Storm], $25K Gtd | 22-Mar | Wednesday | 21:30 | $25,000 | $100 |
| | 18 | SCOOP 18-L: $10 NLHE [Rebuy + Addon], $5K Gtd | 23-Mar | Thursday | 18:00 | $5,000 | $100 |
| | 16 | SCOOP 16-H: $250 NLHE [Total KO Thrill], $35K Gtd | 23-Mar | Thursday | 19:00 | $35,000 | $250 |
| | 16 | SCOOP 16-L: $25 NLHE [Total KO Thrill], $4K Gtd | 23-Mar | Thursday | 19:00 | $4,000 | $25 |
| | 16 | SCOOP 16-M: $100 NLHE [Total KO Thrill], $10K Gtd | 23-Mar | Thursday | 19:30 | $10,000 | $100 |
| | 17 | SCOOP 17-H: $100 NLHE [4-Max], $20K Gtd | 23-Mar | Thursday | 20:30 | $20,000 | $100 |
| | 17 | SCOOP 17-L: $10 NLHE [4-Max], $4K Gtd | 23-Mar | Thursday | 20:30 | $4,000 | $10 |
| | 17 | SCOOP 17-M: $30 NLHE [4-Max], $8K Gtd | 23-Mar | Thursday | 21:00 | $8,000 | $30 |
| | 18 | SCOOP 18-M: $30 NLHE [Rebuy + Addon], $12K Gtd | 24-Mar | Friday | 18:00 | $12,000 | $30 |
| | 19 | SCOOP 19-H: $500 NLHE [7-Max, Friday Night Championship], $50K Gtd | 24-Mar | Friday | 19:00 | $50,000 | $500 |
| | 19 | SCOOP 19-L: $50 NLHE [7-Max, Friday Night Championship], $12.5K Gtd | 24-Mar | Friday | 19:00 | $12,500 | $50 |
| | 19 | SCOOP 19-M: $200 NLHE [7-Max, Friday Night Championship], $30K Gtd | 24-Mar | Friday | 19:30 | $30,000 | $200 |
| | 20 | SCOOP 20-H: $100 NLHE [6-Max, Win the Button], $20K Gtd | 24-Mar | Friday | 20:30 | $20,000 | $100 |
| | 20 | SCOOP 20-L: $10 NLHE [6-Max, Win the Button], $4K Gtd | 24-Mar | Friday | 20:30 | $4,000 | $10 |
| | 20 | SCOOP 20-M: $30 NLHE [6-Max, Win the Button], $8K Gtd | 24-Mar | Friday | 21:00 | $8,000 | $30 |
| | 18 | SCOOP 18-H: $100 NLHE [Rebuy + Addon], $30K Gtd | 25-Mar | Saturday | 19:00 | $30,000 | $10 |
| | 21 | SCOOP 21-L: $30 NLHE [Turbo, KO Special Trainer], $7.5K Gtd | 25-Mar | Saturday | 19:30 | $7,500 | $30 |
| | 21 | SCOOP 21-H: $250 NLHE [Turbo, KO Special Trainer], $30K Gtd | 25-Mar | Saturday | 20:00 | $30,000 | $250 |
| | 21 | SCOOP 21-M: $100 NLHE [Turbo, KO Special Trainer], $15K Gtd | 25-Mar | Saturday | 20:30 | $15,000 | $100 |
| | 5 | SCOOP 05-M: $30 NLHE [6-Max, Turbo, Zoom], $10K Gtd | 25-Mar | Saturday | 22:00 | $7,500 | $30 |
| | 22 | SCOOP 22-H: $100 NLHE [Marathon], $15K Gtd | 26-Mar | Sunday | 14:00 | $15,000 | $100 |
| | 22 | SCOOP 22-L: $10 NLHE [Marathon], $3K Gtd | 26-Mar | Sunday | 14:00 | $3,000 | $10 |
| | 22 | SCOOP 22-M: $30 NLHE [Marathon], $7.5K Gtd | 26-Mar | Sunday | 14:30 | $7,500 | $30 |
| | 23 | SCOOP 23-M: $200 NLHE [KO Special Championship], $125K Gtd | 26-Mar | Sunday | 17:00 | $125,000 | $200 |
| | 23 | SCOOP 23-H: $1,000 NLHE [KO Special Championship], $100K Gtd | 26-Mar | Sunday | 17:30 | $100,000 | $1,000 |
| | 23 | SCOOP 23-L: $20 NLHE [KO Special Championship], $20K Gtd | 26-Mar | Sunday | 17:30 | $20,000 | $20 |
| | 24 | SCOOP 24-L: $10 NLHE [Hyper-Turbo, Supersonic Sendoff], $3K Gtd | 26-Mar | Sunday | 21:00 | $3,000 | $10 |
| | 24 | SCOOP 24-H: $100 NLHE [Hyper-Turbo, Supersonic Sendoff], $15K Gtd | 26-Mar | Sunday | 21:30 | $15,000 | $100 |
| | 24 | SCOOP 24-M: $30 NLHE [Hyper-Turbo, Supersonic Sendoff], $6K Gtd | 26-Mar | Sunday | 22:00 | $6,000 | $30 |
| | 11 | SCOOP 11-M: $30 PL Badugi [Progressive KO, Mixed Game Monday: PL Badugi], $2K Gtd | 27-Mar | Monday | 18:00 | $2,000 | $30 |
| | 25 | SCOOP 25-H: $100 PLO [Progressive KO, PLO Royale], $10K Gtd | 27-Mar | Monday | 19:00 | $10,000 | $100 |
| | 25 | SCOOP 25-L: $10 PLO [Progressive KO, PLO Royale], $2.5K Gtd | 27-Mar | Monday | 19:00 | $2,500 | $10 |
| | 25 | SCOOP 25-M: $30 PLO [Progressive KO, PLO Royale], $5K Gtd | 27-Mar | Monday | 19:30 | $5,000 | $30 |
| | 26 | SCOOP 26-M: $100 NLHE [Classic 9-Max], $15K Gtd | 27-Mar | Monday | 20:00 | $15,000 | $100 |
| | 26 | SCOOP 26-H: $250 NLHE [Classic 9-Max], $30K Gtd | 27-Mar | Monday | 20:30 | $30,000 | $250 |
| | 26 | SCOOP 26-L: $30 NLHE [Classic 9-Max], $5K Gtd | 27-Mar | Monday | 20:30 | $5,000 | $30 |
| | 27 | SCOOP 27-H: $1,000 NLHE [Super Tuesday Championship], $75K Gtd | 28-Mar | Tuesday | 19:00 | $75,000 | $1,000 |
| | 27 | SCOOP 27-L: $50 NLHE [Super Tuesday Championship], $25K Gtd | 28-Mar | Tuesday | 19:00 | $25,000 | $50 |
| | 27 | SCOOP 27-M: $250 NLHE [Super Tuesday Championship], $60K Gtd | 28-Mar | Tuesday | 19:30 | $60,000 | $250 |
| | 28 | SCOOP 28-H: $100 NLHE [6-Max, Hyper-Turbo, Adrenaline], $20K Gtd | 28-Mar | Tuesday | 21:00 | $20,000 | $100 |
| | 28 | SCOOP 28-L: $10 NLHE [6-Max, Hyper-Turbo, Adrenaline], $5K Gtd | 28-Mar | Tuesday | 21:00 | $5,000 | $10 |
| | 28 | SCOOP 28-M: $30 NLHE [6-Max, Hyper-Turbo, Adrenaline], $8K Gtd | 28-Mar | Tuesday | 21:30 | $8,000 | $30 |
| | 29 | SCOOP 29-H: $300 NLHE [6-Max, Storm Championship], $50K Gtd | 29-Mar | Wednesday | 19:00 | $50,000 | $300 |
| | 29 | SCOOP 29-L: $30 NLHE [6-Max, Storm Championship], $10K Gtd | 29-Mar | Wednesday | 19:00 | $10,000 | $30 |
| | 29 | SCOOP 29-M: $100 NLHE [6-Max, Storm Championship], $25K Gtd | 29-Mar | Wednesday | 19:30 | $25,000 | $100 |
| | 30 | SCOOP 30-H: $100 NLHE [Turbo, Progressive Total KO, 5-Max TKO], $12.5K Gtd | 29-Mar | Wednesday | 20:30 | $12,500 | $100 |
| | 30 | SCOOP 30-L: $10 NLHE [Turbo, Progressive Total KO, 5-Max TKO], $5K Gtd | 29-Mar | Wednesday | 20:30 | $5,000 | $10 |
| | 30 | SCOOP 30-M: $30 NLHE [Turbo, Progressive Total KO, 5-Max TKO], $10K Gtd | 29-Mar | Wednesday | 21:00 | $10,000 | $30 |
| | 31 | SCOOP 31-H: $100 5-Card PLO [5-Card PLO], $5K Gtd | 29-Mar | Wednesday | 21:30 | $5,000 | $100 |
| | 32 | SCOOP 32-H: $500 NLHE [Thrill Championship], $70K Gtd | 30-Mar | Thursday | 19:00 | $70,000 | $500 |
| | 32 | SCOOP 32-L: $50 NLHE [Thrill Championship], $20K Gtd | 30-Mar | Thursday | 19:00 | $20,000 | $50 |
| | 32 | SCOOP 32-M: $200 NLHE [Thrill Championship], $40K Gtd | 30-Mar | Thursday | 19:30 | $40,000 | $200 |
| | 33 | SCOOP 33-H: $100 FL 2-7 Triple Draw [Triple Draw], $5K Gtd | 30-Mar | Thursday | 20:30 | $5,000 | $100 |
| | 33 | SCOOP 33-L: $10 FL 2-7 Triple Draw [Triple Draw], $1K Gtd | 30-Mar | Thursday | 20:30 | $1,000 | $10 |
| | 33 | SCOOP 33-M: $30 FL 2-7 Triple Draw [Triple Draw], $2K Gtd | 30-Mar | Thursday | 21:00 | $2,000 | $30 |
| | 31 | SCOOP 31-M: $30 5-Card PLO [5-Card PLO], $2K Gtd | 30-Mar | Thursday | 21:30 | $2,000 | $30 |
| | 34 | SCOOP 34-H: $250 NLHE [Progressive KO, 7-Max Big KO's], $40K Gtd | 31-Mar | Friday | 19:00 | $40,000 | $250 |
| | 34 | SCOOP 34-L: $25 NLHE [Progressive KO, 7-Max Big KO's], $5K Gtd | 31-Mar | Friday | 19:00 | $5,000 | $25 |
| | 34 | SCOOP 34-M: $100 NLHE [Progressive KO, 7-Max Big KO's], $15K Gtd | 31-Mar | Friday | 19:30 | $15,000 | $100 |
| | 35 | SCOOP 35-H: $100 NLHE [Turbo, Main Event Trainer], $20K Gtd | 31-Mar | Friday | 21:00 | $20,000 | $100 |
| | 35 | SCOOP 35-L: $10 NLHE [Turbo, Main Event Trainer], $4K Gtd | 31-Mar | Friday | 21:00 | $4,000 | $10 |
| | 31 | SCOOP 31-L: $10 5-Card PLO [5-Card PLO], $1K Gtd | 31-Mar | Friday | 21:30 | $1,000 | $10 |
| | 35 | SCOOP 35-M: $30 NLHE [Turbo, Main Event Trainer], $10K Gtd | 31-Mar | Friday | 21:30 | $10,000 | $30 |
| | 36 | SCOOP 36-H: $250 NLHE [Deepstack Championship], $35K Gtd | 1-Apr | Saturday | 19:00 | $35,000 | $250 |
| | 36 | SCOOP 36-L: $30 NLHE [Deepstack Championship], $8.5K Gtd | 1-Apr | Saturday | 19:00 | $8,500 | $30 |
| | 36 | SCOOP 36-M: $100 NLHE [Deepstack Championship], $22.5K Gtd | 1-Apr | Saturday | 19:30 | $22,500 | $100 |
| | 37 | SCOOP 37-H: $100 NLHE [Main Event Parlay], $15K Gtd | 1-Apr | Saturday | 20:30 | $15,000 | $100 |
| | 37 | SCOOP 37-L: $10 NLHE [Main Event Parlay], $3K Gtd | 1-Apr | Saturday | 20:30 | $3,000 | $10 |
| | 37 | SCOOP 37-M: $30 NLHE [Main Event Parlay], $6.5K Gtd | 1-Apr | Saturday | 21:00 | $6,500 | $30 |
| | 5 | SCOOP 05-L: $10 NLHE [6-Max, Turbo, Zoom], $5K Gtd | 1-Apr | Saturday | 22:00 | $5,000 | $10 |
| | 38 | SCOOP 38-M: $300 NLHE [Main Event], $300K Gtd | 2-Apr | Sunday | 17:00 | $300,000 | $300 |
| | 38 | SCOOP 38-L: $50 NLHE [Mini Main Event], $50K Gtd | 2-Apr | Sunday | 17:30 | $50,000 | $50 |
| | 38 | SCOOP 38-H: $2,500 NLHE [High Roller Main Event], $125K Gtd | 2-Apr | Sunday | 18:00 | $125,000 | $2,500 |
| | 39 | SCOOP 39-H: $200 NLHE [Turbo, Main Second Chance], $35K Gtd | 2-Apr | Sunday | 20:00 | $35,000 | $200 |
| | 39 | SCOOP 39-L: $20 NLHE [Turbo, Main Second Chance], $7.5K Gtd | 2-Apr | Sunday | 20:00 | $7,500 | $20 |
| | 39 | SCOOP 39-M: $50 NLHE [Turbo, Main Second Chance], $15K Gtd | 2-Apr | Sunday | 20:30 | $15,000 | $50 |
| | 40 | SCOOP 40-H: $100 NLHE [6-Max, Hyper-Turbo, Sunday Adrenaline PKO], $15K Gtd | 2-Apr | Sunday | 22:00 | $15,000 | $100 |
| | 40 | SCOOP 40-L: $10 NLHE [6-Max, Hyper-Turbo, Sunday Adrenaline PKO], $5K Gtd | 2-Apr | Sunday | 22:00 | $5,000 | $10 |
| | 40 | SCOOP 40-M: $30 NLHE [6-Max, Hyper-Turbo, Sunday Adrenaline PKO], $7.5K Gtd | 2-Apr | Sunday | 22:30 | $7,500 | $30 |
| | 42 | SCOOP 42-H: $100 NLHE [Phase II, Championship], $125K Gtd | 3-Apr | Monday | 18:00 | $125,000 | $100 |
| | 42 | SCOOP 42-L: $10 NLHE [Phase II, Championship], $30K Gtd | 3-Apr | Monday | 18:00 | $30,000 | $10 |
| | 11 | SCOOP 11-H: $100 HORSE [Mixed Game Monday: HORSE], $5K Gtd | 3-Apr | Monday | 18:00 | $5,000 | $100 |
| | 42 | SCOOP 42-M: $30 NLHE [Phase II, Championship], $45K Gtd | 3-Apr | Monday | 18:30 | $45,000 | $30 |
| | 41 | SCOOP 41-H: $250 NLHE [The Closer], $50K Gtd | 3-Apr | Monday | 19:00 | $50,000 | $250 |
| | 41 | SCOOP 41-L: $30 NLHE [The Closer], $12.5K Gtd | 3-Apr | Monday | 19:00 | $12,500 | $30 |
| | 41 | SCOOP 41-M: $100 NLHE [The Closer], $30K Gtd | 3-Apr | Monday | 19:30 | $30,000 | $100 |
PokerStars US 2023 SCOOP Pennsylvania Full Schedule
| | | | | | | | |
| --- | --- | --- | --- | --- | --- | --- | --- |
| | Event No. | Event Name | Date | Day | Time | Guarantee | Buy-in |
| | 1 | PASCOOP 01-H: $200 8-Game [8-Game Championship], $15K Gtd | 17-Mar | Friday | 19:00 | $15,000 | $200 |
| | 1 | PASCOOP 01-L: $20 8-Game [8-Game Championship], $3.5K Gtd | 17-Mar | Friday | 19:30 | $3,500 | $20 |
| | 1 | PASCOOP 01-M: $50 8-Game [8-Game Championship], $7K Gtd | 17-Mar | Friday | 20:00 | $7,000 | $50 |
| | 2 | PASCOOP 02-H: $100 NLHE [7-Max, Turbo Night Fight], $17.5K Gtd | 17-Mar | Friday | 20:30 | $17,500 | $100 |
| | 2 | PASCOOP 02-L: $10 NLHE [7-Max, Turbo Night Fight], $4K Gtd | 17-Mar | Friday | 20:30 | $4,000 | $10 |
| | 2 | PASCOOP 02-M: $30 NLHE [7-Max, Turbo Night Fight], $7.5K Gtd | 17-Mar | Friday | 21:00 | $7,500 | $30 |
| | 3 | PASCOOP 03-H: $100 NLHE [Kickoff Championship], $40K Gtd | 18-Mar | Saturday | 18:00 | $40,000 | $100 |
| | 3 | PASCOOP 03-L: $10 NLHE [Kickoff Championship], $7.5K Gtd | 18-Mar | Saturday | 18:00 | $7,500 | $10 |
| | 3 | PASCOOP 03-M: $30 NLHE [Kickoff Championship], $15K Gtd | 18-Mar | Saturday | 18:30 | $15,000 | $30 |
| | 4 | PASCOOP 04-H: $100 NLHE [6-Max, Turbo, Progressive KO], $20K Gtd | 18-Mar | Saturday | 20:00 | $20,000 | $100 |
| | 4 | PASCOOP 04-L: $10 NLHE [6-Max, Turbo, Progressive KO], $3K Gtd | 18-Mar | Saturday | 20:00 | $3,000 | $10 |
| | 4 | PASCOOP 04-M: $30 NLHE [6-Max, Turbo, Progressive KO], $7.5K Gtd | 18-Mar | Saturday | 20:30 | $7,500 | $30 |
| | 5 | PASCOOP 05-H: $100 NLHE [6-Max, Turbo, Zoom], $15K Gtd | 18-Mar | Saturday | 22:00 | $15,000 | $100 |
| | 6 | PASCOOP 06-H: $100 NLHE [Progressive KO, Sunday Warm Up], $12K Gtd | 19-Mar | Sunday | 16:00 | $12,000 | $100 |
| | 6 | PASCOOP 06-L: $10 NLHE [Progressive KO, Sunday Warm Up], $3K Gtd | 19-Mar | Sunday | 16:00 | $3,000 | $10 |
| | 6 | PASCOOP 06-M: $30 NLHE [Progressive KO, Sunday Warm Up], $6K Gtd | 19-Mar | Sunday | 16:30 | $6,000 | $30 |
| | 7 | PASCOOP 07-H: $500 NLHE [Sunday Special Championship], $75K Gtd | 19-Mar | Sunday | 17:00 | $75,000 | $500 |
| | 7 | PASCOOP 07-M: $100 NLHE [Sunday Special Championship], $80K Gtd | 19-Mar | Sunday | 17:30 | $80,000 | $100 |
| | 7 | PASCOOP 07-L: $10 NLHE [Sunday Special Championship], $10K Gtd | 19-Mar | Sunday | 17:30 | $10,000 | $10 |
| | 8 | PASCOOP 08-H: $200 NLHE [Turbo, Sunday Second Chance], $25K Gtd | 19-Mar | Sunday | 20:00 | $25,000 | $200 |
| | 8 | PASCOOP 08-L: $20 NLHE [Turbo, Sunday Second Chance], $6K Gtd | 19-Mar | Sunday | 20:00 | $6,000 | $20 |
| | 8 | PASCOOP 08-M: $50 NLHE [Turbo, Sunday Second Chance], $10K Gtd | 19-Mar | Sunday | 20:30 | $10,000 | $50 |
| | 11 | PASCOOP 11-L: $10 Razz [Mixed Game Monday: Razz], $1K Gtd | 20-Mar | Monday | 18:00 | $1,000 | $10 |
| | 9 | PASCOOP 09-H: $200 NLHE [6-Max, Battle Royale Championship], $35K Gtd | 20-Mar | Monday | 19:00 | $35,000 | $200 |
| | 9 | PASCOOP 09-L: $20 NLHE [6-Max, Battle Royale Championship], $7.5K Gtd | 20-Mar | Monday | 19:00 | $7,500 | $20 |
| | 9 | PASCOOP 09-M: $50 NLHE [6-Max, Battle Royale Championship], $15K Gtd | 20-Mar | Monday | 19:30 | $15,000 | $50 |
| | 10 | PASCOOP 10-H: $100 PLO8 [PLO8], $10K Gtd | 20-Mar | Monday | 20:30 | $10,000 | $100 |
| | 10 | PASCOOP 10-L: $10 PLO8 [PLO8], $2K Gtd | 20-Mar | Monday | 20:30 | $2,000 | $10 |
| | 10 | PASCOOP 10-M: $30 PLO8 [PLO8], $4K Gtd | 20-Mar | Monday | 21:00 | $4,000 | $30 |
| | 12 | PASCOOP 12-H: $1,000 NLHE [Freezeout Championship], $50K Gtd | 21-Mar | Tuesday | 19:00 | $50,000 | $1,000 |
| | 13 | PASCOOP 13-H: $100 NLHE [6-Max, Big KO], $12.5K Gtd | 21-Mar | Tuesday | 19:30 | $12,500 | $100 |
| | 12 | PASCOOP 12-M: $250 NLHE [Freezeout Championship], $25K Gtd | 21-Mar | Tuesday | 20:00 | $25,000 | $250 |
| | 13 | PASCOOP 13-M: $30 NLHE [6-Max, Big KO], $5K Gtd | 21-Mar | Tuesday | 20:30 | $5,000 | $30 |
| | 12 | PASCOOP 12-L: $100 NLHE [Freezeout Championship], $15K Gtd | 21-Mar | Tuesday | 21:00 | $15,000 | $100 |
| | 13 | PASCOOP 13-L: $10 NLHE [6-Max, Big KO], $3K Gtd | 21-Mar | Tuesday | 21:30 | $3,000 | $10 |
| | 14 | PASCOOP 14-H: $200 PLO [PLO Championship], $20K Gtd | 22-Mar | Wednesday | 19:00 | $20,000 | $200 |
| | 14 | PASCOOP 14-L: $20 PLO [PLO Championship], $5K Gtd | 22-Mar | Wednesday | 19:00 | $5,000 | $20 |
| | 14 | PASCOOP 14-M: $50 PLO [PLO Championship], $10K Gtd | 22-Mar | Wednesday | 19:30 | $10,000 | $50 |
| | 15 | PASCOOP 15-H: $100 NLHE [6-Max, Turbo Storm], $15K Gtd | 22-Mar | Wednesday | 21:00 | $15,000 | $100 |
| | 15 | PASCOOP 15-L: $10 NLHE [6-Max, Turbo Storm], $3K Gtd | 22-Mar | Wednesday | 21:00 | $3,000 | $10 |
| | 15 | PASCOOP 15-M: $30 NLHE [6-Max, Turbo Storm], $7.5K Gtd | 22-Mar | Wednesday | 21:30 | $7,500 | $30 |
| | 18 | PASCOOP 18-L: $10 NLHE [Rebuy + Addon], $5K Gtd | 23-Mar | Thursday | 18:00 | $5,000 | $10 |
| | 16 | PASCOOP 16-H: $250 NLHE [Total KO Thrill], $25K Gtd | 23-Mar | Thursday | 19:00 | $25,000 | $250 |
| | 16 | PASCOOP 16-L: $25 NLHE [Total KO Thrill], $3K Gtd | 23-Mar | Thursday | 19:00 | $3,000 | $25 |
| | 16 | PASCOOP 16-M: $75 NLHE [Total KO Thrill], $7.5K Gtd | 23-Mar | Thursday | 19:30 | $7,500 | $75 |
| | 17 | PASCOOP 17-H: $100 NLHE [4-Max], $12.5K Gtd | 23-Mar | Thursday | 20:30 | $12,500 | $100 |
| | 17 | PASCOOP 17-L: $10 NLHE [4-Max], $3K Gtd | 23-Mar | Thursday | 20:30 | $3,000 | $10 |
| | 17 | PASCOOP 17-M: $30 NLHE [4-Max], $5K Gtd | 23-Mar | Thursday | 21:00 | $5,000 | $30 |
| | 19 | PASCOOP 19-H: $250 NLHE [7-Max, Friday Night Championship], $30K Gtd | 24-Mar | Friday | 18:00 | $30,000 | $250 |
| | 19 | PASCOOP 19-L: $20 NLHE [7-Max, Friday Night Championship], $7K Gtd | 24-Mar | Friday | 18:00 | $7,000 | $20 |
| | 18 | PASCOOP 18-M: $30 NLHE [Rebuy + Addon], $8K Gtd | 24-Mar | Friday | 18:00 | $8,000 | $30 |
| | 19 | PASCOOP 19-M: $50 NLHE [7-Max, Friday Night Championship], $15K Gtd | 24-Mar | Friday | 18:30 | $15,000 | $50 |
| | 20 | PASCOOP 20-H: $100 NLHE [6-Max, Win the Button], $12.5K Gtd | 24-Mar | Friday | 20:00 | $12,500 | $100 |
| | 20 | PASCOOP 20-L: $10 NLHE [6-Max, Win the Button], $3K Gtd | 24-Mar | Friday | 20:00 | $3,000 | $10 |
| | 20 | PASCOOP 20-M: $30 NLHE [6-Max, Win the Button], $5K Gtd | 24-Mar | Friday | 20:30 | $5,000 | $30 |
| | 18 | PASCOOP 18-H: $100 NLHE [Rebuy + Addon], $25K Gtd | 25-Mar | Saturday | 19:00 | $25,000 | $100 |
| | 21 | PASCOOP 21-L: $10 NLHE [Turbo, KO Special Trainer], $4K Gtd | 25-Mar | Saturday | 19:30 | $4,000 | $10 |
| | 21 | PASCOOP 21-H: $100 NLHE [Turbo, KO Special Trainer], $15K Gtd | 25-Mar | Saturday | 20:00 | $15,000 | $100 |
| | 21 | PASCOOP 21-M: $30 NLHE [Turbo, KO Special Trainer], $7.5K Gtd | 25-Mar | Saturday | 20:30 | $7,500 | $30 |
| | 5 | PASCOOP 05-M: $30 NLHE [6-Max, Turbo, Zoom], $7.5K Gtd | 25-Mar | Saturday | 22:00 | $7,500 | $30 |
| | 22 | PASCOOP 22-H: $100 NLHE [Marathon], $12.5K Gtd | 26-Mar | Sunday | 14:00 | $12,500 | $100 |
| | 22 | PASCOOP 22-L: $10 NLHE [Marathon], $3K Gtd | 26-Mar | Sunday | 14:00 | $3,000 | $10 |
| | 22 | PASCOOP 22-M: $30 NLHE [Marathon], $7.5K Gtd | 26-Mar | Sunday | 14:30 | $7,500 | $30 |
| | 23 | PASCOOP 23-M: $200 NLHE [KO Special Championship], $100K Gtd | 26-Mar | Sunday | 17:00 | $100,000 | $200 |
| | 23 | PASCOOP 23-H: $1,000 NLHE [KO Special Championship], $75K Gtd | 26-Mar | Sunday | 17:30 | $75,000 | $1,000 |
| | 23 | PASCOOP 23-L: $20 NLHE [PKO Special Championship], $15K Gtd | 26-Mar | Sunday | 17:30 | $15,000 | $20 |
| | 24 | PASCOOP 24-L: $10 NLHE [Hyper-Turbo, Supersonic Sendoff], $2K Gtd | 26-Mar | Sunday | 21:00 | $2,000 | $10 |
| | 24 | PASCOOP 24-H: $100 NLHE [Hyper-Turbo, Supersonic Sendoff], $10K Gtd | 26-Mar | Sunday | 21:30 | $10,000 | $100 |
| | 24 | PASCOOP 24-M: $30 NLHE [Hyper-Turbo, Supersonic Sendoff], $5K Gtd | 26-Mar | Sunday | 22:00 | $5,000 | $30 |
| | 11 | PASCOOP 11-M: $30 PL Badugi [Mixed Game Monday: Progressive KO, PL Badugi], $2K Gtd | 27-Mar | Monday | 18:00 | $2,000 | $30 |
| | 25 | PASCOOP 25-H: $100 PLO [Progressive KO, PLO Royale], $10K Gtd | 27-Mar | Monday | 19:00 | $10,000 | $100 |
| | 25 | PASCOOP 25-L: $10 PLO [Progressive KO, PLO Royale], $2K Gtd | 27-Mar | Monday | 19:00 | $2,000 | $10 |
| | 25 | PASCOOP 25-M: $30 PLO [Progressive KO, PLO Royale], $5K Gtd | 27-Mar | Monday | 19:30 | $5,000 | $30 |
| | 26 | PASCOOP 26-M: $30 NLHE [Classic 9-Max], $7.5K Gtd | 27-Mar | Monday | 20:00 | $7,500 | $30 |
| | 26 | PASCOOP 26-H: $100 NLHE [Classic 9-Max], $20K Gtd | 27-Mar | Monday | 20:30 | $20,000 | $100 |
| | 26 | PASCOOP 26-L: $10 NLHE [Classic 9-Max], $3K Gtd | 27-Mar | Monday | 20:30 | $3,000 | $10 |
| | 27 | PASCOOP 27-H: $1,000 NLHE [Super Tuesday Championship], $65K Gtd | 28-Mar | Tuesday | 19:00 | $65,000 | $1,000 |
| | 27 | PASCOOP 27-L: $50 NLHE [Super Tuesday Championship], $20K Gtd | 28-Mar | Tuesday | 19:00 | $20,000 | $50 |
| | 27 | PASCOOP 27-M: $250 NLHE [Super Tuesday Championship], $50K Gtd | 28-Mar | Tuesday | 19:30 | $50,000 | $250 |
| | 28 | PASCOOP 28-H: $100 NLHE [6-Max, Hyper-Turbo, Adrenaline], $10K Gtd | 28-Mar | Tuesday | 21:00 | $10,000 | $100 |
| | 28 | PASCOOP 28-L: $10 NLHE [6-Max, Hyper-Turbo, Adrenaline], $3K Gtd | 28-Mar | Tuesday | 21:00 | $3,000 | $10 |
| | 28 | PASCOOP 28-M: $30 NLHE [6-Max, Hyper-Turbo, Adrenaline], $6.5K Gtd | 28-Mar | Tuesday | 21:30 | $6,500 | $30 |
| | 29 | PASCOOP 29-H: $200 NLHE [6-Max, Storm Championship], $40K Gtd | 29-Mar | Wednesday | 19:00 | $40,000 | $200 |
| | 29 | PASCOOP 29-L: $20 NLHE [6-Max, Storm Championship], $7.5K Gtd | 29-Mar | Wednesday | 19:00 | $7,500 | $20 |
| | 29 | PASCOOP 29-M: $50 NLHE [6-Max, Storm Championship], $15K Gtd | 29-Mar | Wednesday | 19:30 | $15,000 | $50 |
| | 30 | PASCOOP 30-H: $100 NLHE [Turbo, 5-Max Total KO], $10K Gtd | 29-Mar | Wednesday | 20:30 | $10,000 | $100 |
| | 30 | PASCOOP 30-L: $10 NLHE [Turbo, 5-Max Total KO], $3.5K Gtd | 29-Mar | Wednesday | 20:30 | $3,500 | $10 |
| | 30 | PASCOOP 30-M: $30 NLHE [Turbo, 5-Max Total KO], $5K Gtd | 29-Mar | Wednesday | 21:00 | $5,000 | $30 |
| | 31 | PASCOOP 31-H: $100 5-Card PLO [5-Card PLO], $5K Gtd | 29-Mar | Wednesday | 21:30 | $5,000 | $100 |
| | 32 | PASCOOP 32-H: $500 NLHE [Thrill Championship], $60K Gtd | 30-Mar | Thursday | 19:00 | $60,000 | $500 |
| | 32 | PASCOOP 32-L: $50 NLHE [Thrill Championship], $15K Gtd | 30-Mar | Thursday | 19:00 | $15,000 | $50 |
| | 32 | PASCOOP 32-M: $200 NLHE [Thrill Championship], $40K Gtd | 30-Mar | Thursday | 19:30 | $40,000 | $200 |
| | 33 | PASCOOP 33-H: $100 FL 2-7 Triple Draw [Triple Draw], $5K Gtd | 30-Mar | Thursday | 20:30 | $5,000 | $100 |
| | 33 | PASCOOP 33-L: $10 FL 2-7 Triple Draw [Triple Draw], $1K Gtd | 30-Mar | Thursday | 20:30 | $1,000 | $10 |
| | 33 | PASCOOP 33-M: $30 FL 2-7 Triple Draw [Triple Draw], $2K Gtd | 30-Mar | Thursday | 21:00 | $2,000 | $30 |
| | 31 | PASCOOP 31-M: $30 5-Card PLO [5-Card PLO], $2K Gtd | 30-Mar | Thursday | 21:30 | $2,000 | $30 |
| | 34 | PASCOOP 34-H: $250 NLHE [7-Max Big KO's], $25K Gtd | 31-Mar | Friday | 19:00 | $25,000 | $250 |
| | 34 | PASCOOP 34-L: $25 NLHE [7-Max Big KO's], $3K Gtd | 31-Mar | Friday | 19:00 | $3,000 | $25 |
| | 34 | PASCOOP 34-M: $75 NLHE [7-Max Big KO's], $8.5K Gtd | 31-Mar | Friday | 19:30 | $8,500 | $75 |
| | 35 | PASCOOP 35-H: $100 NLHE [Turbo, Main Event Trainer], $15K Gtd | 31-Mar | Friday | 21:00 | $15,000 | $100 |
| | 35 | PASCOOP 35-L: $10 NLHE [Turbo, Main Event Trainer], $2.5K Gtd | 31-Mar | Friday | 21:00 | $2,500 | $10 |
| | 31 | PASCOOP 31-L: $10 5-Card PLO [5-Card PLO], $1K Gtd | 31-Mar | Friday | 21:30 | $1,000 | $10 |
| | 35 | PASCOOP 35-M: $30 NLHE [Turbo, Main Event Trainer], $6K Gtd | 31-Mar | Friday | 21:30 | $6,000 | $30 |
| | 36 | PASCOOP 36-H: $200 NLHE [Deepstack Championship], $25K Gtd | 1-Apr | Saturday | 19:00 | $25,000 | $200 |
| | 36 | PASCOOP 36-L: $20 NLHE [Deepstack Championship], $7K Gtd | 1-Apr | Saturday | 19:00 | $7,000 | $20 |
| | 36 | PASCOOP 36-M: $50 NLHE [Deepstack Championship], $12.5K Gtd | 1-Apr | Saturday | 19:30 | $12,500 | $50 |
| | 37 | PASCOOP 37-H: $100 NLHE [Main Event Parlay], $12.5K Gtd | 1-Apr | Saturday | 20:30 | $12,500 | $100 |
| | 37 | PASCOOP 37-L: $10 NLHE [Main Event Parlay], $2K Gtd | 1-Apr | Saturday | 20:30 | $2,000 | $10 |
| | 37 | PASCOOP 37-M: $30 NLHE [Main Event Parlay], $5K Gtd | 1-Apr | Saturday | 21:00 | $5,000 | $30 |
| | 5 | PASCOOP 05-L: $10 NLHE [6-Max, Turbo, Zoom], $3.5K Gtd | 1-Apr | Saturday | 22:00 | $3,500 | $10 |
| | 38 | PASCOOP 38-M: $300 NLHE [Main Event], $200K Gtd | 2-Apr | Sunday | 17:00 | $200,000 | $300 |
| | 38 | PASCOOP 38-L: $50 NLHE [Mini Main Event], $35K Gtd | 2-Apr | Sunday | 17:30 | $35,000 | $50 |
| | 38 | PASCOOP 38-H: $2,500 NLHE [High Roller Main Event], $100K Gtd | 2-Apr | Sunday | 18:00 | $100,000 | $2,500 |
| | 39 | PASCOOP 39-H: $200 NLHE [Turbo, Main Second Chance], $20K Gtd | 2-Apr | Sunday | 20:00 | $20,000 | $200 |
| | 39 | PASCOOP 39-L: $20 NLHE [Turbo, Main Second Chance], $6K Gtd | 2-Apr | Sunday | 20:00 | $6,000 | $20 |
| | 39 | PASCOOP 39-M: $50 NLHE [Turbo, Main Second Chance], $10K Gtd | 2-Apr | Sunday | 20:30 | $10,000 | $50 |
| | 40 | PASCOOP 40-H: $100 NLHE [6-Max, Hyper-Turbo, Sunday Adrenaline PKO], $10K Gtd | 2-Apr | Sunday | 22:00 | $10,000 | $100 |
| | 40 | PASCOOP 40-L: $10 NLHE [6-Max, Hyper-Turbo, Sunday Adrenaline PKO], $3K Gtd | 2-Apr | Sunday | 22:00 | $3,000 | $10 |
| | 40 | PASCOOP 40-M: $30 NLHE [6-Max, Hyper-Turbo, Sunday Adrenaline PKO], $6K Gtd | 2-Apr | Sunday | 22:30 | $6,000 | $30 |
| | 42 | PASCOOP 42-H: $100 NLHE [Phase II, Championship], $100K Gtd | 3-Apr | Monday | 18:00 | $100,000 | $100 |
| | 42 | PASCOOP 42-L: $10 NLHE [Phase II, Championship], $25K Gtd | 3-Apr | Monday | 18:00 | $25,000 | $10 |
| | 11 | PASCOOP 11-H: $100 HORSE [Mixed Game Monday: HORSE], $5K Gtd | 3-Apr | Monday | 18:00 | $5,000 | $100 |
| | 42 | PASCOOP 42-M: $30 NLHE [Phase II, Championship], $40K Gtd | 3-Apr | Monday | 18:30 | $40,000 | $30 |
| | 41 | PASCOOP 41-H: $250 NLHE [The Closer], $35K Gtd | 3-Apr | Monday | 19:00 | $35,000 | $250 |
| | 41 | PASCOOP 41-L: $30 NLHE [The Closer], $12K Gtd | 3-Apr | Monday | 19:00 | $12,000 | $30 |
| | 41 | PASCOOP 41-M: $100 NLHE [The Closer], $25K Gtd | 3-Apr | Monday | 19:30 | $25,000 | $100 |