APAT Announces Partnership with GGPoker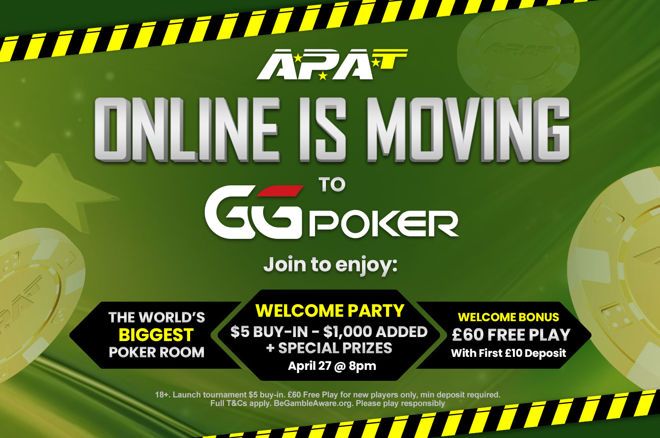 Established in 2006, The Amateur Poker Association & Tour (APAT) is known for providing a poker platform for amateur players to compete, both live and online, versus one another and is recognised as the breeding ground for some of the top poker talents that have emerged from the United Kingdom.
Household names such as Liv Boeree (7th - APAT Welsh Amateur Championships 2008), Roberto Romanello (8th - APAT Welsh Amateur Championships 2007) and Niall Farrell (1st - UK Team Championships 2011) all recorded early career cashes on the APAT felt. Moreover, the tour is also known for its brilliant community, which can be seen as APAT enters their 17th year in the industry.
Amateur Poker Association Tour (APAT) Partner with GGPoker
APAT's CEO, Leigh Wiltshire, stated, "We are excited to partner with GGPoker, the world's leading poker site. This collaboration will help improve the overall experience for our members and attract new players to the amateur poker community. Our shared commitment to supporting grassroots poker makes this partnership an excellent fit."
Through this partnership, APAT and GGPoker will work together to support the growth of amateur poker at a grassroots level. GGPoker's advanced platform and extensive player base will offer APAT members opportunities to develop their skills, compete in prestigious events, and connect with poker enthusiasts worldwide.
GGPoker's UK Marketing Director, Angela Martin, added, "GGPoker is thrilled to partner with APAT and support the UK grassroots poker movement. Offering players an affordable route into live poker via GGPoker will further unite the worlds of online and live poker, making events even more accessible, adding extra value, and creating a home for players to enhance their skills in a fun environment."
As part of the collaboration, GGPoker will host exclusive online events for APAT members, including Championship tournaments and qualifiers for live events. Additionally, APAT's World Championship of Amateur Poker (WCOAP) will be played exclusively online at GGPoker. This partnership will allow APAT members and GGPoker players to compete for prestigious National Amateur Championship titles, Medals, and Bracelets, as well as earn a National Amateur Ranking.
Click Here to Join the PokerNews Discord Server
Debut Online Event
You won't have to wait long until the first online event of the new partnership, with the date pencilled in for April 27 at 8.p.m BST. The "Welcome Party" tournament has an affordable buy-in of $5. It boasts a $1,000 Added Prizepool plus special prizes such as GGPoker branded merchandise and tournament tickets.
Not only that, but action from the event will be live-streamed from APATs various social media platforms, which can be found on their website, and it promises to be a lot of fun.
The Growth of APAT
A stalwart in the UK poker scene, the growth of the APAT brand hasn't slowed down over the years. Debuting in 2006 with six events across UK & Ireland, APAT held events in countries such as Austria, Estonia, Malta, and Spain and even saw them cross the pond to Caesars Palace in 2011 for their North American debut.
Not only does the brand host events around the world, but the World Championship of Amateur Poker (WCOAP) International Team Event has seen teams of poker players from Portugal, USA, Italy, Germany, Canada and the Netherlands travel to represent their countries and battle out for the coveted Gold APAT Medal and Bracelet.
With APAT visiting the Portomaso Casino, Malta on April 29-30 as part of their relationship with the Malta Poker Festival and a host of other stops, there is still time to get your hands on their sought-after Gold Medal at the following locations.
APAT Goes Fully International During 2023; Full Schedule Released
2023 Amatuer Poker Association & Tour (APAT) Live Schedule
| Dates | Event | Venue |
| --- | --- | --- |
| Apr. 29-30 | APAT Mediterranean Championship 2023 | Portomaso Casino, Malta |
| May. 17-21 | APAT UK Championship of Amateur Poker | Dusk Till Dawn, Nottingham |
| Jun. 9-11 | APAT Scottish Amateur Poker Championship | Grosvenor Casino, Edinburgh |
| Aug. 23-28 | World Championship of Amateur Poker – WCOAP | Dusk Till Dawn, Nottingham |
| Sep. 15-17 | APAT Welsh Amateur Poker Championship | Les Croupiers, Cardiff |
| Sep. 27-Oct. 2 | APAT German Amateur Poker Championship | Grand Casino Asch, Czech Republic |
| Nov. 16-19 | APAT Poker Squads Live 2023 | Dusk Till Dawn, Nottingham |
If you are interested in playing in APAT events, live or online, then check out this article that details the 2023 APAT Schedule