Kane Kalas has 'High Hopes' for Album Dedicated to Baseball Broadcasting Legend Father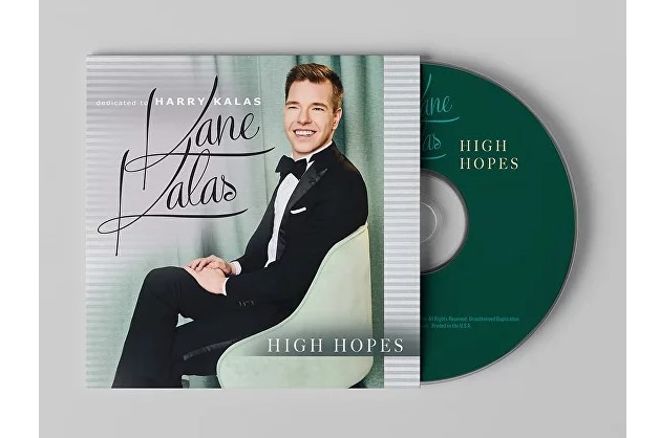 Table Of Contents
Poker pro Kane Kalas is set to release a musical album April 6 that is dedicated to his late father, Harry Kalas, a sports broadcasting icon.
PokerNews caught up with the investor and poker player to discuss what gave him the idea to produce an album and what the significance is behind the album's title, "High Hopes."
Harry Kalas, a baseball Hall of Famer who passed away in 2009, called Philadelphia Phillies games on radio and TV from 1971 right up until his passing. He also served as a long-time voice for NFL Films. His eldest son, Todd Kalas, followed in his footsteps and has been a TV announcer for the Phillies, Tampa Bay Rays, and now Houston Astros for over 25 years.
Kane, the youngest of three kids, took a different career path and now lives in Puerto Rico where he manages a hedge fund and plays poker for a living. But although you likely won't see him announcing baseball for his beloved Phillies 162 games a year, he did follow in his dad's footsteps in some ways, most notably his ability to sing.
Poker Player Shows off his Pipes
On April 6, you can head over to KaneKalas.com and purchase a copy of High Hopes, and he gave us the details about what fans can expect from his 18-track debut album.
"My father began singing 'High Hopes' to the Philadelphia Phillies players in the locker room when the players would overcome big hurdles and make it to the next step in the playoffs," Kalas told PokerNews. "The most notable time was 1993 when the Phillies weren't expected to be a great team and we actually ended up winning our division."
That Phillies team, which Kalas was too young at the time to remember, reached the World Series and lost to the Toronto Blue Jays on Joe Carter's walk-off dinger, one of the most memorable home runs in baseball history. But Harry Kalas began a tradition that year when, as the younger Kalas explained, he sung Sinatra's "High Hopes" to the Phillies players after a big win. To this day, at Citizens Bank Park, a video of the late broadcaster is played following Phillies home victories.
"It's a really special song, both for the (Phillies) organization, for my family, and for the city," Kalas explained.
With the Sinatra song having such meaning for the Kalas family, and Kane wanting to dedicate his music to his father, the album title selection was almost a given. And, as you may have guessed, he gave his own rendition of that famous song on his album. But it's not his favorite track.
"My favorite song on the album has to be Luck Be a Lady. As a professional poker player it really means something special to me. My father's favorite musical was Guys and Dolls, so obviously Luck Be a Lady was from Guys and Dolls," the poker player said.
Kalas explained that his rendition of "Luck Be a Lady" is more "up-tempo" compared to the original Sinatra version, composed in 1965. The poker pro said the music fans can expect to hear is contemporary "American standards but with a little bit of a twist on it."
"The genre of music is big band, it's still American standards, maybe a sub-genre would be jazz," Kalas said. "We have original compositions for every song on the album. So, if you've heard Frank Sinatra's 'You Make Me Feel So Young,' you're not going to hear the exact same thing from my album with my voice. It's a different version."
Kalas put his heart and soul into this album and he didn't just slop it together overnight. He said he spent over two years producing High Hopes in hopes that it would be a home run and perfectly honor his legendary father. Thus far, word has gotten out to the public. The Phillies fan has appeared in numerous interviews promoting the album, including an in-studio interview with Philadelphia's NBC affiliate (WCAU channel 10).
High Hopes, as he explained, wasn't just about showcasing his own musical talents. In producing the album, Kalas brought on some talented musicians from the Philadelphia area to showcase their skills as well.
"The musicians and the chorus, we used all live musicians from start to finish, from the entire album," Kalas said. "You're not going to hear one piece of computer generated music, which is very rare these days. Even the biggest artists in the world with the biggest record labels are using computer-generated music just because it's so much more cost-effective."
So, why not do what everyone else is doing and mix in some computer-generated music in the album?
"I wanted it to have that old-school authentic feel," he explained. "We're doing American standards here. This is Frank Sinatra-era stuff, and I wanted it to invoke that. I also wanted to show off and showcase the amazingly talented artists we have in Philadelphia. So, from the rhythm section to the string section to the brass section, we basically had a full orchestra there."
Following in his Dad's Footsteps?
Kalas is no stranger to singing in public. He's become the regular Opening Day singer of the Star Spangled Banner for the Phillies. In middle school, he said, he "wanted to be an opera singer."
The musician has built a successful career both in poker and investing, and doing so afforded him the time and resources to produce the album. But he's the son of a sports broadcasting legend, and so you might think he felt the pressure of following in his dad's footsteps one day. That, however, wouldn't be an accurate assumption.
"My parents were really great about that in really supporting anything that I wanted to do for a living."
Kalas does have broadcasting experience covering World Series of Poker (WSOP) bracelet events during the summer and on some other live-streams such as Hustler Casino Live. But will he ever put on the headset and call some baseball games like his brother and father?
"I love sportscasting, but right now I have a lot going on between the poker, the music, my career as a professional investor, which is a primary way I make my living these days. So, I'm not sure if I'm going to have time to do any traditional sports broadcasting such as baseball or anything, but I'll never say never," Kalas answered.
For now, he's sticking with the new musical career, investing, and playing poker. As for his poker game, he plays online when he can and in private clubs. He plays mostly mixed games now because "that's where the action is and that's where they'll allow me to play reasonable stakes."
Kalas will be in Las Vegas this summer for the 2023 WSOP chasing his first bracelet to go along with his 34 career cashes. But would he trade a World Series of Poker bracelet for a Phillies World Series title?
"I guess it depends on which bracelet," he joked.
"High Hopes" is available for purchase by going over to his website starting on April 6, on Amazon, or you can buy it directly at the team store at Citizens Bank Park during Phillies home games.