RGPS Returning to Thunder Valley July 8-31 Featuring Millions in Guarantees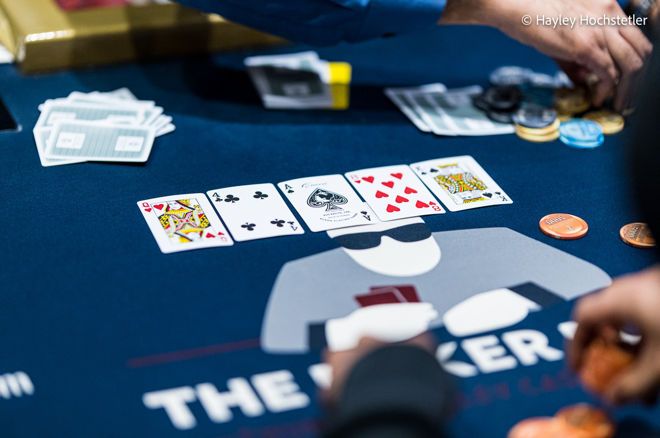 The RunGood Poker Series (RGPS) will be making its way back to Northern California for RGPS Checkpoint: The Last Kilometer at Thunder Valley Casino Resort.
The three-time Global Poker Award winner for "Best Mid-Major Tour" will be returning to the Lincoln, CA stop July 8-31 for a three-week-long series packed with 17 ring events and several six-figure guaranteed prize pools leading up to the RunGood Checkpoint Million Dollar Main.
Check out the RGPS Hub on PokerNews here!
Huge Guaranteed Prize Pools
Each weekend features a marquee multi-flight tournament, with Thunder Valley's $250,000 GTD $400 buy-in Monolith kicking off the opening weekend.
The $500,000 GTD $600 buy-in Hendon Mob Mid-Major Championship will be making its US debut during the stop and is set to be one of the most anticipated poker events of the year.
Plenty of other tournaments and satellites are scheduled for the action-packed series before it culminates with the $1,000,000 GTD $2,500 buy-in RunGood Checkpoint Main Event running July 28-31.
"We're thrilled to bring the RunGood Poker Series back to Thunder Valley Casino and Resort," said RGPS President Tana Karn. "With an incredible lineup of tournaments and newly minted partnership with GPI and THM, this year's series is set to be one of the most exciting yet."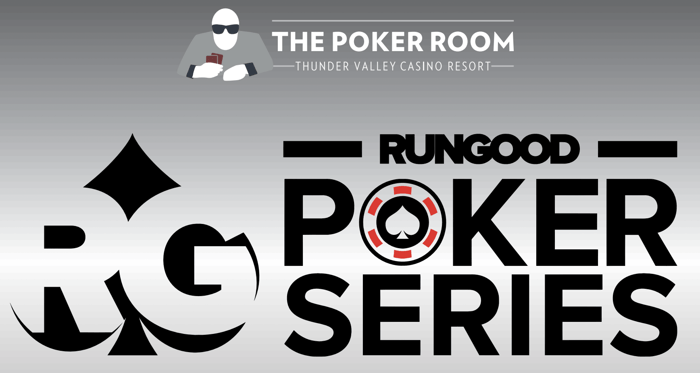 Action-Packed Series
The beginning of the series will see multiple satellites give players opportunities to win their way into bigger events, with a RunGood Checkpoint Package Satellite on July 12 offering players a chance to win a $3,500 package into all three marquee events of the series.
There will also be three other multi-day tournaments during the festival with the $300 Action 8, the $600 RunGood Summit Stack, and the $1,000 RunGood Rendezvous all featuring $100,000 guarantees.
Other events on the schedule include a $150 RunGood Ambassador Bomb Pot Bounty event, a $600 heads-up tournament with a 64-player bracket, and a $400 Heros Mix event with a rotation of Hold'Em, Stud8, Razz, Omaha8, and Stud.
Any player who wins a ring will also be invited to return to Thunder Valley Casino in November for the "Dream Seat Invitational" sponsored by PokerGO. Those invitees will have the opportunity to buy in to the private NLH event where the top prize awards an added-on seat to the PGT Championship $1,000,000 freeroll.
Previous Winner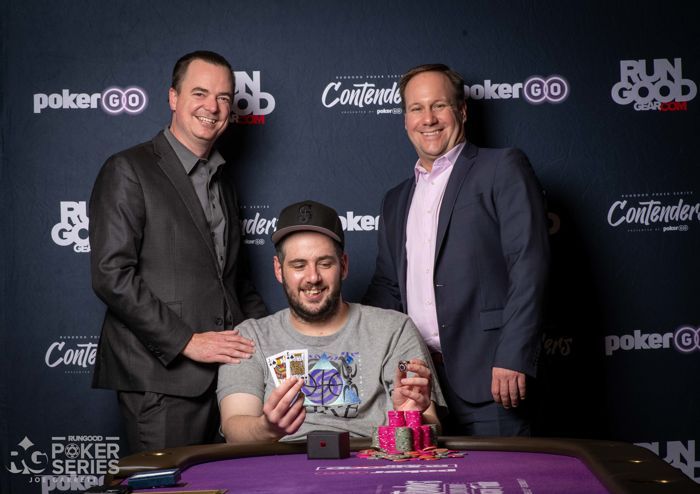 The RunGood team was previously at Thunder Valley at the end of 2022 to close out its "Contenders" series. The $2,500 Season Finale Main Event of the series attracted 417 runners and Brett Murray took home the ring and $172,835 after a heads-up deal with Tyler Patterson (2nd - $156,835).
Other players who made a deep run in that event include Toan Nguyen (3rd - $88,250), Michael Loncar (5th - $46,930), Cornel Cimpan (10th - $19,580), and 2022 GPI Player of the Year Stephen Song (11th - $16,220).
Murray is the all-time leading tournament money winner at the Thunder Valley Casino Resort, and the RGPS victory edged out his previous best at the NorCal poker room, a first-place finish in a 2018 World Series of Poker Circuit Main Event for $151,145.
2022 RGPS Thunder Valley Final Table Results
| Place | Name | Prize |
| --- | --- | --- |
| 1 | Brett Murray | $172,835 |
| 2 | Tyler Patterson | $156,835 |
| 3 | Toan Nguyen | $88,250 |
| 4 | David Ong | $61,140 |
| 5 | Michael Loncar | $46,930 |
| 6 | Trevor O'Donoghue | $39,120 |
| 7 | Lam Le | $32,570 |
| 8 | Joe Nguyen | $26,070 |
| 9 | Arthur Tanimoto | $19,580 |
RunGood Dream Seat Invitational to Award Seat to PGT Million Dollar Freeroll
2023 RGPS Thunder Valley Schedule
| DATE | START | EVENT |
| --- | --- | --- |
| July 8 | 2:00 PM | No Limit Hold'em - Step Satellite to 7/12 Package Satellite (Buy-in: $100, 10 Seats GTD) |
| July 9 | 5:30 PM | No Limit Hold'em - Step Satellite to 7/12 Package Satellite (Buy-in: $100, 10 Seats GTD) |
| July 10 | 9:30 AM | No Limit Hold'em - Step Satellite to 7/12 Package Satellite (Buy-in: $100, 10 Seats GTD) |
| July 11 | 9:30 AM | No Limit Hold'em - Step Satellite to 7/12 Package Satellite (Buy-in: $100, 10 Seats GTD) |
| July 12 | 9:30 AM | No Limit Hold'em - Step Satellite to 7/12 Package Satellite (Buy-in: $100, 10 Seats GTD) |
| July 12 | 2:00 PM | No Limit Hold'em - Step Satellite to 7/12 Package Satellite (Buy-in: $100, 10 Seats GTD) |
| July 12 | 5:00 PM | No Limit Hold'em - RunGood Package Satellite (Buy-in: $550, 10 Packages GTD) |
| July 13 | 9:00 AM | No Limit Hold'em - Monolith Satellite (Buy-in: $100, 10 Seats GTD) |
| July 13 | 11:00 AM | No Limit Hold'em - Monolith (Event 1 - Day 1A) (Buy-in: $400, $250,000 GTD) |
| July 13 | 1:00 PM | No Limit Hold'em - Monolith Satellite (Buy-in: $100, 10 Seats GTD) |
| July 13 | 4:00 PM | No Limit Hold'em - Monolith (Event 1 - Day 1B) (Buy-in: $400, $250,000 GTD) |
| July 14 | 9:00 AM | No Limit Hold'em - Monolith Satellite (Buy-in: $100, 10 Seats GTD) |
| July 14 | 11:00 AM | No Limit Hold'em - Monolith (Event 1 - Day 1C) (Buy-in: $400, $250,000 GTD) |
| July 14 | 1:00 PM | No Limit Hold'em - Monolith Satellite (Buy-in: $100, 10 Seats GTD) |
| July 14 | 4:00 PM | No Limit Hold'em - Monolith (Event 1 - Day 1D) (Buy-in: $400, $250,000 GTD) |
| July 15 | 11:00 AM | No Limit Hold'em - Monolith (Event 1 - Day 1E) (Buy-in: $400, $250,000 GTD) |
| July 16 | 9:00 AM | No Limit Hold'em - Step Satellite into Checkpoint Satellite (Buy-in: $100, 10 Seats GTD) |
| July 16 | 11:00 AM | No Limit Hold'em - Monolith (Event 1 - Day 2) |
| July 16 | 1:00 PM | No Limit Hold'em - Checkpoint Main Event Satellite (Buy-in: $400, 10 Seats GTD) |
| July 16 | 5:00 PM | No Limit Hold'em - Action8 - (Event 2 - Day 1A) (Buy-in: $300, $100,000 GTD) |
| July 17 | 9:00 AM | No Limit Hold'em - Hendon Mob Mid Major Satellite (Buy-in: $120) |
| July 17 | 11:00 AM | Omaha Hi/Lo 8 or Better (Event 3) (Buy-in: $200) |
| July 17 | 2:00 PM | No Limit Hold'em - Action8 Satellite (Buy-in: $75) |
| July 17 | 5:00 PM | No Limit Hold'em - Action8 - (Event 2 - Day 1B) (Buy-in: $300, $100,000 GTD) |
| July 18 | 9:00 AM | No Limit Hold'em - Hendon Mob Mid Major Satellite (Buy-in: $120) |
| July 18 | 11:00 AM | No Limit Hold'em - Knockout $50 Bounties (Event 4) (Buy-in: $200) |
| July 18 | 2:00 PM | No Limit Hold'em - Action8 Satellite (Buy-in: $75) |
| July 18 | 5:00 PM | No Limit Hold'em - Action8 - (Event 2 - Day 1C) (Buy-in: $300, $100,000 GTD) |
| July 19 | 9:00 AM | No Limit Hold'em - Hendon Mob Mid Major Satellite (Buy-in: $120) |
| July 19 | 11:00 AM | No Limit Hold'em - Bankroll Builider (Event 5) |
| July 19 | 5:00 PM | No Limit Hold'em - Action8 - (Event 2 - Day 2) |
| July 19 | 6:00 PM | No Limit Hold'em - Hendon Mob Mid Major Satellite (Buy-in: $120) |
| July 20 | 9:00 AM | No Limit Hold'em - Hendon Mob Mid Major Satellite (Buy-in: $120) |
| July 20 | 12:00 PM | No Limit Hold'em - The Hendon Mob Mid-Major Championship (Event 6 - Flight 1A) (Buy-in: $600, $500,000 GTD) |
| July 20 | 6:00 PM | No Limit Hold'em - Hendon Mob Mid Major Satellite (Buy-in: $120) |
| July 21 | 9:00 AM | No Limit Hold'em - Hendon Mob Mid Major Satellite (Buy-in: $120) |
| July 21 | 10:00 AM | No Limit Hold'em - The Hendon Mob Mid-Major Championship (Event 6 - Flight 1B) (Buy-in: $600, $500,000 GTD) |
| July 21 | 1:00 PM | No Limit Hold'em - Hendon Mob Mid Major Satellite (Buy-in: $120) |
| July 21 | 4:00 PM | No Limit Hold'em - The Hendon Mob Mid-Major Championship (Event 6 - Flight 1C) (Buy-in: $600, $500,000 GTD) |
| July 22 | 10:00 AM | No Limit Hold'em - The Hendon Mob Mid-Major Championship (Event 6 - Flight 1D) (Buy-in: $600, $500,000 GTD) |
| July 22 | 4:00 PM | No Limit Hold'em - The Hendon Mob Mid-Major Championship (Event 6 - Flight 1E) (Buy-in: $600, $500,000 GTD) |
| July 23 | 9:00 AM | No Limit Hold'em - Step Satellite into Checkpoint Satellite (Buy-in: $100, 10 Seats GTD) |
| July 23 | 12:00 PM | No Limit Hold'em - The Hendon Mob Mid-Major Championship (Event 6 - Day 2) |
| July 23 | 1:00 PM | No Limit Hold'em - Checkpoint Main Event Satellite (Buy-in: $400, 25 Seats GTD) |
| July 23 | 4:00 PM | No Limit Hold'em - Knockout $100 Bounties (Event 7) (Buy-in: $300) |
| July 24 | 9:00 AM | No Limit Hold'em - Satellite Into $600 Entry or $400 Entry + $200 Cash (Buy-in: $120) |
| July 25 | 9:00 AM | No Limit Hold'em - Satellite Into $600 Entry or $400 Entry + $200 Cash (Buy-in: $120) |
| July 25 | 11:00 AM | Omaha Hi/Lo 8 or Better (Event 10) (Buy-in: $400) |
| July 25 | 1:00 PM | No Limit Hold'em - RunGood Summit Stack (Event 11 - Day 1A) (Buy-in: $600) |
| July 25 | 4:00 PM | No Limit Hold'em - WPT Single Table Step Satellites (Buy-in: $300) |
| July 25 | 5:00 PM | No Limit Hold'em - WPT 8-Handed Single Table Satellites (Buy-in: $1,350) |
| July 25 | 6:00 PM | No Limit Hold'em - Satellite Into $600 Entry or $400 Entry + $200 Cash (Buy-in: $120, 10 Seats GTD) |
| July 26 | 9:00 AM | No Limit Hold'em - Satellite Into $600 Entry or $400 Entry + $200 Cash (Buy-in: $120) |
| July 26 | 11:00 AM | Mixed Games: H.E.R.O.S. Mix (Event 12) (Buy-in: $400) |
| July 26 | 1:00 PM | No Limit Hold'em - RunGood Summit Stack (Event 11 - Day 1B) (Buy-in: $600) |
| July 26 | 6:00 PM | No Limit Hold'em - Satellite Into $600 Entry or $400 Entry + $200 Cash (Buy-in: $120) |
| July 27 | 10:00 AM | No Limit Hold'em - RunGood Over the Top 1v1 Heads-Up (Event 13) (Buy-in: $600) |
| July 27 | 12:00 PM | Pot Limit Omaha - Knockout $100 Bounties (Event 14) (Buy-in: $400) |
| July 27 | 1:00 PM | No Limit Hold'em - RunGood Summit Stack (Event 11 - Day 2) |
| July 27 | 2:00 PM | No Limit Hold'em - Step Satellite to Checkpoint Main Event Satellite (Buy-in: $100, 10 Seats GTD) |
| July 27 | 6:00 PM | No Limit Hold'em - Checkpoint Main Event Satellite (Buy-in: $400, 25 Seats GTD) |
| July 28 | 9:00 AM | No Limit Hold'em - Checkpoint Main Event Turbo Satellite (Buy-in: $400, 5 Seats GTD) |
| July 28 | 11:00 AM | No Limit Hold'em - RunGood Poker Series Checkpoint Main Event (Event 15 - Flight 1A) (Buy-in: $2,500, $1,000,000 GTD) |
| July 28 | 2:00 PM | No Limit Hold'em - Step Satellite into Checkpoint Satellite (Buy-in: $100, 10 Seats GTD) |
| July 28 | 7:00 PM | No Limit Hold'em - Checkpoint Main Event Satellite - Shootout Format (Buy-in: $400, 25 Seats GTD) |
| July 29 | 9:00 AM | No Limit Hold'em - Checkpoint Main Event Turbo Satellite (Buy-in: $400, 5 Seats GTD) |
| July 29 | 11:00 AM | No Limit Hold'em - RunGood Poker Series Checkpoint Main Event (Event 15 - Flight 1B) (Buy-in: $2,500, $1,000,000 GTD) |
| July 30 | 9:00 AM | No Limit Hold'em - RunGood Rendezvous Satellite (Buy-in: $200, 10 Seats GTD) |
| July 30 | 11:00 AM | No Limit Hold'em - RunGood Poker Series Checkpoint Main Event (Event 15 - Day 2) |
| July 30 | 1:00 PM | No Limit Hold'em - RunGood Rendezvous (Event 16 - Day 1) (Buy-in: $1,000, $100,000 GTD) |
| July 31 | 11:00 AM | No Limit Hold'em - RunGood Poker Series Checkpoint Main Event (Event 15 - Day 3) |
| July 31 | 11:00 AM | No Limit Hold'em - RunGood Home Stretch (Buy-in: $400) |
| July 31 | 1:00 PM | No Limit Hold'em - RunGood Rendezvous (Event 16 - Day 2) |