2023 BetMGM Poker Championship Headlining ARIA Poker Classic With $2M GTD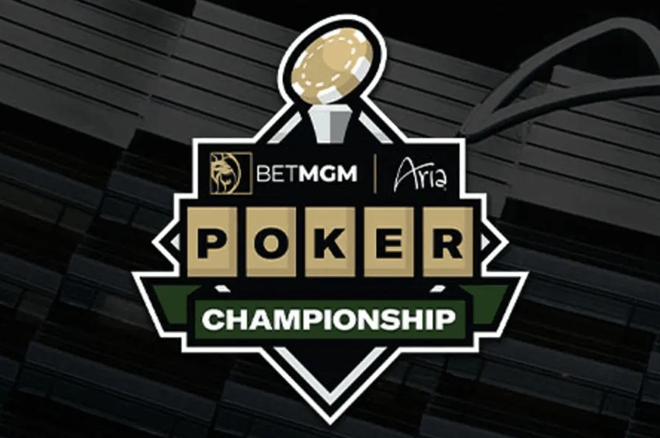 BetMGM, a leading sports betting and iGaming operator, will be headlining the 2023 ARIA Poker Classic for the second consecutive year with the BetMGM Poker Championship, which PokerNews will live report.
The $3,500 buy-in tournament features two starting flights and will take place June 9-13 at ARIA Resort & Casino in Las Vegas. The final table will be played on Tuesday, June 13th and will be live-streamed from PokerGO Studio.
"It's great to bring BetMGM players back to Las Vegas during one of poker's most exciting times of the year", said Director of BetMGM Poker Luke Staudenmaier. "For a second straight year, ARIA is delivering a Championship event and we are happy to continue to build on our relationship with MGM Resorts, while connecting BetMGM online players to the best poker rooms in the United States."
BetMGM Director of Poker Luke Staudenmaier Talks Borgata Almighty Million, Online Plans & More
Did you know that you can play BetMGM Poker in Ontario? All residents of the Canadian promise can hop onto the platform in a matter of minutes and create an account to play legal, safe and regulated online poker.
$2 Million Guarantee Doubled from Last Year
2022 was the first time the BetMGM Poker Championship ran and a $1 million guaranteed prize pool was offered in the inaugural event.
This year, the guaranteed prize pool has doubled, and at least 100 qualifiers will be making their way to ARIA to battle it out on the felt for a piece of the $2 million guarantee after winning their way in from BetMGM Poker markets including New Jersey, Michigan, Pennsylvania, and Ontario, Canada.
"Partnering with BetMGM for another summer championship is a tremendous opportunity for us to offer poker players a one-of-a-kind experience", said MGM Resorts Director of Poker Strategy Sean McCormack. "ARIA has doubled the guarantee from last year to $2 million, giving the competitors the chance to win one of our industry's top prize pools."
Win Your Way In
There will be live satellite opportunities the two days prior to the start of the tournament including two $400 satellites with ten seats GTD on June 7th, and a $400 turbo satellite with five seats GTD on June 8th.
BetMGM ambassador Darren Elias took to Twitter recently to choose a lucky winner who would receive a $6,500 package to the upcoming festivities, which includes a $3,500 entry to the BetMGM Championship and an entry to the $800 NLH Mystery Bounty tournament on June 8th, as well as hotel and travel expenses.
I will be choosing the winner here tmrw for a $6,500 package to the @BetMGMPoker Championship including a $3,500 en… https://t.co/srwqgOJe2x

— Darren Elias (@DarrenElias)
Other notable events on the 2023 ARIA Poker Classic series include several Mystery Bounty events, a couple of Senior events, a Ladies event, and multiple mixed games events.
Previous Winner
In the inaugural BetMGM Poker Championship, 343 entrants generated a prize pool of $1,097,600. Joey Weissman claimed the trophy and the $224,236 first-place prize after he defeated Paul Hoefer in heads-up play.
Others who made a deep run in that event include Michael Wang (4th - $65,856), BetMGM Poker qualifier Benji Felson (5th - $51,587), Jake Daniels (17th - $14,269), Michael Gathy (22nd - $10,208), and Ankush Mandavia (25th - $8,781).
In that tournament, 68 players qualified for the event by playing online at BetMGM Poker in either Michigan, New Jersey, or Pennsylvania.
2022 BetMGM Poker Championship Final Table Results
| PLACE | PLAYER | COUNTRY | PRIZE (IN USD) |
| --- | --- | --- | --- |
| 1 | Joey Weissman | United States | $224,236 |
| 2 | Paul Hoefer | Germany | $159,152 |
| 3 | Noel Rodriguez | United States | $104,272 |
| 4 | Michael Wang | United States | $65,856 |
| 5 | Benji Felson | United States | $51,587 |
| 6 | Joe Kuether | United States | $41,709 |
| 7 | Zachary Donovan | United States | $34,026 |
| 8 | Todd Ivens | United States | $28,538 |
| 9 | Albert Nguyen | Canada | $24,147 |
Check out the ARIA Poker Room review here on PokerNews!
2023 ARIA Poker Classic Full Schedule
A full schedule of the upcoming 2023 ARIA Poker Classic is available in the table below.
| Date | Start | Event |
| --- | --- | --- |
| 31-May | 11:00 AM | $800 PLO Mystery Bounty $150K GTD |
| 1-Jun | 11:00 AM | $600 NLH $75K GTD |
| 2-Jun | 11:00 AM | $600 NLH Seniors (50+) $100K GTD |
| 3-Jun | 11:00 AM | $600 Limit H.O.R.S.E. $50K GTD |
| 4-Jun | 11:00 AM | $800 NLH Mystery Bounty $150K GTD |
| 5-Jun | 11:00 AM | $600 NLH $75K GTD |
| 6-Jun | 11:00 AM | $600 PLO $75K GTD |
| 7-Jun | 11:00 AM | $400 BetMGM Milestone Satellite 10 Seats GTD |
| 7-Jun | 5:00 PM | $400 BetMGM Milestone Satellite 10 Seats GTD |
| 8-Jun | 11:00 AM | $800 NLH Mystery Bounty $250K GTD |
| 8-Jun | 5:00 PM | $400 BetMGM Turbo Satellite 5 Seats GTD |
| 9-Jun | 12:00 PM | $3,500 BetMGM NLH Day 1A $2M GTD |
| 10-Jun | 12:00 PM | $3,500 BetMGM NLH Day 1B $2M GTD |
| 11-Jun | 12:00 PM | $3,500 BetMGM NLH Day 2 $2M GTD |
| 12-Jun | 11:00 AM | $600 NLH $75K GTD |
| 12-Jun | 1:00 PM | $3,500 BetMGM NLH Day 3 $2M GTD |
| 13-Jun | 11:00 AM | $800 Eight Game Mix $50K GTD |
| 13-Jun | 3:00 PM | $3,500 BetMGM NLH FT $2M GTD |
| 14-Jun | 11:00 AM | $600 NLH $75K GTD |
| 15-Jun | 11:00 AM | $600 Big O $50K GTD |
| 16-Jun | 11:00 AM | $800 NLH Seniors (50+) $150K GTD |
| 17-Jun | 11:00 AM | $600 TD Mix (2-7, Badeucey, Badugi) $30K GTD |
| 18-Jun | 11:00 AM | $600 PLO 8/B $50K GTD |
| 19-Jun | 11:00 AM | $600 NLH $75K GTD |
| 20-Jun | 11:00 AM | $600 PLO $75K GTD |
| 21-Jun | 11:00 AM | $600 NLH $75K GTD |
| 22-Jun | 11:00 AM | $600 NLH $75K GTD |
| 23-Jun | 11:00 AM | $600 NLH $75K GTD |
| 24-Jun | 11:00 AM | $600 PLO $75K GTD |
| 25-Jun | 11:00 AM | $600 NLH $75K GTD |
| 26-Jun | 11:00 AM | $800 PLO Mystery Bounty $150K GTD |
| 27-Jun | 11:00 AM | $600 NLH $75K GTD |
| 28-Jun | 11:00 AM | $800 NLH Mystery Bounty $150K GTD |
| 29-Jun | 11:00 AM | $600 NLH $75K GTD |
| 30-Jun | 11:00 AM | $600 NLH $75K GTD |
| 1-Jul | 11:00 AM | $600 NLH $75K GTD |
| 2-Jul | 11:00 AM | $600 Limit Omaha 8/B $50K GTD |
| 2-Jul | 5:00 PM | $240 PLO Milestone Satellite 5 Seats GTD |
| 3-Jul | 12:00 PM | $1,600 PLO (2 Day Event) $200K GTD |
| 4-Jul | 11:00 AM | $500 NLH Ladies $50K GTD |
| 4-Jul | 1:00 PM | $1,600 PLO Restart $200K GTD |
| 5-Jul | 12:00 PM | $1,600 Limit H.O.R.S.E. (2 Day Event) $125K GTD |
| 6-Jul | 12:00 PM | $1,600 Limit H.O.R.S.E. Restart $125K GTD |
| 7-Jul | 11:00 AM | $600 NLH $75K GTD |
| 8-Jul | 11:00 AM | $600 NLH $75K GTD |
| 9-Jul | 11:00 AM | $600 PLO $75K GTD |
| 10-Jul | 11:00 AM | $600 NLH $75K GTD |
| 11-Jul | 11:00 AM | $600 Limit Omaha 8 / Stud 8 $50K GTD |
| 12-Jul | 11:00 AM | $800 NLH Mystery Bounty $150K GTD |
| 13-Jul | 11:00 AM | $600 NLH $75K GTD |
| 14-Jul | 11:00 AM | $600 NLH $75K GTD |
| 15-Jul | 11:00 AM | $600 PLO Mix $50K GTD |