Queen on the River Dashes Nicholas Rigby's WSOP Main Event Title Dreams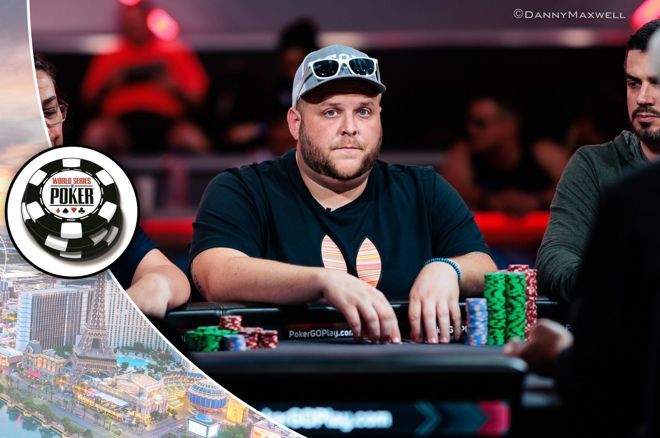 For the second time in three years, Nicholas Rigby was eliminated on Day 6 of the World Series of Poker (WSOP) Main Event, this time for losing a race on the featured table.
The Pittsburgh area poker player who was one of the more entertaining characters in the field, went out in 131st place ($67,700) in the largest Main Event ever (10,043 entries). He finished 52nd in 2021, and like this year, spent much of his final few sessions seated at the PokerGO live-stream tables.
2023 World Series of Poker Hub
Bookmark this page! All you need to know about the 2023 WSOP is here.
Poker Fan Favorite Can't Win a Race
Similar to 2021, Rigby, who made the "dirty diaper" hand (deuce-three) famous, went on quite a wild roller coaster ride in the Main Event, running up a massive stack, bluffing much of it off, then rebuilding to a big stack. Rinse and repeat. But on Wednesday, the ride came to its conclusion during the first level of the session.
PokerGO's live-stream shifted over to Rigby's table where he was all in and at risk with J♠J♥ against the A♣K♣ of Diego D'Aquilio, a classic race situation for a 40 big blind pot (3,280,000).
The flop came out 10♥J♣2♠, top set for Mr. Dirty Diaper, putting him in a great spot to double up back to a decent stack. All he had to do was dodge the gut-shot straight draw, and he would do that with the 6♠ on the turn. But when the Q♠ hit on the river, it completed D'Aquilio's straight and sent Rigby home in 131st place on Day 6.
https://twitter.com/PokerNews/status/1679247504641245184
"It's been a blast. Not everyone gets to experience what I did," Rigby told PokerGO's Kara Scott in his post-game interview.
Rigby's run came to an end early on Wednesday afternoon, but he provided plenty of entertainment for the fans. He bagged a Day 1d chip lead, continued building his stack on Day 3, and had a huge stack at points of every session except for Day 6 where he simply couldn't get anything going. Rigby has just two World Series of Poker cashes, both in the Main Event, and both deep runs.
The 2023 WSOP Main Event continues with 111 remaining players at the time of publishing. Some notables still standing include Tony Dunst, John Racener, and Ryan Tosoc.
Follow Continued Live Coverage of the Main Event