Poker Boom 2.0: 2023 WSOP Main Event Officially the Largest Ever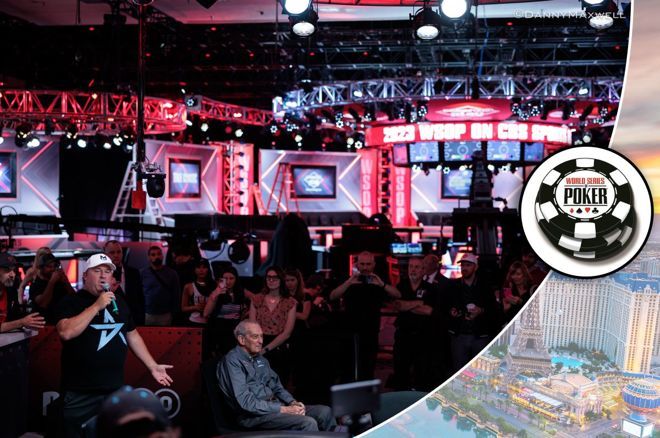 Table Of Contents
Jamie Gold wanted it to happen, and it did. The 2023 World Series of Poker (WSOP) Main Event has set an attendance record with 8,774 entrants and rising at the time of publishing, during Level 1 of Day 1d.
In 2006, Gold's world championship year, the field hit 8,773 players, a record that stood for 17 years. Last year, the WSOP came close to cracking that record, but inevitably fell just a bit short at 8,663 entries, making it the second largest Main Event in history.
2023 World Series of Poker Hub
Bookmark this page! All you need to know about the 2023 WSOP is here.
Prior to announcing "shuffle up and deal" before Day 1a, the former Main Event winner told PokerNews he not only expected the attendance record to be broken, but that he hoped it would happen. He got his wish.
It Was Going to Happen Eventually
When Gold won the Main Event in 2006, the poker industry had reached all-time highs in terms of popularity. After attendance dropped off a bit over the next decade, some felt the record would never be broken. So much for that.
In 2019, there was a significant spike in turnout for poker's most prestigious annual event with 8,569 players, up 9% compared to the previous year. Then COVID hit, forcing the cancellation of the traditional Main Event in 2020. In 2021, the year Koray Aldemir won, attendance had dropped to 6,650 players due to vaccination restrictions.
Entering the 2023 WSOP, there was an expectation among the WSOP staff and many poker experts that this year's Main Event would break the record. So, there wasn't a huge surprise to anyone. But perhaps just how quickly it occurred may have been a surprise to some. Registration is still open for quite some time, and now there's some buzz around the tournament not only surpassing 9,000 players, but potentially hitting 10,000.
Jack Effel, Vice President of the World Series of Poker, expects the WSOP to "continue to grow and grow."
"When you see a really big World Series of Poker, it's a good sign that poker's going to continue to grow," Effel told PokerNews.
Effel believes there are multiple contributing factors as to why the WSOP has continued to grow so much in recent years, up to its current point where not only the Main Event has broken records, but also many other bracelet events this summer.
"There's so many exciting moments (at the WSOP) — Phil Hellmuth winning his 17th bracelet, some things as a poker player that are unimaginable," Effel continued. "I think the WSOP's a special place. I think it's something that can't be replicated and you have to be there."
Effel didn't make a prediction on how many entries the field will have once registration closed, but he did say it will be "a huge number."
Top 10 Largest WSOP Main Events in History
| Year | Entrants | Winner |
| --- | --- | --- |
| 2023 | 8,774+ | ? |
| 2006 | 8,773 | Jamie Gold |
| 2022 | 8,663 | Espen Jorstad |
| 2019 | 8,569 | Hossein Ensan |
| 2018 | 7,874 | John Cynn |
| 2010 | 7,319 | Jonathan Duhamel |
| 2017 | 7,221 | Scott Blumstein |
| 2011 | 6,865 | Pius Heinz |
| 2008 | 6,844 | Peter Eastgate |
| 2016 | 6,737 | Qui Nguyen |