Botez Beats Pros, Tortures Talbot In PokerStars Mystery Cash Challenge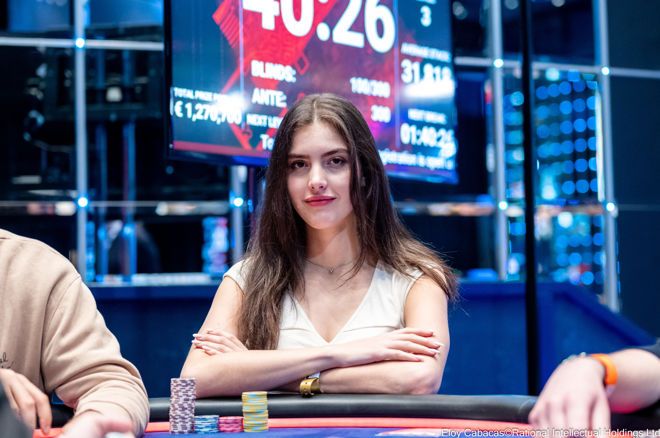 Episode two of of the PokerStars Mystery Cash Challenge picks up right where episode one left off.
Parker "tonkaaaa" Talbot had been silenced on pain of forfeit and Alexandra Botez was sitting behind the only seriously big stack at the table.
Each episode of PokerStars Mystery Cash Challenge is made up of two parts. Part one is made up of nine Texas hold'em hands, with pot-limit betting before the flop and no limit betting after. The second part of the show is the tenth and final hand—a €100-ante bomb pot played with only those players who won at least one hand in the first part.
The winner of the most hands in part one gets the button for the bomb pot, and the winner of the bomb pot gets to open two mystery bounty envelopes. One with a valuable prize and another enclosing a challenge or forfeit.
In episode one, Botez won the bomb pot, a €500 mystery bounty, and the right to shut one player up for the entire second round. After conferring with the table, she chose to silence Talbot. He had to remain silent until the bomb pot in episode two or would have to pay €100 each to every other player.
Standings at the Start of Round 2
Rank
Player
Stack
Profit
1

Alexandra Botez

€20,250
+€10,250 (+€500 Mystery Cash)
2
Team PokerStars'

Parker "tonkaaaa" Talbot

€12,975
+€2,975
3
Team PokerStars'

Sam Grafton

€9,475
-€525
4

Griffin Benger

€10,000
-€1,750
5

Maria Ho

€7,900
-€2,100
6

Fabiano Kovalski

€8,150
-€8,850
The presenters James Hartigan and Joe Stapleton and the players counted Talbot into his oath of silence as the action got underway.
Although players started episode one with €10,000 stacks, the wins, losses, and top-ups meant that by the opening of episode two, Maria Ho was playing the shortest stack (though she was far from the biggest loser, that distinction went to Fabiano Kovalski).
Despite her smaller stack, Ho chased everyone off of Hand #1 with a pre-flop re-raise to €525. Just like that, she had her seat for the bomb pot.
For Hand #2, Griffin Benger bet €175 under the gun with Q♦J♦, then called Botez's pot-sized re-raise to €650 with A♠K♦.
The flop came down 10♥10♠J♥, and Benger called Botez's €700 bet, only to see the K♠ come on the turn and—after both players checked—another king come on the river.
Botez bet the river—€2,900 into a pot of €2,775—and Benger folded.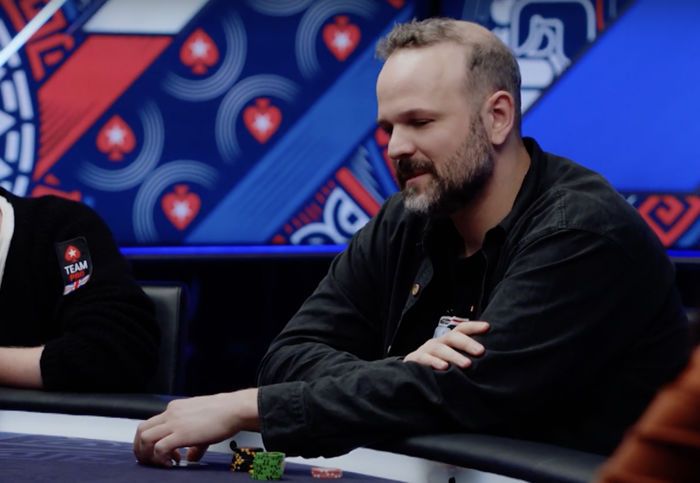 Botez won a double victory in Hand #2. She took the pot down, earning her ticket to the bomb pot. But she also won a psychological victory over the silenced Talbot. Botez slipped up twice—making a pre-flop string bet and asking for a pot count during a no-limit round—both times, Talbot was sent into silent paroxysms as the table made rulings and gave explanations without his help.
Despite this, he didn't break.
Benger won a small pot on Hand #3. However, he got out of the way early in hand Hand #4. Maria Ho went on to river a full house, and the unlucky Kovalski paid her off with a flush, losing €2,525 and pushing his losses for the series over the €10k mark.
Unable to talk, Talbot looked to pass the time by straddling Hand #5 from under the gun. After a raise from Benger with A♥2♦, Talbot looked down to find a pair of aces in the hole. He reraised then Benger gave a short speech, folded, and smiled when Talbot showed the aces.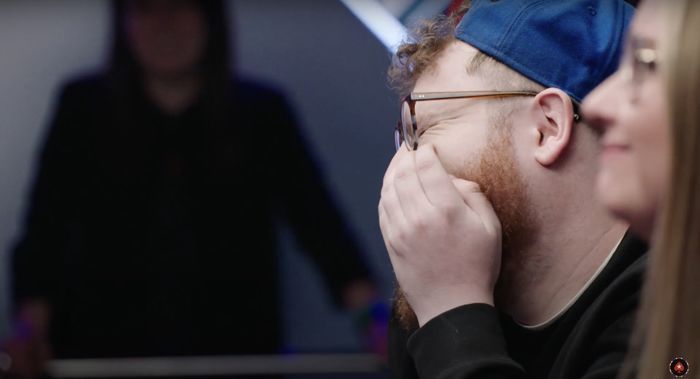 Kovalski then got a few chips back from Botez on Hand #6, Botez won a big hand against Ho on Hand #7, then Sam Grafton became the last person to win his bomb pot ticket when he turned a straight during Hand #8.
Ho won the final hand, breaking her tie with Botez for the dealer button.
With the preliminary hands over, a producer tapped Talbot on the shoulder and let him know that he could finally speak again.
Botez Back-To-Backs Bomb Pot Bounties
The bomb pot started with €100 antes from all six players and Maria Ho on the button. As there is no pre-flop action during the bomb pot rounds, all six players got to check their cards and the flop of A♠5♣J♥ simultaneously.
| Position | Player | Hand |
| --- | --- | --- |
| Small Blind | Parker Talbot | 10♥8♠ |
| Big Blind | Fabiano Kovalski | K♣5♦ |
| UTG | Sam Grafton | 8♦4♥ |
| Middle | Griffin Benger | Q♠7♦ |
| Cutoff | Alexandra Botez | 10♣9♠ |
| Dealer | Maria Ho | K♥J♠ |
Learn more about the PokerStars Power Path
Discover what makes the PokerStars Power Path so awesome.
Hoping to follow up her round one victory, Botez led out from the cutoff for €300. Ho called, and everyone else got out of the two ladies' way.
The turn was the 8♣, giving Botez a straight draw to chase Ho's pair of jacks. She led out with €1,000, and Ho called.
The river was a 9♣, filling up a bunch of potential draws, including a runner-runner flush and several straights. Unfortunately, all it gave Botez was a pair of nines, which she turned into a bluff with a massive €5,000 bet into the €3,200 pot.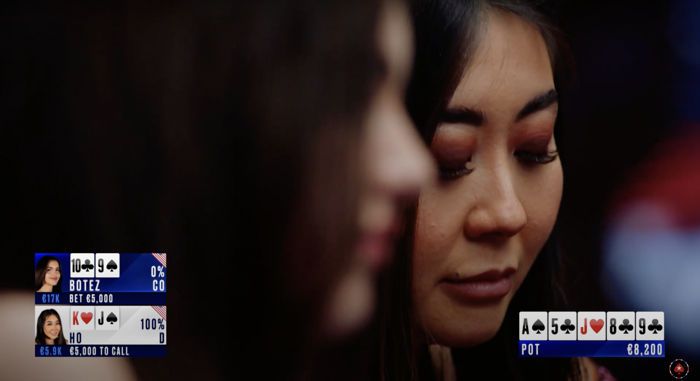 Ho thought about it briefly before announcing, "[Botez] is gonna go back-to-back bounties."
Botez showed the bluff as soon as Ho's cards hit the muck. "What an animal!" said a surprised-looking Grafton. "Six-way out of position. Just absolutely..."
He trailed off. Either words or the editor failed him.
Standings at the End of Round 2
| Rank | Player | Stack | Profit | Bounties |
| --- | --- | --- | --- | --- |
| 1 | Alexandra Botez | €25,175 | +€15,175 | +€500 cash, €5,300 EPT ticket |
| 2 | Parker Talbot | €13,150 | +€3,150 | - |
| 3 | Sam Grafton | €9,700 | -€300 | - |
| 4 | Griffin Benger | €10,000 | -€3,100 | - |
| 5 | Maria Ho | €9,925 | -€4,075 | - |
| 6 | Fabiano Kovalski | €9,150 | -€10,850 | |
Botez then got to choose from the remaining ten envelopes, pulling a €5,300 EPT Main Event ticket. She punched the air and cheered before turning to Hartigan and saying, "Though, I do have one of these already."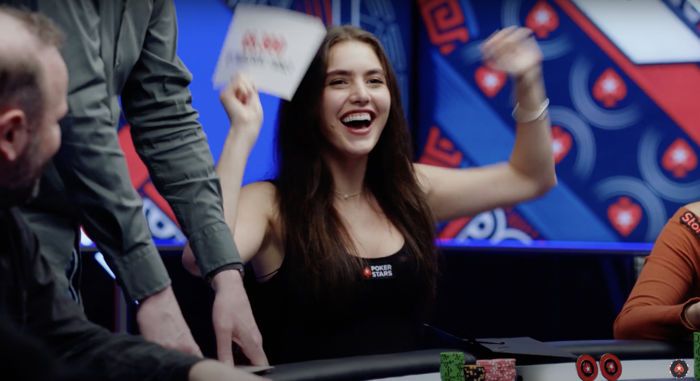 The second envelope came as a relief to Talbot as it was not another penalty that could be inflicted on him. Instead, if the envelope said that if Botez wins four of the nine preliminary hands in round three, then she is allowed to draw an additional mystery envelope.
If you want to see whether she can pull that feat off, you can catch Episode 3 of the PokerStars Mystery Cash Game when it is released on September 23 at 3:00 p.m. CEST. Just visit the PokerStars Central or PokerStars UK Youtube channels to watch the episode for free.
Click Here To Download PokerStars Now!
Use the PokerNews Online Tournament Calendar to Plan Your Action
Our free-to-use tool has several filters that make finding your perfect poker tournament, whether a WCOOP event or otherwise, a breeze. The PokerNews Online Tournament Calendar allows you to register for tournaments with a couple of mouse clicks, so you need never miss out again.